Siemens Said in Talks With EQT to Sell Hearing-Aids Unit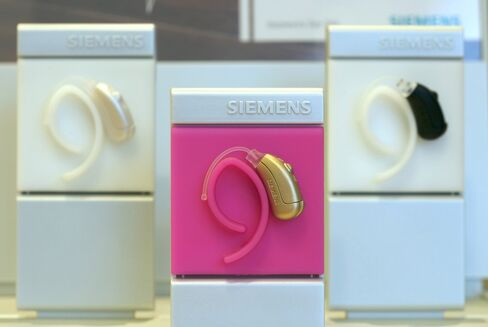 Siemens AG is in advanced talks to sell its hearing-aids business for more than 2 billion euros ($2.6 billion) as declining equity markets make a stock listing less attractive, according to people familiar with the matter.
Private-equity firm EQT Partners AB is the frontrunner, said the people, asking not to be identified because talks are private. Other firms including Permira Advisers LLP as well as Danish hearing-aids maker GN Store Nord A/S have also shown interest, they said. A deal could be reached within the next few weeks, the people said. They added talks were still ongoing and could fall apart, leading Siemens to pursue an IPO.
Siemens, Europe's biggest engineering company, had been planning to sell shares in the hearing-aids division on the stock market, with Chief Executive Officer Joe Kaeser saying that such a move would help the business to expand as an independent entity. Amid the current market turmoil, Siemens now prefers a sale instead, the people said.
Representatives for Siemens, EQT, Permira and GN Store Nord declined to comment.
Siemens rose as much as 2.7 percent in Frankfurt trading, valuing the company at 75 billion euros. Before today, the stock had declined 16 percent since the start of the year, while Germany's benchmark DAX index dropped 8.7 percent.
Energy Deals
EQT has eyed several large corporate assets this year, including other medical-device makers. The Swedish buyout firm bid for Nobel Biocare Holding AG, the Swiss maker of dental implants, before losing out to Danaher Corp. in September.
Companies can have an advantage to buyout firms in competitive bidding processes because they often have access to cheaper financing, and can reap more cost savings by integrating acquisitions with existing businesses.
Munich-based Siemens has this year already sold two health-care units and its stake in a household appliances joint venture as Kaeser focuses on supplying equipment for energy generation and supply. Siemens scrapped a planned sale of the audiology unit in 2010 because bids didn't meet a target for least 2 billion euros, people familiar with the matter said at the time.
The divestments come as Siemens spends $7.6 billion to buy Dresser-Rand Inc. and $1.3 billion for Rolls-Royce Holdings Plc.'s energy business. Those deals will expand its offering to benefit from the boom in equipment to extract shale gas from hydraulic fracturing.
Chasing GE
"Joe has a lot of stuff going on," said Nick Heymann, a New York-based William Blair & Co LLC analyst. "He's come back and bought Dresser, but he isn't even close to being finished. He realized that GE has outmanoeuvred Siemens in the U.S. fracking market."
Kaeser is concentrating on that industry as he seeks to catch up with the profitability of General Electric Co., which has agreed to buy France's Alstom SA to expand its own energy offering. Kaeser said in May that businesses generating about one-sixth of Siemens's revenue were unprofitable last year.
Before it's here, it's on the Bloomberg Terminal.
LEARN MORE