Russia Loses Oil Ally in De Margerie After Moscow Crash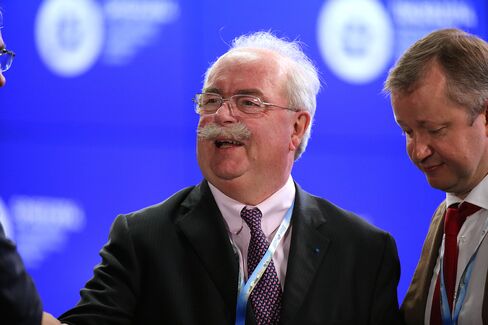 Christophe de Margerie's last act as chief executive officer of Total SA left no room for doubt about his feelings toward Vladimir Putin's Russia.
In a Moscow speech hours before the plane crash that took his life two days ago, de Margerie said U.S. and European Union sanctions on the country were "unfair and unproductive," and that he opposed efforts to render it "isolated from the major global economic and political process."
Appearing before a receptive audience that included Prime Minister Dmitry Medvedev and a host of Russian executives, he cited his work as co-chair of a Franco-Russian business body alongside Gennady Timchenko -- a commodities billionaire who was one of the first targets of U.S. sanctions.
De Margerie's death removes from the scene a businessman who rarely shied away from geopolitical debates and became one of Russia's most outspoken allies in its efforts to avoid economic quarantine, willing to say what others only dared think. Although European corporate giants from Siemens AG to Renault SA have built close relationships with Russia, most business leaders have preferred to keep their lobbying private to avoid offending governments committed to punishing Putin.
"Christophe was an extraordinary individual who had nurtured his relationships with Russia and many other international players on a person-to-person basis," said John Hofmeister, former U.S. president of Royal Dutch Shell Plc and now CEO of advocacy group Citizens for Affordable Energy. "The major players in Russia operate at multiple levels of visibility. Christophe was singular in his approach."
Total today announced that refining chief Patrick Pouyanne will take over as CEO.
Good Reason
De Margerie, 63, had good reason to oppose efforts to fray Russia's economic ties with other major economies in the wake of its annexation of Crimea and the simmering civil war in the Ukraine. Under his leadership, Total bet big on the world's largest country by landmass, partnering with OAO Novatek to develop an Arctic gas-export terminal and hunting with OAO Lukoil for so-called tight oil deposits in Siberia.
Since taking over as CEO in 2007, de Margerie repeatedly told audiences at the endless conferences he attended around the world that meeting the growth in global energy demand would be impossible without Russia's vast reserves.
After the French company bought a stake in Novatek, Russia in 2013 became Total's biggest source of production aside from Nigeria, the United Arab Emirates and Norway, providing about 9 percent of its daily oil output.
The CEO made clear his displeasure with sanctions shortly after they were imposed earlier this year. Total made plans in April to raise its stake in Novatek just weeks after the U.S. moved to freeze the assets of Timchenko, the company's second-largest shareholder.
Business Conclave
In May, de Margerie traveled to the St. Petersburg Economic Forum, an annual business conclave convened by Putin and shunned by American executives at the urging of President Barack Obama's administration.
In a letter expressing his condolences after de Margerie's death, Lukoil CEO Vagit Alekperov said the Frenchman had "remained an example of honor, steadfastly defending the principles of an honest partnership with Russia." De Margerie and Alekperov had signed an agreement to work together in Russia at the St. Petersburg event.
'Very Frank'
Although other major oil companies have also worked to develop partnerships in Russia, which has the world's largest proven oil and gas reserves, none has advocated as forcefully against isolation as Total.
De Margerie "said out loud what many didn't dare," said Laurence Parisot, former head of French business federation Medef. He was never afraid to criticize anyone, from the president of France down, she said. "One of his exceptional characteristics was that he was very direct, very clear and very frank in all settings."
BP Plc CEO Bob Dudley, whose company owns 20 percent of state-backed oil producer OAO Rosneft, in July described sanctions as "a matter for governments to resolve." Exxon Mobil Corp. CEO Rex Tillerson has consistently declined to comment publicly on the measures, which have forced the world's largest private oil producer to suspend Arctic exploration alongside Rosneft.
"In defending investment in Russia it's likely de Margerie was driven by an economic rationale which will survive him," said Alex Griffiths, head of natural resources and commodities at Fitch Ratings. "A lot of western companies have major stakes in Russia because of the huge reserves there."
The U.S. and European governments have said Putin is backing separatist rebels in the east of Ukraine, who this week skirmished with the Ukrainian army in and around Donetsk. Putin has denied supporting the militants.
Oil Search
Russia wasn't the first controversial country that De Margerie, always on the hunt for new sources of oil and gas, sought to do business with even at the risk of political opprobrium. Total was working on developing the giant South Pars natural gas project in Iran until sanctions designed to halt its nuclear program drove the company to pull out in 2009.
This year de Margerie said he'd like to re-enter the country as soon as political conditions allow. He met with Iranian president Hassan Rouhani along with other energy CEOs in Davos, Switzerland in January.
De Margerie and other Total executives "saw the world as a place they should be operating, not their own countries or their own continents," James Hackett, the former CEO of Anadarko Petroleum Corp., said today. "He never reverted to a focus on financial engineering as opposed to finding resources."
Yamal Development
De Margerie's determination to keep pumping more oil and gas drove him in recent weeks to say he was "doing everything" to keep his signature Russian project on track, the $27 billion Yamal gas development. After U.S. sanctions barred the project from receiving loans in dollars, he said the company and its partners would look to Chinese banks to fill the gap.
Explaining his stance on Russia in May of this year, de Margerie told reporters he believed economic sanctions were an ineffective way to resolve conflicts between countries. Businesses, he argued, could serve as diplomatic intermediaries in political disputes, and "the relationship between politics and companies is a good way to calm things."
Before it's here, it's on the Bloomberg Terminal.
LEARN MORE