McDonald's Profit Drops 30% as U.S. Sales Slump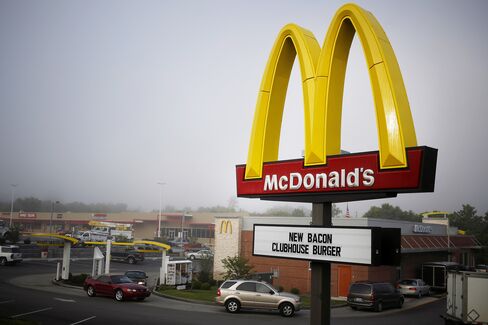 McDonald's Corp., the world's largest restaurant chain, said third-quarter profit fell 30 percent as U.S. sales slumped for the fourth straight quarter.
Net income dropped to $1.07 billion, or $1.09 a share, from $1.52 billion, or $1.52, a year earlier, the Oak Brook, Illinois-based company said in a statement today.
McDonald's has been struggling to draw American diners as rivals offer deals and introduce new items. The company also has lost customers by boosting prices on burgers to make up for rising labor and ingredient costs. Sales at McDonald's U.S. stores open at least 13 months fell 3.3 percent in the third quarter, trailing the 2.9 percent decline estimated by analysts in a Consensus Metrix survey.
"There's just some share loss that's going on" in the U.S., said Sara Senatore, a New York-based analyst at Sanford C. Bernstein & Co. who has the equivalent of a hold rating on the shares. "It's probably going to some of their direct competitors, and it's probably going to potentially some of the fast-casual" chains.
Burger King Worldwide Inc. recently started selling a 10-pack of chicken nuggets for $1.49, while Wendy's Co. is touting pulled-pork sandwiches. McDonald's newly appointed president for the U.S., Mike Andres, is working to simplify the chain's menu and feature more locally relevant and customizable fare.
Shares Drop
The shares fell 0.6 percent to $91.01 at the close in New York. McDonald's has slumped 6.2 percent this year, while the Standard & Poor's 500 Restaurants Index has declined 4.7 percent.
McDonald's global same-store sales slid 3.3 percent in the third quarter, also hurt by a backlash in China after a supplier was investigated for changing food expiration dates. That missed analysts' average estimate for a 3 percent decline. Revenue dropped 4.6 percent to $6.99 billion. Analysts projected $7.19 billion.
Global comparable-store sales will fall in October, Chief Executive Officer Don Thompson said in today's statement.
"The internal factors and external headwinds have proven more formidable than expected and will continue into the fourth quarter," Thompson said in the statement. "These significant challenges call for equally significant changes in the way we do business."
New Strategy
To win more diners, McDonald's said today it's trying a new global strategy that includes investing in store remodels and technology as well as mobile ordering and payments.
Third-quarter same-store sales fell 1.4 percent in Europe and 9.9 percent in the company's Asia Pacific, the Middle East and Africa region. Analysts estimated declines of 0.3 percent and 11 percent, respectively, according to the average of 17 projections from Consensus Metrix, owned by Kaul Advisory Group in Wayne, New Jersey.
Sales were hurt in China and Japan after a probe into meat supplier OSI Group LLC caused food shortages. The affected markets make up about 10 percent of consolidated revenue, McDonald's said in August. The supplier issue reduced profit in the quarter by 15 cents a share.
The company also is facing pressure in Russia, where hundreds of its stores are being inspected by consumer-safety regulators. Russian courts have temporarily closed nine restaurants, McDonald's said in a statement on its Russian corporate website. Closings there and in Ukraine reduced profit by 1 cent a share.
Tax Reserve
The restaurant chain also said profit was trimmed by 26 cents a share by an increase in tax reserves related to certain foreign tax matters.
Excluding the supplier issue, Russian closings and tax-reserve increase, third-quarter profit was $1.51 a share. The average of 21 analysts' estimates compiled by Bloomberg was $1.36 a share.
McDonald's has recently raised its menu prices to help make up for higher U.S. food and wage costs. Commodity costs will be up as much as 3 percent domestically this year, the company said today in a filing. That's up from a forecast for a gain of as much as 2 percent in July.
McDonald's has more than 35,600 restaurants worldwide, and about 81 percent of those are franchised.
Before it's here, it's on the Bloomberg Terminal.
LEARN MORE