Coca-Cola Shares Fall as Cost Cuts Fail to Placate Investors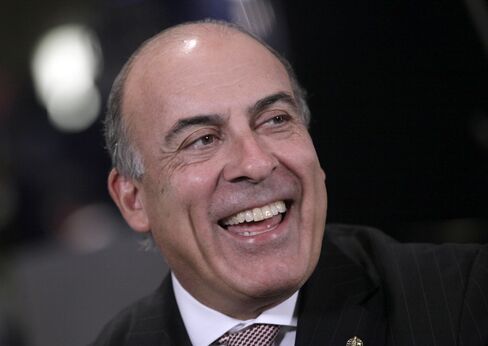 Coca-Cola Co. shares fell the most in six years after third-quarter sales missed estimates and a $3 billion cost-cutting plan announced by Chief Executive Officer Muhtar Kent failed to satisfy investors.
Sales fell to $11.98 billion in the quarter from $12 billion a year earlier, Atlanta-based Coca-Cola said today in a statement. Analysts had estimated $12.1 billion on average, according to data compiled by Bloomberg.
Coca-Cola, the world's largest beverage maker, is struggling with sluggish international growth and mounting concerns over obesity and artificial sweeteners. After criticism that he wasn't responding quickly enough to the slump, Kent vowed today to reduce expenses by $3 billion a year by 2019. Shareholders may still be waiting for more dramatic action, especially since it's unclear how much of those cost savings will wind up in investors' pockets, said Ali Dibadj, a New York-based analyst at Sanford C. Bernstein & Co.
"I wouldn't call this capitulation by management as they continue to move too slowly for our tastes," said Dibadj, who has the equivalent of a buy rating on Coca-Cola. The soda maker hasn't indicated how much of the $3 billion will be returned to shareholders, rather than "squandered" on marketing and advertising, he said.
Stock Dives
The shares dropped 6 percent to $40.68 at the close in New York, the biggest decline since October 2008. Earlier this month, the stock was trading in record territory. It had risen 4.8 percent this year through yesterday, compared with a 3 percent gain for the Standard & Poor's 500 Index.
Sales volume declined 1 percent in North America last quarter, while global volume climbed 1 percent. Mark Swartzberg, an analyst at Stifel Nicolaus & Co., had projected global growth of 3.4 percent.
Third-quarter net income fell 14 percent to $2.1 billion, or 48 cents a share, from $2.45 billion, or 54 cents, a year earlier. Excluding some items, profit was 53 cents a share in the period, matching analysts' estimates.
As part of the plan to streamline Coca-Cola, the majority of company-owned distribution territories in North America will be sold back to independent bottlers by the end of 2017, with most of the rest being refranchised by 2020. That's an acceleration of a previously announced plan to sell the majority of the bottlers by 2020.
"We recognize that we need to increase the scope and pace of change as we continue to face a challenging macroeconomic environment," Kent, 61, said in today's statement.
During a call with reporters, Kent declined to say whether the refranchising would include manufacturing plants. Last year, the company retained manufacturing under a deal that shed some distribution assets such as warehouses, signaling a shift in strategy at the time.
Wintergreen Criticism
The bottling effort addresses concerns raised by shareholders such as Wintergreen Advisers LLC, an investment firm run by David Winters. Just yesterday, Wintergreen released a statement pushing for changes at Coca-Cola. It included a complaint that the company had taken too long to offload its bottling operations.
Wintergreen and analysts also have called for deeper cuts at the company, which has a market value of about $190 billion.
Kent had pledged in February to trim $1 billion in costs by 2016. The company's board also reined in its stock-compensation plan, which investors such as Warren Buffett had seen as excessive. Winters had lobbied against the plan, calling it a "raw deal" for shareholders that was too generous and diluted the stock.
PepsiCo Inc., Coca-Cola's biggest rival, is tightening its belt as well. CEO Indra Nooyi is cutting $5 billion over the next five years, helping bolster profit. The second-largest beverage company raised its earnings forecast for the year when it delivered quarterly results earlier this month.
Long-Term Outlook
As it reduces costs, Coca-Cola also reset its expectations for sales growth, saying the economy would remain challenging through 2015. The company lowered the bottom end of its long-term net revenue growth target to as low as 4 percent from 5 percent. Coca-Cola retained its goal to grow per-share earnings by a high single-digit percentage after this year.
Coca-Cola had $20.3 billion in cash and short-term investments at the end of last quarter, up from $18.1 billion at the end of June. The company expects to spend $2.5 billion on stock repurchases this year.
Coca-Cola's woes have overshadowed a U.S. market-share gain from the company's "Share a Coke" program, which replaced its logo on bottles and cans with common names and phrases.
"We worry that bigger issues will continue to plague the company," Vivien Azer, an analyst for Cowen & Co. in New York, said this week in a note. "Macro weakness in emerging markets, in particular Latin America, concerns over diets, and currency headwinds, to name a few."
Before it's here, it's on the Bloomberg Terminal.
LEARN MORE