Brazil Fixated as 'Human Bomb' Revelations Rock Elections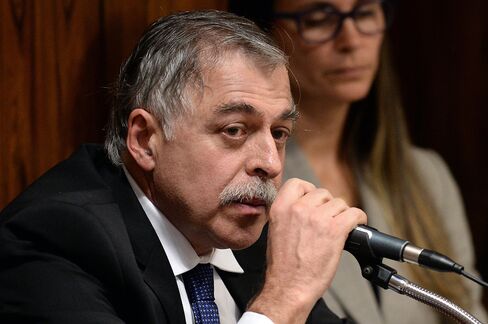 When in April 2012 Paulo Roberto Costa was eased out of his job as the refinery chief for Brazil's Petroleo Brasileiro SA, the state-run oil giant, it was treated as a routine shakeup, with Chief Executive Officer Maria das Gracas Foster praising him as a "dear colleague" who would be "hard to replace."
Costa, who was also a company director, seemed unruffled. Within months, he had set up a consulting company in Rio de Janeiro's up-and-coming Barra de Tijuca beach district, with ambitions to raise about $120 million to build a shipyard and marine repair terminal.
This would be a family affair. During a champagne party to celebrate, he showed reporters the tidy office –- holding mementos from his 35 years at the company known as Petrobras –- that he said his wife had decorated and that he planned to share with one of his two daughters who would work alongside him.
So it came as a shock this March when Costa, 60 years old, was led away to a Rio jail among the principal figures in a wide-ranging multi-billion dollar money laundering and bribery investigation that has rocked the foundations of Brazilian politics and the nation's corporate culture.
The probe may implicate more than 30 others -- government ministers, other Petrobras executives and a slew of state and national politicians from Brazil's current ruling party or its allies, according to a September report in the Brazilian magazine Veja.
Nervous Politicians
It has become a central issue in the Brazilian presidential campaign, having helped to force President Dilma Rousseff of the ruling Workers Party or PT into an Oct. 26 run off with opposition candidate Aecio Neves.
So nervous are politicians and former Petrobras executives that they could get swept up in the scandal that Costa has been given a nickname in the Brazilian press: The Human Bomb.
As for that family image: Federal court documents released by a judge presiding over the case in Brazil's Parana state assert that on the day federal cops went to roust Costa from his Rio home, seeking a key to his locked office, a security camera caught his two daughters and their husbands in that very office stuffing suitcases and bags with cash, incriminating documents and a laptop, all of which they hoped to hide from the police.
Company Kickbacks
Costa, according to an Aug. 27 agreement made public in the Parana federal court documents, is cooperating with authorities. His cooperation has become public theater. Video tapes released by the Parana court -- which have riveted Brazilians to their TVs -- show him telling investigators that for at least seven years he and others siphoned millions in kickbacks from companies to whom Petrobras awarded inflated construction contracts. They then used the money to bribe politicians through intermediaries to guarantee they would vote in line with the ruling party while enriching themselves, according to the tapes.
Speaking into a camera, Costa described the kickbacks from the companies as a "three percent political adjustment" and said he personally raked-off tens of millions of dollars, according to the tapes.
Five members of Costa's family -- his wife, two daughters and their husbands -- have either been "accused or investigated" for crimes including obstruction of justice, corruption and money laundering, according to that Aug. 27 agreement.
Lawyers for Costa and his family declined to comment on the investigation although his lawyers previously confirmed Costa's cooperation with authorities.
'Victim'
In exchange for a more lenient sentence and an agreement to spare his family from prosecution, Costa, as part of that Aug. 27 deal, began giving investigators names, bank accounts, political connections and contacts of contractors who participated in his kickback scheme, those court documents state.
Petrobras said in a press release the company is a "victim" in the investigation and is collaborating with authorities.
The scandal is a blow to the image of Petrobras, once a symbol of Brazilian national pride. As recently as 2010, Petrobras wasn't just atop its game, it was atop the world, sailing on the winds of mammoth offshore oil and gas finds. That September, when the company went to Wall Street to cash in on its aura and assets, it raised the $70 billion in a share sale - – a record amount for a global offering.
No longer the engine of Brazil's prosperity, Rio-based Petrobras today stands wounded and struggling to recover -- its market capitalization has shrunk to $93 billion from $236.5 billion before the end of 2010 when Rousseff took office.
'Sinkhole'
"The economics are just so poor at Petrobras, that we really have called it a scheme, not a stock," Jim Chanos, founder of short-seller Kynikos Associates LP, said in an interview on Bloomberg Television yesterday. "This is an enormous sinkhole from a financial point of view."
Shares of Petrobras dropped 6.9 percent to 16.68 reais at the close in Sao Paulo today, the lowest in more than four months.
Besides the kickback scandal, the company has been rocked by parallel allegations from opposition politicians and company critics that the Brazilian government treated it as a political tool. Company records show it has been saddled with more than $44 billion in operating losses pegged to its refining businesses since 2011. The money went to subsidize fuel prices for the masses that benefited the ruling Workers Party of President Rousseff. Rousseff and other party officials have defended the practice, saying it has been a check on inflation.
'Shameful'
Petrobras has piled up more debt than at any time in company history -- $140 billion, which is almost 50 percent more than the debt of Argentina when it defaulted in 2001. Yet company oil output is barely above 2010 levels.
"It's shameful," said Neves, the opposition party candidate who has publicly badgered Rousseff, the hand-picked successor of former president Luiz Inacio Lula da Silva, to apologize for the government's part in the Petrobras fiasco. "I represent the outrage of millions of Brazilians. The accusations don't stop."
Rousseff has defended her record, saying her party has investigated graft more vigorously than previous administrations and that she helped behind the scenes to push Costa aside –-even though his departure at the time had been treated as routine. Foster, the Petrobras CEO, also in an April Brazil senate hearing distanced herself from Costa, calling him an "embarrassment."
Police Raid
During a televised debate on Oct. 19, Rousseff said she would seek reimbursement for any money diverted from the oil company. "I never impeded the investigation," she said in the debate, the third of four ahead of the runoff. "I know there is evidence money was diverted. What no one knows, not you, not me, is how much it was and who."
Costa's departure in 2012 turned out to be anything but routine. Federal cops raiding his Rio house found about $500,000 in cash, a mix of dollars, Euros and Brazilian reais, according to those Parana federal court documents. That was nothing compared with the $28.5 million stashed in secret Swiss bank accounts, including $5 million in accounts for his relatives, according to Swiss court documents that are included in the federal documents released in the case. While Petrobras didn't publish Costa's salary, company documents show that that its directors average about $700,000 a year.
Swiss Cash
Under his Aug. 27 deal with prosecutors, Costa has agreed to turn over to the government all the Swiss cash and surrender other assets including a $440,000 yacht, $1.3 million worth of land in Rio state and a Land Rover, those Parana federal court documents say.
All of Brazil is fixated on who else may be implicated. According to a report in the magazine Veja, Costa has named at least two high-ranking Brazilian legislators, one cabinet-level minister and former presidential candidate Eduardo Campos, who died in a plane crash Aug. 13, among members and allies of Rousseff's Workers' Party. Campos supporters have defended him. "The fact that there was a Petrobras project in his state doesn't give the right to anyone to include him in the list of the ones who made any irregularity," said Marina Silva, who stood in for Campos in the presidential race after he was killed.
Refinery Contracts
On the company front, Renato Duque, a former Petrobras director of engineering and services, stamped, signed and referred to the board at least $2.67 billion in contracts for one of the refinery projects, Abreu e Lima in northeastern Brazil, that is at the heart of the Costa kickback investigation, according to internal company documents obtained by Bloomberg.
The final decision on all contracts is made collectively by directors and the CEO, Duque said in an e-mailed statement sent by Somma, a public relations firm. Costa's accusations that Duque participated in an illicit scheme with suppliers are false and Costa hasn't presented any evidence, Duque said in the response, adding that he hasn't committed or been accused of any crimes.
Duque has hired a lawyer to defend himself and is suing Costa for defamation in a court in Rio's Barra de Tijuca district, a copy of which his assistant e-mailed to Bloomberg. Costa's lawyers declined to comment on the lawsuit.
Offshore Pioneer
The scandal contrasts with the reputation the company built during the first decade of this century by pioneering deep sea technologies as it ratcheted production up nearly 60 percent from previous highs.
In Latin America it stood out as a success story while Venezuela expropriated foreign oilfields and Mexico watched output collapse at its largest discovery. Petrobras was a pillar of the "Brazilian model" politicians endorsed across the continent as a catch-phrase for fast growth and social mobility.
Petrobras advertised this story of operational prowess tied to abundant resources to build support for its share sale in 2010. Management said it would boost output by another 50 percent in only four years thanks to so-called pre-salt fields even deeper in the Atlantic it discovered in 2006.
The pitch worked. What investors didn't buy was a voice in decisions. That's why some investors who bought into that 2010 offering and have been burned by Petrobras' stock swoon are rooting for a Neves win with the view that only the opposition can steer a path toward restoring the company's performance and image.
'Not Acceptable'
Will Landers, who oversees $3.7 billion in Latin American stocks at BlackRock Inc., is one of them, recently investing in Petrobras shares with the hope that Rousseff is ousted.
"You're using the company for fiscal and monetary policy which is really not acceptable," said Landers.
The fuel-price caps are designed to protect consumers from swings in international oil markets, Rousseff has said during the campaign.
Some had concerns from the outset. Emerging markets guru Mark Mobius, chairman of Templeton Emerging Markets Group, denounced the share sale at the time as an "abomination" given how investors would have no oversight over a company that was no stranger to political manipulation.
Pasadena Probe
Petrobras insiders concur. "During the two years I've been occupying the seat, no investment project has been individually assessed by the board. The board is excluded from the decision process, and it should be accountable for it," said Mauro Cunha, who has represented minority investors on the Petrobras 10-member board since 2013.
Cunha was on a Petrobras committee investigating Pasadena and Abreu e Lima and was removed by the Petrobras board from that committee during an April 25 meeting. Cunha has lodged a complaint with the country's securities and exchange commission, known as CVM, questioning his removal and the independence of the committee.
Petrobras at the time said Cunha was removed as part of a routine rotation. The company didn't respond to an e-mail and phone call seeking further comment.
Investor Tour
Three of the company's 10 board members are independent. One of them, Silvio Sinedino who represents company employees, said the trio has had little impact.
"The board ratifies the decisions previously made by the government. The meetings are too fast, and don't allow for discussions to go deeper," Sinedino said.
The government retained control by trading undeveloped oil still locked beneath the Atlantic seabed for $42.5 billion worth of voting shares. State-run pension funds also subscribed. A cabinet member would continue to chair the oil producer as it accelerated investments to more than $100 million a day.
In reality, Petrobras' winning streak was already over. Oil output has ticked up only 1.6 percent since the peak in 2010. That's a far cry from the targets it presented investors at 42 cities in Asia, Europe, the U.S. and the Middle East in the run up to the share sale. While the pre-salt expanded, the fields closer to shore that had previously delivered gains hit middle age and started declining. The pre-salt has allowed Petrobras to tread water.
It was during Petrobras' boom years that Costa made his rise. In 1997 he was named head of the Gaspetro natural gas pipeline unit and then took over the entire refining and distribution business in 2004. He regularly substituted for then-CEO Jose Sergio Gabrielli when his boss was traveling.
Dishing Scoops
In the run-up to the 2010 share sale, Costa emerged as the charismatic face of a company whose prospects seemed limitless. Down to earth, loquacious and accessible, he curried favor with the press, politicians and the wealthy.
He presided over long schmooze sessions with the reporters, dishing scoops and opinions on company inner workings. He was in a position to know, in charge of billions of dollars of capital expenditures and contracts involving refinery construction and expansion projects.
Costa projected candor and reveled in his perceived role as a straight shooter. He had his own publicists and the Petrobras press office would often wake to Costa interviews in the newspapers that they had no idea were coming. He was often photographed with high-ranking politicians, President Rousseff among them.
Members of the ruling-party coalition introduced Costa to Alberto Youssef, the man accused by federal authorities of setting up fake import companies to launder the kickbacks, according to Costa's taped testimony made public by the Parana federal court.
Laundering Arrest
Youssef proved the link to Costa's downfall. The Parana federal court documents show Youssef had served time in a Brazilian prison previously as a major figure in a southern Brazil-based money-laundering operation that had clients throughout Latin America. Authorities were looking into suspicions that Youssef had returned to his old occupation, only to stumble upon the fact that Costa was one of his major clients, according to these court documents.
When Youssef was arrested for money laundering on March 17, he had seven mobile phones in his possession. Police found 27 others at his office -- one for each of his clients, these court documents say.
Youssef is collaborating with investigators and is negotiating the terms of a plea bargain agreement, said his lawyer, Antonio Figueiredo Basto. Recorded statements to investigators on Oct. 9 and made public by the Parana federal court in Curitiba are true and can be proved with documentation, Basto told Bloomberg News.
Construction Companies
Youssef explained in the video-taped testimony how he laundered money overseas from overpriced Petrobras contracts and how he distributed money from construction companies, in cash, to politicians. Youssef said he didn't create the scheme, and that he was only responsible to make sure the payments were made, according to these court documents.
At the heart of the inflated contracts case is the Abreu e Lima refinery. It was originally budgeted at $2.5 billion. It will cost at least $18.5 billion before it is operational this November.
This "insane difference" is simply the arithmetic of "political interference," said David Zylberstajn, a former Brazilian regulator who helped set up the country's first oil exploration auctions in the 1990s.
Regional politicians clamored for it. Begun in 2007 -- and now three years behind schedule -- it has created hundreds of construction jobs and juiced economic activity in a region until recently governed by allies of Brazil's ruling coalition.
Spiraling Costs
For Petrobras, it has been an expensive fiasco. As costs spiraled out of control, a 2009 internal Petrobras report warned that the 230,000-barrel-a-day refinery would be a money loser at a cost of $10.5 billion.
Those Parana state federal court documents show that in their decision to prosecute Costa investigators pointed to seven Petrobras contracts, including one for a coking unit and hydro-treater – installations vital to converting crude oil into transportation fuels -- that the documents say were over billed. A report by the Accounts Tribunal, a federal watchdog overseeing public spending, has put the total as high $540 million (1.3 billion reais.) With Costa and Duque both signing off, the contracts were sent to Petrobras' executive board in late 2009, where they were approved.
'Slanderous' Allegations
Among the companies winning these inflated Petrobras contracts were Odebrecht SA, OAS SA and Camargo Correa SA, three of Brazil's largest engineering and construction firms and historically among the country's top political donors, according to Brazilian political spending records. Costa said these companies were among at least ten that were involved in the criminal enterprise, according to his video-taped testimony to prosecutors.
The consortium led by Camargo Correa denied overpricing in an e-mailed response, citing labor costs higher than those used by investigators and the fact that the contracts allowed for cost increases.
Odebrecht didn't make any illegal payments and denies the "slanderous" allegations made by Costa and Youssef, the company said in an e-mailed statement. Odebrecht has complied with bidding rules in all the Petrobras contracts it has won over the decades, Odebrecht said. The company wants a rigorous investigation and will cooperate with authorities, it said. CEO Marcelo Odebrecht said in an Oct. 5 statement that press reports were erroneous and detrimental to Odebrecht's image.
Copy Machines
OAS operates with integrity and will wait until the end of the investigation to comment, it said in an e-mailed response.
Camargo, Odebrecht and OAS all said they comply with campaign finance regulations in e-mailed responses.
Petrobras earlier this year said it is looking at over-billing issues at two other refineries. One is in Pasadena, Texas, where Petrobras spent $1.2 billion between 2006 and 2012 on a plant that its previous owners had bought in 2005 for $42.5 million. The other is the Comperj Refinery in Rio, where Petrobras has already spent $21.6 billion on projects, with a federal audit court finding evidence of over billing, according to a report the court made public last week.
The federal prosecutors office in Rio also opened a criminal investigation in mid-2013 to investigate Petrobras's businesses overseas, according to documents from the Rio court.
Shipyard Relief
Documents from an internal Petrobras audit conducted between 2011 and 2012 and seen by Bloomberg News also show Petrobras probing contract irregularities at an Argentine refinery. Petrobras had signed a contract to pay Odebrecht almost $3 million for three copy machine rentals as part of a $825.7 million contract, the audit stated. The contract was later reduced by 42 percent and work concluded in February of this year.
Odebrecht, in an e-mail, denied doing anything improper. It said the copy machine rental figure was a clerical mistake and that it had been eliminated from final billing. The slashing of the contract was a result of Petrobras selling off some assets, thus reducing its need for contracted services, it said in the statement.
The undoing of Petrobras has walloped the Brazilian oil industry. Some shipyards built to supply the expected boom in demand for platforms and support vessels are up for sale or seeking government relief amid missed targets and exploding costs.
Workers Party
Foreign oil companies and service suppliers have scaled back projects and dismissed staff as Petrobras accelerates cost control programs to compensate for both the production growth shortfalls and the expensive fuel subsidies that drain its coffers.
Startups, including Eike Batista's oil venture and HRT Participacoes em Petroleo SA, that raised billions from investors with promises of becoming mini versions of Petrobras have burned through most of their cash with little revenue to show for it. In the case of Batista, the gambit ended in the largest corporate default in Latin America's history.
Though much of the current furor is fixated on Costa and the present administration under Rousseff, the Workers Party, since the early days of the Lula regime in 2003, has been accused by its political opponents and some workers inside Petrobras of orchestrating a political take-over of the company -- replacing high-level, highly trained technical staff with union members with little or no knowledge of the oil industry.
Union Movement
Petrobras' first CEO during Lula's term, Jose Eduardo Dutra, a former union leader himself who had risen with Lula in Brazil's union movement at a time when it embraced outright socialism, was forced to defend the practice. In an October 2003 interview, he told a Brazilian newspaper, "It's not degrading to be a union member." A geologist by training, Dutra remains in Petrobras with the of title corporate director. Dutra, in an Oct. 9 statement, said while "my connections with the PT are public and notorious" he played no part in the current scandal.
The practice of appointing political employees still chafes some. "A lot of my managers who work at Petrobras still complain they are managed by union members -- high-school-degreed-technicians managing engineers," said Ildo Sauer, the former head of Petrobras' natural gas division who said he was pushed out by the company in 2007 for not "collaborating" with the government-company agenda.
"There has always been political interference inside Petrobras," said Sauer. "But during the PT's government these relationships were transformed and grew in proportion." Petrobras declined to comment on Sauer's allegations.
'Important Position'
"That's why Paulo Roberto got such an important position," said Wagner Freire, who during a 34-year career at Petrobras rose through the ranks to become exploration and production managing director before retiring in 1992. Brazil's oil boom "made some people think about what was the best way to divert money to their pockets.'
In those heady days, Petrobras announced so many major oil finds that then President Lula declared that ''God is Brazilian.'' In late 2009 he compared Brazil's newfound oil riches to the ''prettiest girl at a jamboree - everyone wants a dance.''
Five years after Lula's dance quip, Brazil's oil industry isn't much of a party. BP Plc has shipped staff out of the country after a disappointing exploration campaign in an area where it expected to find pre-salt discoveries. Andarko Petroleum Corp., one of its partners, has been trying to sell its Brazil assets for years.
Declining Interest
The shale gas revolution in the U.S., offshore discoveries in Africa and the opening of Mexico's oil industry is drawing more attention than the pre-salt. Milton Franke, the former head of Petrobras' office in Mexico, laments the declining interest in Brazil after traveling to several international oil conferences this year.
''Brazil was not even mentioned. We are off the world's agenda," he said.
As for Costa: Cops investigating his case found a hand-lettered entry into his personal day book – a saying by a famous Brazilian journalist-cartoonist – that reads: "To end corruption is the supreme goal for one who has not reached power."
He has since told investigators, based on the federal court documents made public, that power did him in. During his first 27 years at Petrobras, he said he had hewed a straight course. It was when he was elevated to a company director in 2004 that he was encouraged by high-placed people in and out of the company to follow a perverse meaning of St. Francis' admonition, "For it is in giving that we receive."
Out of that grew a culture of corruption that has become "a stain in the company," Costa said.
Before it's here, it's on the Bloomberg Terminal.
LEARN MORE