Jones Said to See U.S. Stocks Beating Globe Rest of 2014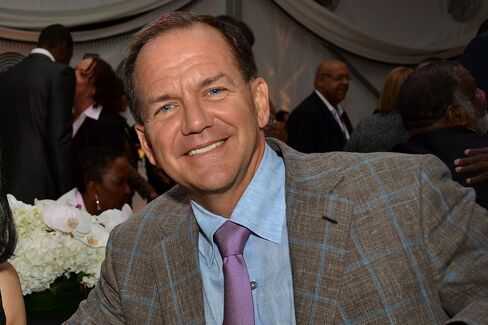 Billionaire Paul Tudor Jones, one of the most successful hedge-fund managers, said U.S. stocks will outperform other equity markets for the rest of the year.
Jones, founder of the $13 billion Tudor Investment Corp., made the comments yesterday in a wide-ranging interview conducted by fellow macro money manager Stan Druckenmiller at the Robin Hood Investors conference in New York, according to two people at the event who asked not to be identified because it was private. Jones also predicted that a rally in the U.S. currency may have ended and that there's a bubble in global credit that will burst.
"The piper will be paid one day," he told the crowd, saying the timing is unclear.
Jones, 60, has produced an average annual return of almost 19 percent since 1986 by chasing macro trends in stocks, bonds, currencies and commodities. Like many macro managers, he's struggled to make money this year. His Tudor BVI Global Fund fell 0.9 percent through Oct. 10, according to two people familiar with its performance.
Jones has been a longtime critic of the U.S. Federal Reserve's policy of buying bonds.
"If we maintain the status quo, what will be the probable outcome a decade from now? Look no further than Greece for the answer," Jones told investors in 2010. He reiterated the reference to Greece yesterday by saying the U.S. is headed toward that country's level of debt within the next 15 years.
Yen Trade
Jones also said yesterday that the dollar, which has strengthened against every G10 currency this year, may not climb much more against that basket, said the people. He's still short the yen because the Bank of Japan will continue monetary easing. The yen needs to decrease 15 percent for inflation to increase by 1 percent to 1.5 percent, he said.
The Memphis, Tennessee, native started Robin Hood in 1988 to help eradicate poverty in New York City, after the stock market crash the prior year that made him a fortune. The charity focuses on finding, funding and creating programs and schools for families in the city's poorest neighborhoods, according to its website. This year's conference raised $6 million, as attendees paid to hear investors including David Einhorn, Larry Robbins and Jim Chanos give trading ideas, and the organization has gathered almost $2 billion since it was founded.
Einhorn, president of Greenlight Capital Inc., yesterday recommended investors buy renewable power companies TerraForm Power Inc. and SunEdison Inc., according to two people with knowledge of the matter. TerraForm rose 11 percent to close at $27.77 in New York and SunEdison climbed 7.7 percent to $17.90.
Einhorn also said he owned warrants on Greek banks Alpha Bank AE and Pireaus Bank SA, and was betting on declines in French sovereign debt.
Jim Chanos, founder of short-seller Kynikos Associates LP, said optimism that Petroleo Brasileiro SA will benefit if President Dilma Rousseff is voted out of office is unfounded. The shares fell 6.1 percent to 17.92 reais in Sao Paulo.
Today's speakers at the conference include Dan Loeb of Third Point LLC and David Tepper of Appaloosa Management LP.
Before it's here, it's on the Bloomberg Terminal.
LEARN MORE