Actavis Said to Compete With Sanofi for Omega Pharma Deal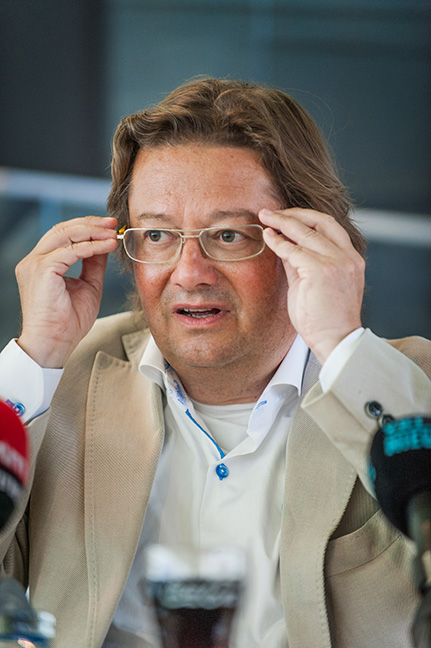 Actavis Plc is among the bidders for Omega Pharma NV, people with knowledge of the matter said, as the U.S. drugmaker continues hunting for acquisitions.
Actavis, a potential suitor as well as quarry in a dizzying number of potential pharmaceutical combinations in recent months, is competing with Perrigo Co., Sanofi and Boehringer Ingelheim GmbH for Omega Pharma, the people said, asking not to be identified because the information is private.
Bidders are carrying out due diligence and final offers for the Belgian consumer health-care company are due by the beginning of November, said the people. Omega Pharma could fetch more than 4 billion euros ($5.1 billion) in the sale, which is being run by Morgan Stanley, the people said.
Spokesmen for Actavis, Perrigo and Sanofi declined to comment, while representatives for Omega Pharma and Boehringer Ingelheim didn't respond to requests for comment outside of normal business hours.
Actavis rose 1.3 percent to $229.58 as of 10:01 a.m. in New York today. Perrigo and Sanofi each gained less than one percent.
The company, which is run from Parsippany, New Jersey, and obtained an Irish tax domicile by acquiring Warner Chilcott Plc last year, agreed to buy Durata Therapeutics Inc. this month for $675 million to gain an antibiotic to treat skin infections.
Deal Flurry
Over the summer, Actavis approached Allergan Inc. -- itself trying to fend off a hostile takeover offer from Valeant Pharmaceuticals International Inc. -- about a deal, people with knowledge of the matter have said. Salix Pharmaceuticals Ltd. separately has held talks to sell itself to Actavis.
The company is also a possible target: Pfizer Inc. approached Actavis earlier this year to express its interest in an acquisition as the U.S. drugmaker continues to explore ways to cut its tax rate and gain a new product pipeline, people familiar with the matter have said.
While the health-care sector has seen an increase in deals this year, not all of them are being completed. AbbVie Inc. and Shire Plc agreed yesterday to terminate what would have been the biggest U.S. tax inversion after AbbVie pulled its support for the deal in the wake of proposed changes to U.S. rules governing such transactions.
Profit Growth
Omega Pharma, which makes over-the-counter drugs including painkiller Solpadeine, was valued at 848 million euros when it was taken private by founder and Chief Executive Officer Marc Coucke with Waterland Private Equity Investments BV and several co-investors in February 2012, after 13 years as a public company.
The company's operating profit for the first six months of 2014 was 130.1 million euros, an increase of 60 percent from the same period last year, according to a statement. Operating profit for the whole of 2013 was 137.7 million euros, with net sales of 1.2 billion euros.
Omega Pharma Invest NV, formerly known as Couckinvest NV, is the main shareholder with an almost 88 percent stake, the annual report shows. The company holds the rest of the shares as treasury stock.
Before it's here, it's on the Bloomberg Terminal.
LEARN MORE