FHFA Said to Plan Steps to Ease Lending to Riskier Buyers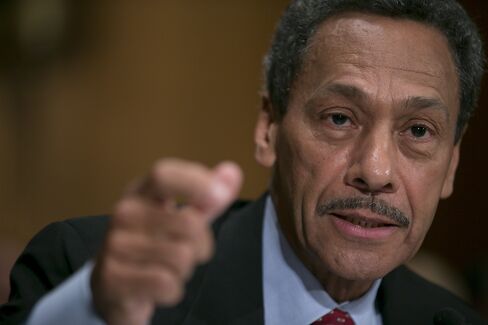 Fannie Mae, Freddie Mac and their regulator are nearing agreement with mortgage issuers on efforts to boost lending and ease banks' concerns that they will get stuck with bad loans when borrowers default.
The initiatives include a consensus on when defaulted loans are so flawed that lenders must buy them back from the two mortgage-finance companies, a key sticking point in efforts to unlock credit, according to three people familiar with the discussions. The steps are part of a broader push to increase lending after banks had to repurchase billions of dollars of mortgages that were issued during the housing bubble.
The banks' reticence has kept first-time homebuyers and others with weak credit out of the real-estate market and created a drag on the fragile housing recovery.
Melvin L. Watt, the director of the Federal Housing Finance Agency, will clarify in a Oct. 20 speech at the Mortgage Bankers Association conference in Las Vegas how some loans can be permanently exempted from the threat of buybacks, said the people, who asked not to be identified because the plans aren't public. Watt will also discuss an effort that would allow borrowers to put down as little as three percent of the purchase price on loans backed by Fannie Mae and Freddie Mac, enabling borrowers with lower incomes to access the mortgage market, the people said. The two companies currently require a five percent down payment on most loans.
Peter Garuccio, an FHFA spokesman, declined to comment.
Details about the minimum down payment were reported earlier by the Wall Street Journal.
High Scores
Fannie Mae and Freddie Mac, which have been under U.S. conservatorship since 2008, buy mortgages and package them into bonds on which they guarantee payments of principal and interest. Lenders are requiring credit scores averaging about 740 on loans they sell to the government-owned mortgage companies, far exceeding the sub-700 average before 2007 and above the 680 minimum that Fannie Mae and Freddie Mac require on most loans.
The new efforts don't go far enough to encourage banks to accept lower credit scores, Jaret Seiberg, an analyst at Guggenheim Securities LLC, said today in a note to clients.
"These moves are positive for housing and positive for expanding mortgage credit availability," Seiberg wrote. "But there is no evidence yet that they will be the game changers needed to get banks to take more risk."
Lenders including Wells Fargo & Co. have been in negotiations with Fannie Mae, Freddie Mac and the FHFA about how to clarify the rules governing loan buybacks. John Stumpf, Wells Fargo chief executive officer, said Oct. 14 that lenders were working toward a detailed agreement on when the risk of default transfers to Fannie Mae and Freddie Mac.
"If the originator does a poor job and doesn't underwrite properly, sure they should be held accountable," Stumpf said on a conference call. "But if a default happens later and it's due to a technical issue unrelated to the payment ability of the customer that could have been known, then risk should transfer."
Before it's here, it's on the Bloomberg Terminal.
LEARN MORE