Putin Threatens EU Gas Squeeze Raising Stakes for Ukraine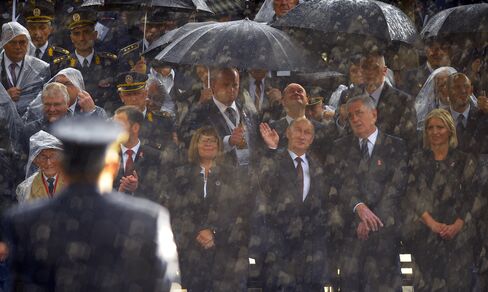 Russian President Vladimir Putin flew into Milan last night for peace talks with European Union leaders after threatening to cut the supply of natural gas through Ukraine if the government in Kiev diverts fuel for domestic use.
After missing an earlier meeting time because he stayed on at a military parade in Serbia, Putin met German Chancellor Angela Merkel shortly before midnight as they prepared for formal talks on Ukraine scheduled for 8 a.m. today. Ukrainian President Petro Poroshenko also met Merkel as well as Italian Prime Minister Matteo Renzi and EU President Herman van Rompuy.
Merkel and the EU have blamed Putin for stoking the crisis by providing pro-Russian rebels with cash, weapons and fighters since Russia annexed the Ukrainian peninsula Crimea in March. Putin, who was accompanied by OAO Gazprom Chief Executive Officer Alexey Miller, said he's worried Ukraine may steal Russian gas bound for European markets.
"There are big transit risks," Putin, who denies involvement in the Ukrainian conflict, said yesterday in Belgrade, Serbia. If Russia sees its Ukrainian partners "are starting to siphon off our gas from the export pipeline network, we will respond by reducing flows by the amount stolen."
Today's Talks
Yesterday, the German chancellor criticized Putin's government for doing too little to support a truce between Ukrainian forces and rebels agreed on Sept. 5 in Minsk, Belarus.
At 1:30 this morning, as Putin left the hotel where he met with Merkel, Bloomberg Television's Ryan Chilcote asked the Russian leader about those who say he hasn't done enough to resolve the crisis in Ukraine.
"I'm always accused of doing something," Putin said as he got into a stretch Mercedes limousine, waving as he departed.
Putin, Poroshenko and EU leaders were holding the wider talks this morning. The Russian president arrived at Milan's Prefettura shortly after 8 a.m., joining the other leaders already inside.
Before the talks, Merkel said she would urge Russia to pull back its armed forces from Ukraine's border, help secure the frontier, and contribute to ensuring Ukraine can carry out Oct. 26 elections on its entire territory.
"It's above all Russia's responsibility to make clear how the Minsk agreement can really be adhered to," Merkel said in Milan. "Unfortunately there are very, very big shortcomings in this respect. But it will also be important to seek dialogue."
The German leader said Russia's violation of international law regarding the annexation of Crimea must be countered and that EU sanctions on Russia are an important part of efforts to resolve the crisis.
Ruble's Slide
Putin's government has retaliated with counter-sanctions that have hurt EU economies and pushed Russia, already suffering from low oil prices, to the brink of recession.
The ruble slid to a record low as the Bank of Russia's pledge to provide $50 billion of foreign currency through 2016 failed to ease the rout amid an oil slump. The Micex index of Russian stocks fell 1.2 percent.
Putin said yesterday that he won't bow to pressure from the U.S. and Europe over Ukraine. He also said his government won't be responsible if an energy crisis erupts in the EU, which gets about 15 percent of the natural gas for electricity and heating from Russia via pipelines crossing Ukraine.
Putin's meeting with Poroshenko today will precede a new round of gas talks planned for Oct. 21, as Ukraine tries to ensure it has enough fuel for winter. The EU has been seeking to broker an interim deal between Putin and Poroshenko to avoid a repeat of supply cuts to the bloc in 2006 and 2009.
While Putin insisted he hoped they can reach an agreement, he said Russia won't be responsible if an energy crisis emerges.
"If we see that the Ukrainian partners siphon off our gas, we'll reduce deliveries," he said.
Before it's here, it's on the Bloomberg Terminal.
LEARN MORE