Wal-Mart Trims Sales Forecast, Predicts Slower Profit Growth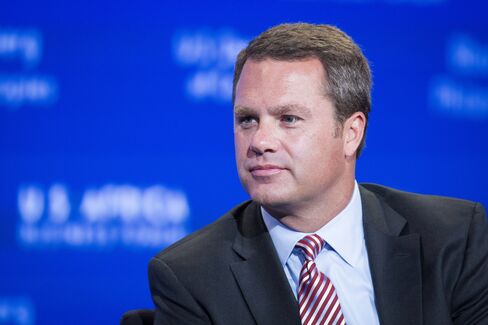 Wal-Mart Stores Inc., facing a retail slump and a decline in traffic to big-box chains, cut its annual sales forecast and predicted slower profit growth over the next three years.
Sales will rise 2 percent to 3 percent this fiscal year, the Bentonville, Arkansas-based company said today at its annual meeting with analysts. Wal-Mart had previously projected growth of 3 percent to 5 percent, though it indicated in February that it expected to come in at the low end of that forecast.
The bleaker outlook sent Wal-Mart's shares down 3.6 percent to $75.20 today in New York, marking the biggest one-day decline in almost two years. The stock has dropped 4.4 percent this year.
Chief Executive Officer Doug McMillon is trying to reignite growth at a company hampered by shaky retail spending and slow shopper foot traffic. Wal-Mart's same-store sales -- an industry benchmark of health -- haven't risen in six quarters. To bounce back, the company is opening fewer big-box locations, focusing instead on smaller neighborhood stores and its e-commerce site.
"We need to develop a more seamless relationship with our customers," McMillon said in a statement. "We won't just be a store on the street. We'll support our customers' lives, with them in the driver's seat, to save them money and time."
Store Visits
The 47-year-old executive, who took charge of the company in February, said today that he sees plenty of room for improvement when visiting Wal-Mart stores on surprise visits. McMillon said stores need to boost in-stock levels -- a measure of the merchandise available on shelves for customers to buy. They also should address long checkout lines and improve staffing by increasing the number of worker hours.
Sales will climb 2.5 percent to 3.5 percent annually over the next three years, the company said today. In fiscal 2016, the growth will be 2 percent and 4 percent. Profit, meanwhile, will grow at a "somewhat slower" rate, Wal-Mart said.
In March, Wal-Mart executives said at a company meeting that store shelves need to be better stocked and that resolving the matter could be a $3 billion opportunity. Last year, Bloomberg News reported that many items were not being replenished, leaving some shelves bare. Hundreds of e-mails poured in from once-loyal customers complaining they could no longer find what they were looking for and so were shopping elsewhere.
'No Excuse'
There's "no excuse" for the company not to be doing better in the U.S., McMillon told analysts at today's event. As part of its plan to entice more customers, the company is turning its focus to smaller-format stores and away from its traditional supercenters. Wal-Mart plans to open as many as 200 new Neighborhood Market stores next year, compared with 60 to 70 supercenters. The company will add between 26 million and 30 million retail square feet worldwide this year, less than the 32 million to 34 million it had originally expected.
"We have to improve traffic, and that's got my full attention," Greg Foran, CEO of the company's U.S. division, told analysts.
The company is confronting a challenging retail environment as it heads into the holiday shopping season. Retail sales in the U.S. dropped more than forecast in September, according to Commerce Department figures released today. The 0.3 percent decrease followed a 0.6 percent gain in August. The median forecast of 81 economists surveyed by Bloomberg called for a 0.1 percent decline in September.
Capital Spending
Wal-Mart's capital spending will be $12.5 billion to $13 billion this year, the company said today, compared with a February forecast of $12.4 billion to $13.4 billion.
Next year, that spending is expected to decrease to between $11.6 billion and $12.9 billion. Wal-Mart will invest $1.2 billion to $1.5 billion on e-commerce and digital projects that year, up from about $1 billion in the current fiscal year.
The company is preparing for a surge in e-commerce growth as more of its customers shop online, Chief Financial Officer Charles Holley said. Internet sales will amount to about $12.5 billion worldwide this year and rise roughly 25 percent the following year. After that, growth should average 30 percent to 40 percent through fiscal 2018.
"The greatest investment of capital and in operating loss for our e-commerce operations will come over the next 18 to 24 months, and then we would expect to see that investment start to moderate in fiscal 2018," he said.
Before it's here, it's on the Bloomberg Terminal.
LEARN MORE