Weaker Retail Sales Signal Smaller Spending Boost: Economy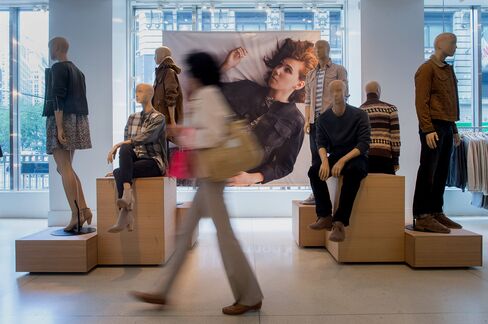 Retail sales dropped more than forecast in September on a broad pullback in spending that indicates American consumers provided less of a boost for the economy in the third quarter.
The 0.3 percent decrease followed a 0.6 percent August gain that was the biggest in four months, Commerce Department figures showed today in Washington. Sales fell at auto dealers, furniture stores, building-supply outlets and clothing merchants. The median forecast in a Bloomberg survey of economists called for a 0.1 percent drop.
An absence of bigger wage gains limits purchasing power and makes it difficult for consumer spending to accelerate even as employers step up hiring. The figures, along with others showing slower manufacturing growth and less inflation, add to concerns of weaker global growth that are battering the stock market.
"The fact that real wages and salaries haven't picked up that dramatically, it puts a ceiling on how much spending can accelerate," said Omair Sharif, a U.S. economist at RBS Securities Inc. in Stamford, Connecticut. "It seems like relatively widespread softness in spending. The pickup in consumption that we're all waiting for hasn't quite taken off yet."
Sharif and his RBS colleagues were the top sales forecasters over the past two years, according to data compiled by Bloomberg.
Another report showed manufacturing in the New York area cooled this month. The Federal Reserve Bank of New York's Empire State Index dropped to 6.2 from an almost five-year high of 27.5 the prior month. Readings greater than zero signal growth and the decrease from September was the biggest since November 2010.
Stocks Slump
The Standard & Poor's 500 Index pared its biggest intraday plunge since 2011 as small-cap shares rebounded amid speculation the selloff was overdone. The S&P 500 slid 0.8 percent to 1,862.49 at the close in New York.
Estimates in the Bloomberg survey of 81 economists for retail sales ranged from a drop of 0.5 percent to a 0.3 percent gain. August and July retail sales were unrevised.
It's important to keep in mind that the broad-based drop in September followed strong sales the prior month, Joshua Shapiro, chief U.S. economist at Maria Fiorini Ramirez Inc. in New York, said in a note. An early U.S. Labor Day holiday could explain the see-saw as related purchases were pushed into August at the expense of last month, he said.
While the September readings were a "considerable disappointment," he wrote, "we will know more about this theory after October spending data are released."
Cheaper Gasoline
What's more, falling gasoline prices will provide a cushion for Americans' budgets. Joseph Brusuelas, chief economist at McGladrey LLP in Phoenix, wrote in an e-mail to clients that cheaper fuel will "put an additional $50 billion in personal disposable income into the pockets of U.S. households."
A gallon of regular gasoline fell to $3.18 yesterday, matching the lowest level since February 2011, according to AAA, the biggest U.S. motoring group.
Still, the weakness in sales last month was enough to cause economists at Morgan Stanley to lower their tracking estimates for third quarter gross domestic product to 3.1 percent from 3.4 percent. The economy expanded at a 4.6 percent annualized pace from April through June.
Core Sales
The retail sales figures used to calculate GDP, which exclude categories such as food services, auto dealers, home-improvement stores and service stations decreased 0.2 percent, the first drop since January, after rising 0.4 percent in August.
Eight of 13 major categories showed decreases last month, four were up and one was little changed. Purchases at clothing stores dropped by the most since October 2012.
Automobile dealers' sales fell 0.8 percent, the most since January, after a 1.9 percent increase the prior month.
Industry data showed purchases dropped to a 16.3 million annualized rate in September, the lowest since April, from a 17.5 million pace a month earlier that was the highest since January 2006, according to data from Ward's Automotive Group. Ford Motor Co. is among automakers that remain upbeat about prospects for demand.
Ford Hiring
"Looking ahead, favorable indicators include continued robust manufacturing activity and growth in investment spending, gradually improving employment conditions with modest income growth, and stabilization and potential modest gains in housing with recent improvements in builder confidence," Emily Kolinski Morris, chief economist at Ford said on an Oct. 1 conference call.
Ford has been on a hiring spree to help meet customer demand ahead of next year's labor contract negotiations, adding 850 workers at its Dearborn, Michigan, manufacturing site.
Other employers have also stepped up hiring, which may boost spending in the months to come as total income rises for Americans. Payrolls climbed by 248,000 last month while the jobless rate declined to a six-year low of 5.9 percent.
The increase in hiring isn't spurring a pickup in pay. Hourly earnings rose 2 percent in September on average from the same month in 2013, barely enough to pick up with inflation, figures from the Labor Department showed earlier this month.
Service Stations
While cheaper gasoline may be helping lift some Americans' spirits, lower fuel prices hurt receipts at filling stations as the Commerce Department's retail sales data aren't adjusted for prices. Purchases dropped 0.8 percent after decreasing 1.1 percent in August, today's report showed.
One bright spot last month was electronics and appliance stores, which posted a 3.4 percent jump in sales, the biggest since April 2013. The category was probably boosted by purchases of more than 10 million Apple Inc. iPhone 6 and 6 Plus models in their debut weekend following a Sept. 19 unveiling.
Sales surpassed last year's 9 million units when the iPhone 5s and 5c were introduced, the Cupertino, California-based company said in a statement. Pre-orders of the latest models topped 4 million units in the first 24 hours.
Another report today showed wholesale prices unexpectedly fell in September for the first time in a year, propelled by a drop in fuel costs that continues into this month, according to Labor Department figures.
The 0.1 percent decrease in the producer price index was the first decline since August 2013 and compares with the 0.1 percent gain median forecast of economists surveyed by Bloomberg. The so-called core measure, which strips out volatile food and fuel, was unchanged.
The lack of inflation pressures gives Fed policy makers room to keep interest rates near zero even as they're on pace to end their unprecedented monthly bond purchases this month.
Before it's here, it's on the Bloomberg Terminal.
LEARN MORE