Draghi Letdown Sends European Equities Down 11%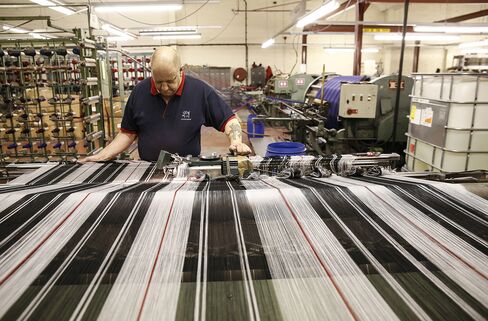 Just last month, Europe's stocks were trading near their highest levels in six years, with optimism spreading that central-bank stimulus would ignite the economy. Much has changed.
The Stoxx Europe 600 Index plunged the most in almost three years yesterday, closing down 11 percent from its June high to meet the definition of a correction. At one point, Greece's ASE Index was down 10 percent from the previous day's close, finishing with a loss of 6.3 percent. Italy's FTSE MIB Index fell 4.4 percent and Portugal's PSI 20 Index hit a two-year low.
Europe is leading a rout that has wiped more than $5.5 trillion from the value of equities worldwide. While data on everything from industrial production in Germany to manufacturing in the U.K. has contributed to the gloom, sentiment began souring on Oct. 2, when European Central Bank President Mario Draghi stopped short of spelling out how many assets the ECB might buy to head off deflation.
"The shock to markets has been so big in the past days, I have doubt that equities will recover from this very quickly," Francois Savary, chief investment officer of management firm Reyl & Cie., said in a phone interview from Geneva. "Draghi's latest communication to the market was a nightmare."
Teetering Confidence
Confidence teetered all day yesterday after U.S. retail sales data missed economists' estimates, pushing the Standard & Poor's 500 Index down more than 3 percent before losses were pared in the final two hours. Other reports showed slower manufacturing growth and less inflation in the biggest economy.
Equities in the Stoxx 600 have lost more than 6 percent since Draghi spoke this month as investors came to grips with prospects that policy makers might lack tools to keep Europe out of its second recession in a year. It was Draghi's promise to leave no option off the table in saving the euro that ended the region's last crisis.
"It's the realization that there's a real limit to his 'whatever it takes' promise," said Savary. "Any signs that U.S. growth won't do as well as expected throws markets into a panic because it's still carrying the global economic recovery on its shoulders."
The Stoxx 600 fell 0.4 percent to 310.03 at the close today, for its longest streak of losses in 11 years.
European stocks began a rally in July 2012 as Draghi reassured investors that not only would he do whatever it takes to preserve the currency bloc, but that it would be enough. The Stoxx 600 jumped as much as 40 percent from then as investors grew confident in the central bank's ability to spur a euro-area recovery that has yet to reach full bloom.
Fast-Forward
Fast-forward to last month, when Draghi cut the ECB's three main interest rates and announced an asset-buying plan to boost inflation and revive economic growth. That day, the Stoxx 600 ended at 348.89, near its six-year high of 349.71 from June.
The optimism fizzled on Oct. 2, when Draghi said the ECB will buy assets for at least two years for as much as 1 trillion euros ($1.3 trillion). Investors wanted more. That day, European stocks plunged the most in 15 months. More than 60 percent of economists in a Bloomberg survey said steering the ECB's balance sheet toward early-2012 levels won't be enough.
To add to the concerns, the IMF cut its outlook for growth in the euro area last week and said the region faces the risk of a recession. The currency bloc will expand 1.3 percent next year, slower than the 1.5 percent pace predicted in July, after a 0.8 percent gain in 2014, the fund said.
Slowdown Signs
A German report on Oct. 7 showed industrial production contracted the most in more than five years, while U.K. manufacturing grew at the slowest pace in 17 months, more signs pointing to a slowdown.
Greece, Italy and Portugal are the nations hit the most among 24 developed markets this month, with their stock-benchmark indexes tumbling more than 11 percent. Greek stocks plunged the most in almost two years yesterday as bond yields spiked on concern the government won't be able to fund itself adequately if it leaves an international rescue program early.
For David Hussey at Manulife Asset Management, bulls should hold on. The Stoxx 600 rebounded from its losses in January and March within a month, and the index had recouped most of the decline between June and August by Sept. 4.
"This is an opportunity to add to names you like, not a time to panic," said Hussey, who helps oversee about $281 billion as head of European equities in London. "Positive global growth, timid wage inflation, lower rates for longer and lower commodity prices are a good cocktail for equities."
Volatility has surged since European markets saw their calmest days in more than seven years in June. The VStoxx Index, a measure tracking expectations for price swings in the Euro Stoxx 50 Index, more than doubled since then and closed at 28.76 yesterday, a two-year high.
"There are just too many reasons for the market to sell off right now," Michael Morris, head of equities at Mitsubishi UFJ Asset Management in London, said in a phone interview. "There's a lot of nervousness."
Before it's here, it's on the Bloomberg Terminal.
LEARN MORE