Russia Spending $6 Billion Not Enough to Stop Ruble Rout on Oil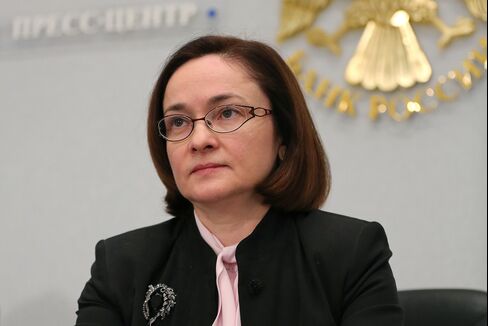 The ruble extended its longest losing streak in more than a year as $6 billion of Russian currency interventions failed to stem the depreciation amid tumbling oil prices.
The ruble weakened 0.6 percent versus the dollar-euro basket to 45.3303 by 6 p.m. in Moscow, taking its seven-day decline to 2.3 percent, the longest stretch of losses since the nine days ended Aug. 1, 2013. Oil, which along with natural gas contributes almost half of Russia's revenue, fell 2.2 percent to $88.21 per barrel in London, the lowest since December 2010.
Russia's central bank intervened in the past 10 days to stabilize the currency, central bank Governor Elvira Nabiullina told lawmakers in Moscow today. The action, which comes as President Vladimir Putin orders a withdrawal of Russian forces from Ukraine's border, has failed to halt the ruble's drop amid a domestic foreign-currency shortage stemming from sanctions. The cost to swap rubles into dollars widened to a record, while wagers for interest-rate increases climbed to a six-year high.
"The main driver for the ruble right now is the oil price," Dmitry Polevoy, the chief economist for Russia at ING Groep NV, said in an e-mailed note. Crude's decline "totally eclipses" the "reassuring news" that Russia announced it was pulling back forces from Ukraine's borders, he said.
The ruble slid 0.9 percent to a record 51.3120 versus the euro and lost 0.3 percent to 40.4350 against the dollar.
Oil's Slump
Brent's retreat from highs above $115 a barrel in June is worsening a selloff in Russian assets that have suffered this year as U.S. and European Union sanctions push the economy toward recession.
The monetary authority, which releases the amount of its interventions with a two-day lag, spent $866 million of foreign currency on Oct. 9 and moved the upper band of its target dollar-euro basket by 25 kopeks to 45.25 on Oct. 10, according to data on its website today.
The central bank may have sold another $700 million today, leading to a shift in the upper boundary of the ruble trading corridor to 44.35 per basket, according to Sergey Fishgoyt, the deputy head of foreign-exchange trading at OAO Bank Otkritie.
"We see the current environment placing a triple challenge before the central bank: accelerating inflation, fast ruble devaluation and weak economic growth," Vladimir Miklashevsky, a strategist at Danske Bank A/S, wrote in an e-mailed note. "This may result in a 100 basis-point interest rate increase at the end of this month," when policy makers meet on Oct. 31.
Rate Bets
Three-month forward-rate agreements climbed 32 basis points today to 200 points, the biggest bets for interest-rate increases since October 2008, according to data compiled by Bloomberg. While Nabiullina raised borrowing costs by 250 basis points since February to bolster the currency and rein in above-target inflation, the bank refrained from an increase last month.
Russian stocks and bonds climbed today as Putin ordered troops to withdraw from Ukraine's border on Oct. 11, with about 17,600 soldiers being redeployed at their permanent bases, according to a statement on the Kremlin's website. Ukraine, the U.S. and the EU accuse Russia of providing weapons, financing and troops to separatists in the nation's east, an allegation Moscow denies. The yield on government bonds due in February 2027 fell three basis points to 9.81 percent, while the Micex Index of equities rose 1.4 percent.
The ruble has continued to come under pressure as companies and individuals, blocked from western debt markets by sanctions, contend with the almost $55 billion of debt the central bank estimates is maturing through December. The rate on a three-year ruble-dollar basis swap reached negative 301 basis points today, signaling traders are willing to pay a record premium for dollars. It narrowed to 292 by 6 p.m. in Moscow.
The foreign currency sales are the biggest since March when the central bank spent about $25 billion as Russia's annexation of Ukraine's Crimea peninsula in March.
Before it's here, it's on the Bloomberg Terminal.
LEARN MORE