Kerry Disagrees With Lavrov on Ukraine Rebel Independence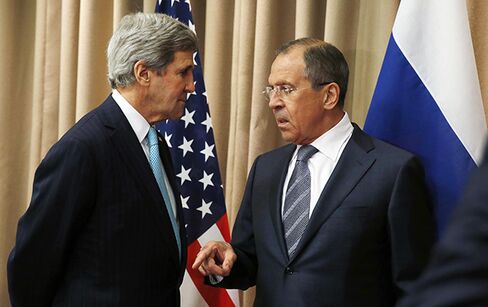 U.S. Secretary of State John Kerry and his Russian counterpart Sergei Lavrov disagreed over the aspirations of rebels in Ukraine's eastern Luhansk and Donetsk regions to break away from the country and achieve independence.
Kerry told Lavrov today that the U.S. is seeking the fulfillment of a Sept. 5 cease-fire agreement signed in Minsk, Belarus, under which the insurgents and Russia must stop shooting, withdraw foreign fighters, release prisoners and restore Ukraine's sovereignty on its shared border with Russia. The only "legitimate elections" in Ukraine would be an Oct. 26 parliamentary ballot and a Dec. 7 vote for local leaders, the top U.S. diplomat said.
"Any efforts to hold independence referenda in Luhansk and Donetsk are a violation of the Minsk agreements and the results will not be recognized by Ukraine and by the international community," Kerry said after a three-hour meeting in Paris with Foreign Minister Lavrov. "The foreign minister did not agree with our judgment on the referenda, so that was a point of disagreement."
Ukraine, the U.S. and the European Union say Russian President Vladimir Putin's government is encouraging the rebels' separatist aims to prevent the country of more than 40 million from deepening ties with the European Union and NATO. Putin denies any military involvement and has traded sanctions with its former Cold War foes that have hit both the EU and Russian economies, pushing the latter toward the brink of recession.
'Balance of Interests'
After meeting with Kerry, Lavrov emphasized the need for Ukraine to meet its obligations under the Minsk accord.
More generally, while differences between the U.S. and Russia are well-known, the two countries should seek a "balance of interests -- fair and equitable," Lavrov said in a press conference broadcast on Russian state TV Channel Rossiya 24.
The separatists in Ukraine have tried to create their own administrations, with the self-proclaimed Donetsk People's Republic establishing its own central bank and a system for paying pensions and salaries. They renewed their call for independence last week, with Andrei Purgin, the group's deputy prime minister, telling news service RIA Novosti that the Sept. 5 truce was "non-existent" and calling cooperation with Ukraine "impossible."
The government in Kiev said yesterday that Russia was following through on Putin's order on Oct. 11 to start pulling back troops from the Ukrainian border, calling it a step toward ending a six-month insurgency.
'Pulling Back'
"The troops are pulling back," Kerry said today. "The heavy equipment still has to be pulled back. And the border is yet to be properly monitored and secured and put together."
As shelling between the rebels and government troops pushed the death toll higher, Putin said in Moscow that human-rights organizations are turning a "blind eye" to violations there. Putin has said previously he has a duty to defend Russian speakers in Ukraine.
The pro-Russian rebels attacked Ukrainian forces 30 times in the preceding 24 hours, the military press office in Kiev said on its Facebook page today. The targets included Donetsk Airport and the port city of Mariupol on the Sea of Azov. Five people were killed there today by shelling, while seven more were shot dead and 16 were wounded in rebel attacks, according to a statement from the city council.
Before it's here, it's on the Bloomberg Terminal.
LEARN MORE