Hong Kong Police Remove Some Barricades to Shrink Protest Site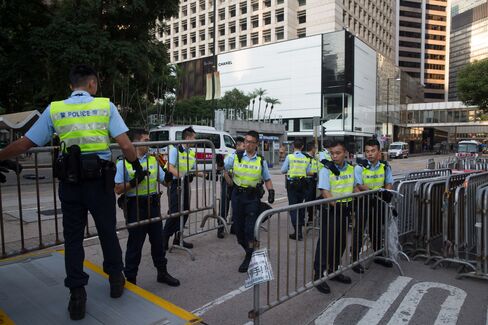 Hong Kong police removed barricades erected by pro-democracy demonstrators in the business district, shrinking the protest site, after Chief Executive Leung Chun-ying said China won't agree to their election demands.
After taking down some of the barricades, dozens of policemen faced off against demonstrators outside the main protest site in Admiralty. The police said they weren't there to remove the crowd today.
The move came after thousands of people heeded a call by protest leaders to rally over the weekend to pressure the government to give in to demands for free elections. Hong Kong Chief Executive Leung said yesterday that there is "zero chance" China will change its decision to vet candidates in the city's leadership contest in 2017, even as the demonstrations head into the third week.
"They're saying they're not clearing us out, that they're just taking back the metal barricades," said Hazel Chan, standing near the blockade on the Cotton Tree Drive road leading into the business district. "We'll be peaceful. If they come, then they'll have to get through us first."
Protesters, who didn't challenge the police earlier, reinforced barricades near Admiralty where a tent city has been spreading across the eight-lane highway since Sept. 28. The demonstrations have forced the former British colony into its worst political crisis since China regained sovereignty in 1997.
Talks Collapse
Hong Kong Chief Secretary Carrie Lam on Oct. 9 said the government canceled talks scheduled for the next day with student leaders, saying they can't meet unless students recognize the legal framework China laid down for the 2017 vote.
There are about 1,000 people on the protest site in Admiralty, and leaders are calling for more to come, pro-democracy lawmaker Lee Cheuk-yan said.
"They're trying to push all the people in," said Tony Chan, 27, who's manning a barricade. "We can only hope for a breaking event to give both sides a way to step down. Both sides have made wrong decisions."
The number of protesters on Hong Kong's streets, which had dropped to hundreds from demonstrators' estimates of as many as 200,000, picked up again on Oct. 10 as the government and students blamed each other for the collapse of talks. The Hong Kong dollar fell by the most in almost two weeks that day.
Traffic Jams
The road blockades raised the ire of truck and cab drivers, disrupting 40 percent of bus routes and led to miles of rush-hour traffic jams.
A coalition of truck drivers last week gave demonstrators a deadline of Oct. 15 to open the roads or they would tear barricades down. Nine associations, which control 70 percent of the city's 120,000 trucks, are part of the coalition.
Protesters have also blocked roads in Causeway Bay and Mong Kok, popular shopping areas, in a show of discontent toward China's electoral decision.
"They should start negotiation rather than the use of police force to try to suppress any movement initiated by the people of Hong Kong," said lawmaker Albert Chan. "It's quite well known that the gap between the government and the students is extremely wide. Still, there should be a mechanism, at least an attitude for both sides to sit down together."
New Pressure
As talks collapsed, Leung came under new pressure to resign after the Sydney Morning Herald said he was paid more than A$7 million ($6.1 million) by UGL Ltd., an Australian engineering company, from the sale of a property broker he worked at before taking office.
Hong Kong's Independent Commission Against Corruption received a complaint and is looking into the case, the government said on Oct. 9. The payment was for bonus and wages owed to Leung for his work at DTZ Holdings Plc, which UGL had acquired, Leung's office said in a statement.
"I believe my stepping down will not solve the problem since they are demanding the National People's Congress to withdraw its decision and for civil nomination, which is impossible," Leung said yesterday.
Before it's here, it's on the Bloomberg Terminal.
LEARN MORE