China's Zhou Says Some Countries Using Yuan in Reserves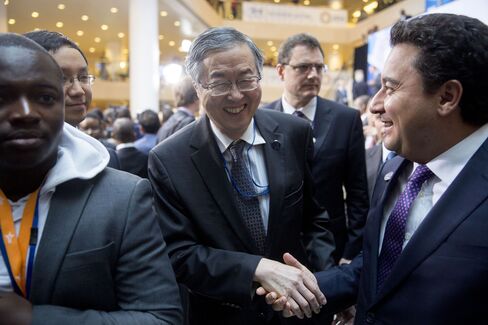 Some countries are already using the Chinese yuan in their foreign-currency reserves without announcing it publicly, central bank governor Zhou Xiaochuan said.
While China's yuan has begun to be used as a reserve currency for several years, some countries "may not be willing to say so," Zhou told Bloomberg on the sidelines of the International Monetary Fund meetings in Washington.
China has stepped up efforts to promote the yuan's use overseas since the global financial crisis, as expansion in the world's second-largest economy provides more clout while Europe has yet to fully recover. The European Central Bank will discuss next week whether to begin laying the groundwork to add the Chinese yuan to its foreign-currency reserves, Bloomberg reported yesterday.
"It's good that more countries are willing to adopt the renminbi as a reserve currency as our economy grows and our financial reforms continue," said Zhou, responding to ECB's consideration of adding yuan to its reserves. Renminbi is the official name of the yuan.
The yuan has improved its ranking for global payments to seventh in July from fourteenth about two years ago, according to the Society for Worldwide Interbank Financial Telecommunications. The currency has risen 11 percent against the U.S. dollar since 2009, the best among 24 most-actively trading emerging-market currencies tracked by Bloomberg.
"Some homework" remains for China to do to promote its currency globally, including making the yuan freely convertible in a gradual manner, and furthering efforts to "respect market demand and supply and maintain financial stability," according to Zhou.
Yuan Reserves
Nigeria and Belarus are two countries that already use the yuan in their foreign-currency reserves. Zhou today said some developed countries are using the yuan, without specifying.
The People's Bank of China signed a 10-billion-yuan ($1.63 billion) currency-swap agreement with its Sri Lanka counterpart last month during a visit to Colombo by Chinese President Xi Jinping. The Chinese monetary authority last month granted Sri Lanka's central bank a license to invest in China's domestic interbank bond market.
China has set up bilateral currency swap lines with more than 20 countries and regions since 2009, including Switzerland, Brazil, Hong Kong, Indonesia and South Korea, the Xinhua News Agency reported in July.
The inclusion of yuan in the currency basket of Special Drawing Rights, or SDR, the IMF's unit of account, will happen when conditions are right, PBOC deputy governor Yi Gang said yesterday in Washington. "A canal is formed when water comes," Yi said, using a Chinese idiom. The basket currently is made up of the dollar, euro, pound and yen.
Other governments and officials "including those working at the IMF are clearly aware of the market's demand and choices for the yuan use," Yi said, adding he is confident in the judgment of the market and investors.
Before it's here, it's on the Bloomberg Terminal.
LEARN MORE