U.S. and U.K. Plan Banking 'War Game' to Test Crisis Defenses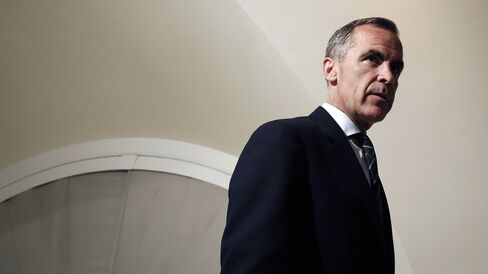 Regulators in the U.S. and U.K. will carry out their first so-called war game to simulate the failure of a major cross-border bank as they test their defenses against the type of crisis that crippled the financial system in 2008.
The exercise, involving Federal Reserve Chair Janet Yellen and Bank of England Governor Mark Carney, will take place on Oct. 13 in Washington and is aimed at testing the global framework on bank resolution to ensure that no lender is too big to fail, according to the U.K. finance ministry. U.S. Treasury Secretary Jack Lew, Deputy Secretary Sarah Bloom Raskin and British Chancellor of the Exchequer George Osborne will also take part.
The move comes as governments around the world implement a package of measures designed to put an end to publicly-funded bailouts when banks collapse. The Financial Stability Board, which consists of regulators and central bankers from around the world, plans to present new rules on this issue to a Group of 20 summit next month in Brisbane, Australia.
"We need to make sure that taxpayers are not on the hook for future bank failures," said Osborne, who told reporters at a briefing in Washington that this was the first such event. "We also need to strengthen cross-border co-operation on this issue."
While not simulating the failure of any particular lender, the war game will look at two scenarios: that of a major U.S. bank with U.K. operations at risk of failure, and that of a major British institution with American operations faced with similar risk.
Systemically Important
The FSB maintains a list of global systemically important banks. The latest list included 29 banks and identified HSBC Holdings Plc and JPMorgan Chase & Co. as the banks whose failure would do the most damage to the global economy.
The exercise will involve the heads of the U.K.'s Prudential Regulation Authority and Financial Conduct Authority, the U.S. Federal Deposit Insurance Corporation, the U.S. Securities and Exchange Commission, the U.S. Commodity Futures Trading Commission, the Federal Reserve Bank of New York and the Office of the Comptroller of the Currency.
BOE Deputy Governor for Markets and Banking Nemat Shafik, Fed Governor Daniel Tarullo, and New York Fed President William Dudley will also participate.
The U.K. central bank earlier this year tested lenders' defenses against cyber-attacks in a war game called Waking Shark II.
Before it's here, it's on the Bloomberg Terminal.
LEARN MORE