Minimum-Wage Backers to Get Unlikely Ally From NRF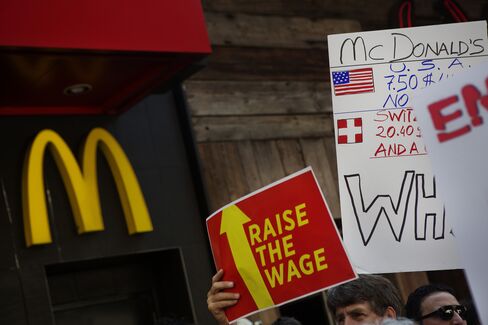 Minimum-wage advocates will have an unlikely new ally come January: the chairman of the National Retail Federation.
The trade group, which has long railed against minimum-wage increases, is slated to name Container Store Group Inc. Chief Executive Officer Kip Tindell to the chairman post next month. In an interview yesterday, Tindell said he'll encourage members of the association to boost wages and rethink their opposition to legislation.
"I'm working, frankly, to get the NRF to maybe moderate its view on that," he said. "It's unbecoming to speak out against raising the minimum wage."
The Washington trade group, the largest retail association, has opposed federal efforts to raise pay, calling a Senate bill to boost the minimum wage by about 40 percent "an anti-job tax." Advocates for higher wages say workers can't earn enough for their basic needs and must rely on public assistance.
The tide will eventually turn in favor of increasing pay, Tindell said, especially if companies like McDonald's Corp. and Wal-Mart Stores Inc. get behind the effort.
"I get to talk to these guys," said the Container Store executive, who released a book this week on conscious capitalism. "I know they're going to do it."
Tindell currently serves as first vice chairman of the NRF. He is due to be elected chairman when the group holds a conference in New York in January.
'Diverse Opinions'
"We look forward to Kip's continued leadership in facilitating the larger discussions on a myriad of complex challenges and opportunities that impact retail enterprises of all types and sizes," NRF Senior Vice President Bill Thorne said in a statement. "Diverse opinions and perspectives from NRF members are what make our industry strong and our advocacy efforts effective."
President Barack Obama and congressional Democrats want to raise the federal minimum wage to $10.10 an hour from $7.25, saying that doing so would boost the economy and help bridge the gap in income equality. Most Republican lawmakers oppose the idea. Wal-Mart, the world's largest retailer, has said it has a neutral stance on minimum-wage legislation.
Container Store, based in Coppell, Texas, pays workers as much as double the typical retail wage, Tindell said. It also provides health-care coverage for part-time staff. Wal-Mart, meanwhile, said this week that it was cutting health insurance for employees who work less than 30 hours a week. Tindell said he plans to maintain Container Store's coverage of part-timers.
Brooke Buchanan, a spokeswoman for Bentonville, Arkansas-based Wal-Mart, didn't immediately respond to a request for comment.
'Sound-Bite Politics'
The NRF said in April that advocating for a minimum-wage increase was "sound-bite politics" and that retailers had enough challenges as they implemented Obama's Affordable Care Act.
"There is clear evidence that mandated wage hikes undermine the job prospects for less skilled and part-time workers," David French, the NRF's senior vice president for government relations, said in a statement at the time. The group said it would track votes by senators on minimum-wage legislation to judge how friendly the lawmakers are to the retail industry.
Retailers' shares have trailed the broader market this year, with the Standard & Poor's 500 Retailing Index declining 2.9 percent, compared with a 3.1 percent gain for the S&P 500.
Before it's here, it's on the Bloomberg Terminal.
LEARN MORE