Iran Lawmakers Build Support to Impeach Second Rouhani Minister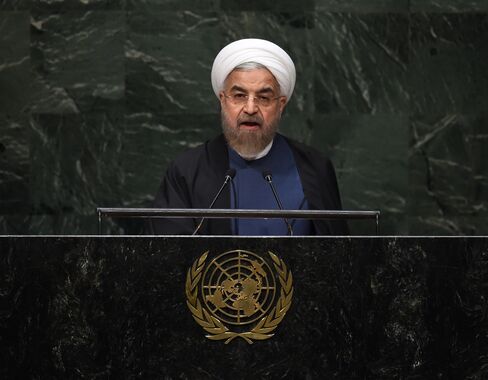 Parliamentary opponents of Iranian President Hassan Rouhani are seeking to impeach more members of his government, broadening a clash between rival power blocs that has already claimed one minister.
The motion to impeach Energy Minister Hamid Chitchian has been signed by 80 lawmakers in the 290-member body, the Tehran-based newspaper Etemaad reported, citing legislator Nader Ghazipour, who backs the initiative.
While the lawmakers say Chitchian's handling of the nation's water crisis is behind the attempt to oust him, the challenge pits Rouhani's administration against conservative politicians who oppose his agenda of diplomatic engagement and fewer restrictions on personal freedoms.
In an interview published in Etemaad today, a member of parliament's presiding board, Sharif Hosseini, said the panel doesn't approve of the impeachment motion and is seeking to prevent it from being lodged. The board in August consented to the successful bid to remove Science Minister Reza Faraji-Dana, though the speaker of parliament signaled that lawmakers shouldn't support it.
Some legislators are also seeking to impeach the industry, mines and commerce minister and the education minister, Hosseini said in the Etemaad interview.
The removal of Chitchian would signal that Rouhani's opponents are gaining ground at a time when the country faces crucial decisions over the president's efforts to overhaul foreign and domestic policy.
November Deadline
Talks with a group of world powers over the Islamic Republic's nuclear power station have bogged down ahead of a Nov. 24 deadline. Meanwhile, Rouhani has taken on conservative critics at home. This week he urged universities to allow students and professors the right to express their views freely. Faraji-Dana had championed the same issue before his impeachment.
Iran's regularly suffers acute water shortages, with the situation this year exacerbated by reduced rainfall. Authorities last month cut supplies temporarily to consumers considered to be using excessive amounts.
Hedayatollah Mirmoradzehi, a member of parliament's agriculture committee, said in a Oct. 6 report by the Iranian Students News Agency that lawmakers should address the shortages by enabling the allocation of more funds rather than using long-term failures "as a way to get to" the energy minister.
Five meetings between Chitchian and those leading the impeachment initiative have been held since mid-April, lawmaker Hossein-Ali Haji-Deligani told ISNA Sept. 29.
Before it's here, it's on the Bloomberg Terminal.
LEARN MORE