Draghi Clashes With Schaeuble Over Steps for Europe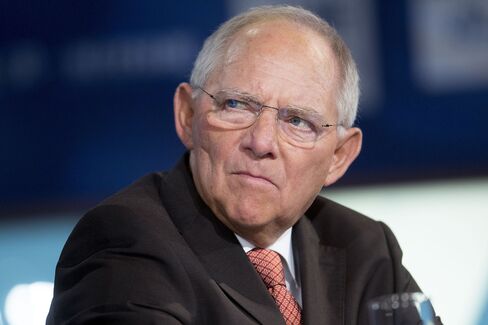 European Central Bank President Mario Draghi and German Finance Minister Wolfgang Schaeuble differed over what further steps to take if the euro-area economy keeps weakening as the region came under renewed foreign pressure to revive growth.
As the International Monetary Fund's annual meeting in Washington began, Draghi pledged anew to loosen monetary policy more if needed and called on those governments with the room to ease fiscal policy to do so. By contrast, Schaeuble warned against U.S.-style quantitative easing and urged continued budgetary discipline.
The differences demonstrate the lack of a common front in euro-area policy making as its economy continues to deteriorate and the IMF estimates there is as much as a 40 percent risk of a third recession since 2008. Finance ministers and central bankers from the Group of 20 economies meet today, and Europe's economic performance will be among the issues discussed, officials said.
"There is a concern about a deflationary spiral; we aren't predicting it, but we want to preclude it," Canadian Finance Minister Joe Oliver told reporters. "No one is saying it's a piece of cake, far from it."
Adding to the sense of division, Bundesbank President Jens Weidmann said targeting the amount of assets owned by the ECB is a risky endeavor. Draghi has suggested the balance sheet could be boosted by as much as 1 trillion euros ($1.26 trillion) although he backpedaled on that this month.
"It worries me quite a bit, there's a risk related to the announcement of a balance-sheet target, together with the two purchase programs," Weidmann said in Washington late yesterday.
The danger is "that we'll buy these assets overpriced" and that would transfer risk from banks to the central bank, he said.
Sluggish Growth
The euro-area has re-emerged as the main concern of officials worldwide after its economy stalled in the second quarter and inflation slowed to the weakest in almost five years. The IMF this week cut its euro-area growth forecasts to 0.8 percent for 2014 and 1.3 percent next year and said the ECB should consider buying government debt.
"More, we hope, will be done," IMF Managing Director Christine Lagarde told reporters.
Speaking in Washington yesterday, Draghi reiterated his call on governments to overhaul their economies now and repeated the ECB is "ready to alter the size and-or the composition of our unconventional interventions, and therefore of our balance sheet, as required."
With interest rates already at record lows, and the central bank issuing cheap loans to banks and starting to buy private-sector assets, the purchase of government bonds is the ECB's most likely option if the economy slips further toward deflation. Draghi said investors predict the ECB will only start increasing interest rates by 2017.
Draghi's Urgency
While the ECB has been proactive, governments have dragged their feet on structural reforms, prompting Draghi to say the region "urgently" needs to raise its potential growth rate.
"I am uncertain there will be very good times ahead if we do not reform now," he said, adding those that are able should "exploit the available fiscal space" in European Union rules.
"It seems to me that now all these governments have a very powerful incentive to do the right thing, and that is if they don't do the right things they will disappear forever from the political scene because they will not be re-elected," Draghi said.
While he seconded the call for more structural reforms, Germany's Schaeuble said governments should stick to fiscal discipline and warned that easier monetary policy is harder to introduce than it is in the U.S.
The euro area has 18 members, and another round of ECB stimulus would threaten to create a "huge moral hazard problem" by relaxing pressure on governments to revamp their economies.
'Buy Time'
"With monetary policy you can't solve the problems, you have to solve it with the decisions by national governments because we have no fiscal and economic union," Schaeuble said. "Monetary policy can only accommodate, it can buy time."
Former Bundesbank President Axel Weber also said in Washington too much was expected of the ECB, although he faulted it for allowing repayment of long-term loans which had resulted in a "de-facto tightening" of monetary policy.
Dutch Finance Minister Jeroen Dijsselbloem, who heads a group of euro-area finance ministers, said governments were too reliant on the ECB and identified France and Italy as countries that need to shake up their economies.
'Political Stamina'
"I hope they have the political stamina to get it done," he said.
French Finance Minister Michel Sapin said the IMF's warnings on deflation should be heeded and that the central bank had made good decisions.
Signs of weakness in Germany show "no country is immune," he said. "This German situation must be taken into consideration when assessing the whole euro zone."
The German government will cut its growth forecasts for 2014 and 2015 next week, Reuters reported today, citing two unidentified people in the ruling coalition. It currently expects economic growth of 1.8 percent this year and of 2 percent in 2015.
Sitting on the same panel as Schaeuble, former U.S. Treasury Secretary Lawrence Summers likened Europe to Japan of the 1990s when it failed to do enough to combat deflation.
"That is, I believe, the path Europe is on," Summers said. He criticized Europe for "the monolithic focus on the fiscal deficit to the exclusion of the investment deficit, which causes a growth deficit."
Before it's here, it's on the Bloomberg Terminal.
LEARN MORE