Air Force's $486 Million in Planes Reap $32,000 as Scrap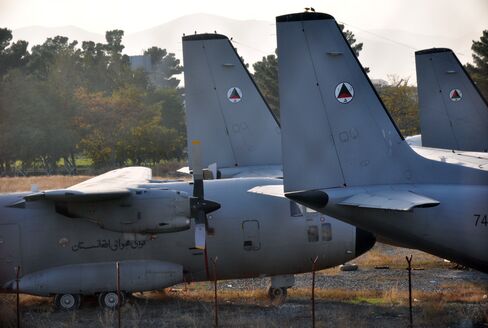 The U.S. Air Force destroyed 16 unused transport planes that were languishing in the weeds of Kabul International Airport, selling the scrap for 6 cents a pound, or $32,000, according to a government watchdog.
The service had spent at least $486 million for 20 refurbished Italian-made G222 twin-turboprop aircraft for Afghanistan's air force, only to abandon them, citing persistent maintenance issues.
"I am concerned that the officials responsible for planning and executing the scrapping of the planes may not have considered other possible alternatives in order to salvage taxpayer dollars," John Sopko, the special inspector general for Afghanistan reconstruction, said in a letter released yesterday.
Sopko said in the Oct. 3 letter to Air Force Secretary Deborah James that he was opening an inquiry and asked for documents on the process leading to the planes being "towed to the far side of the airport and scrapped by the Defense Logistics Agency."
Sopko said an Afghan construction company paid for the scrap. Four additional G222s are at Ramstein Air Base in Germany awaiting disposition, he wrote.
The refurbished G222s from Rome-based Finmeccanica SpA's Alenia Aermacchi North America unit no longer could be flown after logging 200 of 4,500 hours of U.S.-led training flights and missions required from January to September 2012 under a U.S Air Force contract, Bloomberg News reported in December.
Company's Position
Dan Hill, a spokesman for Alenia, said in December that the company "is proud of its work" on the transports.
"At the time that the U.S. Air Force chose not to renew the contract" the aircraft "were successfully performing missions in Afghanistan and exceeding the program objectives. While disappointed, we respect their decision not to continue," he said in an e-mailed statement.
The G222 fleet was "an interim solution to the meet the medium airlift needs of Afghanistan" and was discontinued because it "was unable to fulfill mission needs," Marine Corps Major Brad Avots, a Pentagon spokesman, said yesterday in an e-mailed statement on Sopko's letter.
The aircraft were disposed of "to minimize impact on drawdown of U.S. forces in Afghanistan," Avots said.
The G222 program was ended in March 2013 "after experiencing continuous and severe operational difficulties, including a lack of spare parts," Sopko wrote Defense Secretary Chuck Hagel in a separate letter.
The transport planes were supposed to make up about 15 percent of the 105-aircraft Afghan Air Force, flying top Afghan civilian officials and combat troops and conducting medical evacuations.
The G222s are being replaced by C-130H transports from Bethesda, Maryland-based Lockheed Martin Corp., the biggest U.S. defense contractor.
Before it's here, it's on the Bloomberg Terminal.
LEARN MORE