Au Revoir to France's Welfare Model as Socialists Cut Spending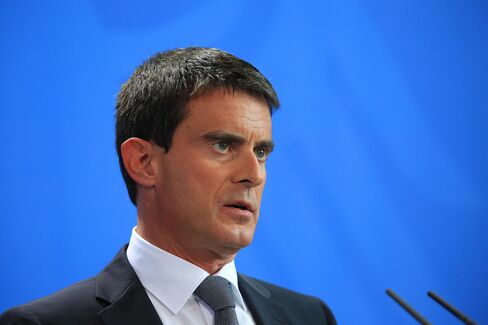 The glory days of France's welfare model may be behind it.
The country's Socialist government led by Prime Minister Manuel Valls is chipping away at a system that dispenses 52 billion euros ($66 billion) annually just in family benefits, and is among the most generous in the world. A hemorrhaging public deficit and debt on track to reach about 100 percent of gross domestic product within two years have left the government with little choice but to attack what in France has been a way of life for almost a century.
A politically sensitive issue that few governments have dared to touch, efforts to wean the French off some state benefits may turn into a major test for Valls, both within his party and among voters. The government sought to defend the move, saying it's not dismantling the French model, but rather making it more efficient and less wasteful.
"It's not the end of a generous system," government spokesman Stephane Le Foll said yesterday. "It's the end of spending that wasn't useful -- and that's in order to preserve a system that is a costly one."
Valls has mapped out his plans: streamlining unemployment benefits, cutting bonuses for newborns and pegging family allowances to household income -- all of which amount to a de facto re-writing of France's welfare rules. The social security budget for 2015, cleared by the French cabinet yesterday, slashes family benefits by 700 million euros.
France's family allowances were created in 1930 as a "universal" system that deliberately avoided income-based distinctions in order to ramp up the birth rate. The program has helped France maintain Europe's highest fertility rate.
Sorry State
France's generous welfare system has come at a price -- a budget that hasn't been balanced since 1974.
"For 40 years we have lived beyond our means," Valls said this week. "I am convinced we can make up for lost time."
With the planned moves, Valls's government sees the social security and pension deficit shrinking to 13.4 billion euros next year from 15.4 billion euros in 2014, according to the budget. The shortfall was also 15.4 billion euros in 2013.
France's total deficit will widen for the first time in five years this year to 4.4 percent of GDP and barely improve in 2015, the government said last month. The country won't achieve the European Union's 3 percent deficit target until 2017.
Growth is also falling short. The finance ministry has slashed its growth forecast to 0.4 percent this year from 1 percent and to 1 percent next year from 1.7 percent.
Baby Incentives
As part of efforts to close the budget gap, Valls's parliamentary majority said it wants to make family allowances income-based through an amendment to this year's budget law. The opposition is against breaking the universal model and linking the allowance to income.
Lionel Jospin, the Socialist prime minister in 1997, sought to make a similar change. He failed.
Several pillars of the French welfare model will be pulled down by the changes.
Maternity leave allowances -- part of the universal family benefits -- given to stay-at-home parents for up to three years, will be slashed.
The state will cut the income-based incentive payment given to families to have more babies. The 2015 budget shows the cut - - from the second child on -- will save the state 200 million euros per year.
Health and Social Affairs Minister Marisol Touraine said when she presented her ministry's budget on Sept. 29 that families didn't need that much money after a first child "since they've already paid for their first stroller."
Labor Market
Among other changes, this year's budget will push French taxpayers to opt for more outpatient services and a bigger use of generic drugs.
Mothers will be asked to leave the hospital earlier after deliveries and use services of midwives at home. According to the Organization for Economic Cooperation and Development, French mothers stay in hospital for 4.3 days after giving birth compared with an average of 3.1 days for the group as a whole. Touraine called the measures "modernization."
During his London visit this week, Valls promised to tackle labor market rigidity and to push restrictions on unemployment benefits. Labor unions immediately fired back promising to fight any government plans.
"No one can claim that our labor market is functioning properly," Valls told lawmakers yesterday in Paris.
Tackling unemployment benefits would be a logical follow-up to measures introduced by President Francois Hollande since coming to power in May 2012. He pushed through changes to French labor rules, making it easier to fire workers and crack down on welfare cheats.
Valls, 52, is not coy about his political ambition and sees the welfare-system reforms as part of his platform.
"Like you all, I am preparing for the future," he said yesterday.
Before it's here, it's on the Bloomberg Terminal.
LEARN MORE