Orderly Ruble Decline Seen Costing Up to $30 Billion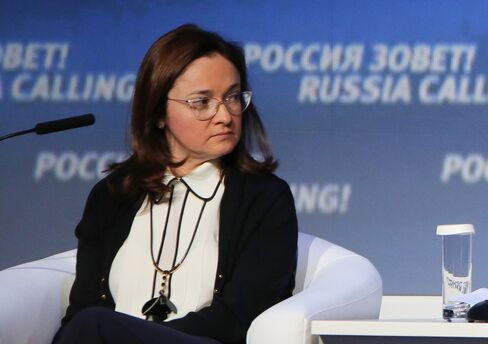 The Russian central bank will probably need to spend as much as $30 billion by year-end to slow the decline in the ruble, the world's worst-performing currency last quarter, according to UralSib Capital.
Bank of Russia spent about $2 billion to prop up the ruble since Oct. 2, its biggest market intervention since President Vladimir Putin's incursion into Ukraine in March. The ruble slumped 7.5 percent in the past month, the most in the world, as companies competed for dollars to service foreign debt amid U.S. and European Union sanctions.
Central bank Governor Elvira Nabiullina, seeking to move to a freely floated ruble by the start of 2015, is being forced to spend the nation's reserves as sanctions shut Russia out of international financial markets and foreigners withdraw capital. While a weaker ruble is good for the budget, the pace of decline needs to be managed, according to Ivan Tchakarov, the chief economist at Citigroup Inc. in Moscow.
"It should be enough if they spend $20 billion to $30 billion before the year ends" to smooth the ruble's weakening, Dmitry Dudkin, the head of fixed-income research at UralSib, said by e-mail yesterday. This sum "includes dollar swaps and foreign-currency repos" offered by the central bank, he said.
Ruble Trust
The Bank of Russia ended a five-month pause of selling foreign currency last week amid escalating penalties for Putin's actions in Ukraine, which shake up the post-Cold War order in eastern Europe. The ruble slid 0.2 percent to 39.9775 at 2:32 p.m. in Moscow, near a record 40.0535 set on Oct. 6.
The bank spent the equivalent of $980 million to shore up the ruble on Oct. 3, $420 million on Oct. 6 and between $350 million and $699 million yesterday, according to data on the monetary authority's website.
Nabiullina must manage the ruble's depreciation to avoid a potential bank run if capital outflows erode Russians' trust in their currency, Citigroup's Tchakarov said.
What if the currency quickly loses value and "everybody runs to their banks to convert rubles into foreign exchange," he said by e-mail yesterday. "There could be a panic."
'Piecemeal Intervention'
The nation's reserves have fallen by the equivalent of $55 billion in 2014 to a four-year low of $454 billion in September, poised for the biggest annual depletion since 2008, when the cash pile slid $160 billion from an August peak through year-end amid central bank efforts to stem the ruble's 16 percent drop. The central bank has spent $40 billion on currency interventions in the first five months of this year, it said.
Any accelerated move to a free float could stoke inflation, with a weaker ruble pushing up prices of imports, UralSib's Dudkin said. Russian consumer prices rose at an 8 percent annual pace in September, a three-year high, while economic growth slowed to 0.8 percent in the second quarter.
The central bank has raised its main rate to 8 percent from 5.5 percent since February, slowing loan growth at a time when companies, contending with $54.7 billion of debt repayments in the next three months, are struggling to gain foreign financing. Forward-rate agreements show traders project borrowing costs will increase by a further 75 basis points in next three months.
"Piecemeal intervention -- the way the central bank currently does it -- is not working," said Benoit Anne, head of emerging-market strategy at Societe Generale SA in London.
Managed Float
The Bank of Russia will need to either "commit to defending the ruble aggressively, for instance by selling $10 billion a day," or move to inflation targeting and use interest rates to "limit the damage of the weaker" local currency on the inflation outlook, Anne said by e-mail yesterday.
The central bank will continue intervening in the currency market in times of stress, even after switching to inflation targeting next year, Nabiullina said on Oct. 2. The central bank's press service referred to her statement from that day when asked by Bloomberg News about its strategy yesterday.
Russia's 10-year bonds have been the worst performers in emerging markets since sanctions were widened in July, with the yield climbing 97 basis points to 9.6 percent yesterday since July 16, when the U.S. kicked off a new round of sanctions against companies and individuals.
OAO Sberbank, the country's largest bank which has been sanctioned by the U.S. and Europe, said yesterday that its retail deposits shrank 33.9 billion rubles ($849 million) in September to 8.1 trillion rubles. That compares with an increase of 6.1 billion rubles a year earlier.
There will be no quick changes in the Russian currency's set-up, Oleg Kouzmin, an economist at Renaissance Capital Ltd. in Moscow, said by e-mail yesterday. "Until the end of 2014, the central bank may intervene under the current" managed-float regime, he said.
(An earlier version of this story corrected to show foreign-currency reserves dropped to four-year low.)
Before it's here, it's on the Bloomberg Terminal.
LEARN MORE