Oil Plunge Magnifies Russia's Sanctions Pain: Chart of the Day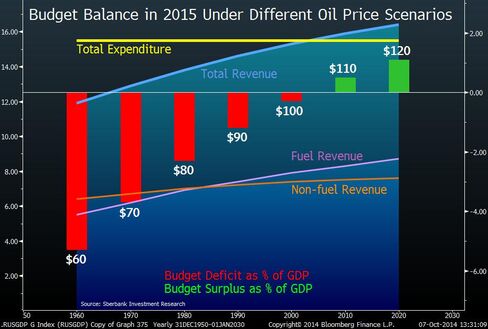 Oil prices that have plunged to a 27-month low are inflicting damage on a Russian economy already contending with escalating sanctions from the U.S. and European Union over its role in Ukraine.
The CHART OF THE DAY shows how an average oil price of $90 a barrel, close to where prices are now, would give Russia a budget deficit of 1.2 percent of gross domestic product next year, according to Sberbank CIB, the investment bank of Russia's biggest lender. The right axis shows the budget balance as a percentage of GDP under different oil-price scenarios. The left axis measures spending and revenues in trillions of rubles.
The U.S. and EU have targeted individuals, companies and the finance, energy and defense industries to punish Vladimir Putin's government after Russia annexed Crimea and gave support to separatists in eastern Ukraine. While Schlumberger Ltd. and Exxon Mobil Corp. scaled back oil-related operations in September, that didn't stop Russian production of crude and condensates from rising to near a post-Soviet era record.
"In the short-term, the falling oil price will be a big blow to the economy, especially if it reaches $80 a barrel," Alexei Kudrin, the finance minister from 2000 to 2011 who helped return Russia's budget to surplus, said by phone today. "However, in the long run, the sanction will have a more serious impact."
Russia will require an oil price of about $104 to balance its budget in 2015, Sberbank estimates. Brent crude, a benchmark for more than half the world's oil including Urals, Russia's main export blend, declined more than $20 since its 2014 peak in June and traded at about $92 a barrel today. It closed at $92.31 on Oct. 3, the lowest since June 2012.
Russia may have to cut spending if oil falls below $80 and stays there, according to Vladimir Pantyushin, chief strategist at Sberbank. The futures curve for Brent crude shows prices ranging from $93 to $96 a barrel next year, having averaged $107 so far in 2014.
Before it's here, it's on the Bloomberg Terminal.
LEARN MORE