Energy-Saving LED Lights Win Nobel Physics Prize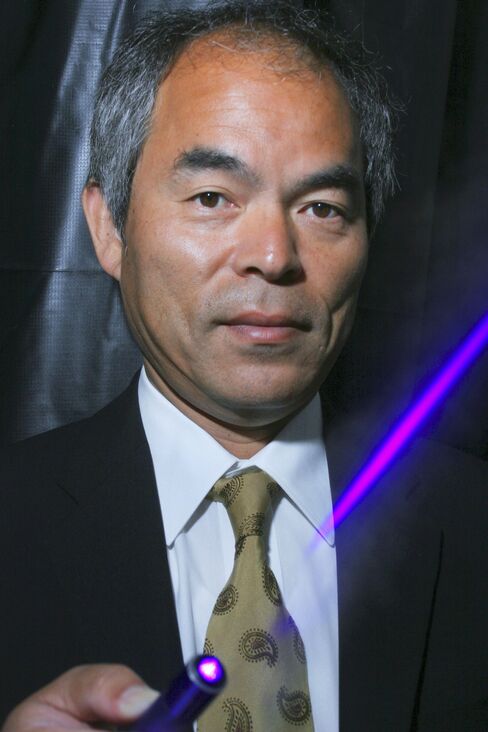 Three Japan-born scientists won the Nobel Prize in Physics for inventing energy-saving LED lights, which have upended a multibillion-dollar industry while offering the promise of lighting to people living far from an electricity grid.
Isamu Akasaki, 85, from Meijo and Nagoya Universities, Hiroshi Amano, 54, from Nagoya, and Shuji Nakamura, 60, from the University of California at Santa Barbara, will share the 8 million-krona ($1.1 million) prize for the invention of blue-light emitting diodes, the Royal Swedish Academy of Sciences said today in Stockholm.
The work "triggered a fundamental transformation of lighting technology," the academy said in a statement. "Incandescent light bulbs lit the 20th century, the 21st century will be lit by LED lamps."
The three scientists were the first to master the intricate layering of semiconductor materials needed to create blue-light emitting diodes. Though red and green diodes had been invented decades earlier, blue was needed to complete the trio and create a light that would be white in color.
The impact of the invention is still playing out in a lighting industry estimated by Royal Philips NV to be worth about $75 billion. LED lamps accounted for 15 percent of global lighting sales in 2013, up from 4 percent in 2009, according to Euromonitor International, a market research company. In Asia, LEDs are now 20 percent of the market.
Long-Lasting
Traditional light bulbs have lifespans of two years to three years, meaning that companies could rely on regular sales of replacements. LED bulbs that can last 20 years destroyed that business model, leading to thousands of job losses.
Just last month, Philips said it would split off its lighting business amid increased competition and higher research costs, following the lead of Siemens AG. Osram Licht AG was spun out from Siemens last year and in July the lighting company said it would cut 7,800 more jobs as sales of traditional light bulbs declined faster than anticipated, adding to thousands of job eliminations in 2012.
Philips and Osram, the world's two biggest lighting makers, are facing increased competition from Asian companies such as Toshiba Corp. and Samsung Electronics Co., who already make the semiconductors used in LEDs to manufacture other electronic products such as televisions and computers.
Rapid Decline
"If you look at Philips's guidance, they're saying that traditional lighting will decline 10 percent per annum, where LEDs will grow 20 percent to 25 percent per annum," said Robin van den Broek, an Amsterdam-based analyst at ING Bank. "We're still in a transitional phase, and the fact that you could have a blue LED light which allowed the white LED light was pivotal to that."
Analysts have said that General Electric Co., the third-biggest lighting maker, may divest those operations, particularly after the Fairfield, Connecticut-based manufacturer agreed in September to sell its home appliances unit.
LED lighting also has helped open up new markets on continents such as Africa, where many people have limited access to an electricity grid. Unlike older, power-hungry bulbs, LED models can run on solar power and other cheap local alternatives. Philips has targeted markets in Kenya, Egypt, South Africa and Tanzania.
Efficiency Gain
In a light-emitting diode, the electricity is directly converted into light particles, leading to efficiency gains compared with other light sources, where much of the electricity is converted to heat rather than light.
"An enormous increase of power efficiency" is the result, Olle Inganaes, a professor of biomolecular and organic electronics at Linkoeping University in Sweden, said today at a press conference held by the science academy in Stockholm. "Something like a fourth of our electricity consumption in most industrialized economies goes to illumination. So having much more light for much less electricity is going to have a big impact on our modern civilization."
Akasaki and Amano worked together at the University of Nagoya to obtain blue light beams from their semiconductors in the early 1990s, while Nakamura worked at Nichia Corp., a small company in Tokushima, according to the academy.
"I didn't think about whether my research would be successful or not," Akasaki said at a news briefing broadcast on NHK Television from Nagoya. "I just did what I wanted to do."
$185 Bonus
Nakamura, an American citizen born in Ikata, Japan, co-founded a company called Soraa, which relies on a different LED technology platform from that used by the industry.
In 2005, Nakamura sued Nichia in a dispute over the rights to his discovery. The company originally paid Nakamura 20,000 yen -- worth about $185 today -- for his contribution to the diode, which a Tokyo court ruled could be worth 60 billion yen. Nichia settled with Nakamura for about 840 million yen, or about $8 million.
Scientists had been working on creating a blue diode for years, but Akasaki, Amano and Nakamura were the first to solve the puzzle.
"To make an LED, you need to deposit multiple layers of materials," said Neil Greenham, a physics professor at the University of Cambridge. "At least part of their achievement was to solve the problem of how to deposit these structures without causing flaws."
Annual prizes for achievements in physics, chemistry, medicine, peace and literature were established in the will of Alfred Nobel, the Swedish inventor of dynamite, who died in 1896. The Nobel Foundation was established in 1900 and the prizes were first handed out the following year.
The first Nobel in physics was awarded to Wilhelm Roentgen for his discovery of X-rays. Peter Higgs and Francois Englert won last year for describing the Higgs boson, a theoretical particle that may explain where mass comes from.
Before it's here, it's on the Bloomberg Terminal.
LEARN MORE