Samsung to Build $15 Billion Chip Plant as Phones Stall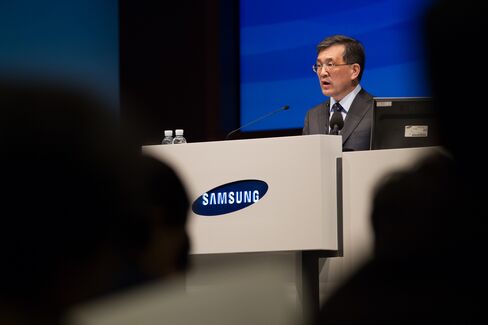 Samsung Electronics Co. will spend 15.6 trillion won ($15 billion) building a chip plant in South Korea as it heads for the roughest quarterly result in years amid competition from Apple Inc. and Xiaomi Corp. smartphones.
Construction in Gyeonggi province, south of Seoul, will begin in the first half of next year with semiconductor operations due to commence in 2017, Suwon, South Korea-based Samsung said in a statement. Samsung is shifting toward more complicated and lucrative processors to be the brains for new businesses such as wearable devices, smart cars and smart homes.
The biggest memory-chip maker is investing as its smartphone business struggles to stay dominant with Apple introducing bigger-screen iPhones and Xiaomi selling low-cost devices in more overseas markets. Third-quarter operating profit, due to be released tomorrow, is projected to plunge 47 percent and sales may drop 15 percent in the steepest declines since at least 2009, according to analyst estimates.
"Semiconductor has been Samsung's long-time key business, while the company can no longer expect strong growth from its mobile unit," said Lee Min Hee, an analyst at I'M Investment & Securities Co. in Seoul. "The company is now making a huge investment for the future as its key mobile business isn't likely to contribute to profit as much as it used to."
Estimates Cut
The company may increase spending on the new plant after the initial investment, which is triple the amount Tesla Motors Inc. may spend on its planned battery "gigafactory" in Nevada.
Profit at Samsung's chip unit was 2.14 trillion won in the third quarter, according to a Bloomberg News survey of analysts. That increase from 2.06 trillion won a year earlier is partly due to Samsung supplying semiconductors for the new Apple phones.
Shares of Samsung rose 0.9 percent to 1,151,000 won in Seoul, paring this year's decline to 16 percent. SK Hynix Inc., South Korea's second-largest chipmaker, slumped 5.1 percent.
Analysts have been cutting their profit estimates for Samsung almost daily, with at least 27 of 42 tracked by Bloomberg reducing their estimates in the past four weeks.
Samsung moved up the release date for its Galaxy Note 4 smartphone to the end of September, meaning device sales will aid third-quarter results.
'Earlier Splash'
"Samsung wanted to release the Note 4 in China ahead of Apple to give an earlier splash," said Greg Roh, a Seoul-based analyst at HMC Investment Securities Co.
Product release dates are determined based on a range of internal and external factors that affect business operations, Suwon, South Korea-based Samsung said in an e-mailed response to Bloomberg News.
Apple's iPhone 6 and 6 Plus have screens of 4.7 inches and 5.5 inches, respectively, compared with 4 inches for previous models, and are comparable to the sizes of Samsung's devices. Apple said it sold a record number of the new models during their debut weekend last month.
At the annual IFA consumer electronics show in Berlin, Samsung said Sept. 3 the Galaxy Note 4 would be released in October. Apple introduced new iPhone models Sept. 9 and the phones went on sale starting Sept. 19 in select markets.
'Ugly' Quarter
The Cupertino, California-based company will start selling new iPhones in China on Oct. 17 after the government granted the smartphones a network access permit, the final step in the approval process.
The Note 4 is available through China Mobile Ltd. for 5,199 yuan ($847).
Samsung will start global sales of its 5.6-inch Note Edge in the fourth quarter, the company has said. The Edge allows users to read messages, news and stock tickers from an angle by extending the display down the side of the phone.
Starting in the 2010 financial year, Samsung adopted International Financial Reporting Standards for its earnings. That change means comparisons to results before 2009 aren't on a like-for-like basis.
Samsung and Apple face stiffer competition in the world's largest market as China Mobile takes steps to eliminate $2 billion in smartphone subsidies, almost doubling the costs of some high-end devices for consumers.
"Samsung's third-quarter earnings will be pretty ugly," Claire Kim, a Seoul-based analyst at Daishin Securities Co., said by phone. "The most important thing for Samsung now is to protect its fast-falling market share, especially in China."
Samsung fell to fourth in Chinese market share in August with 10 percent, behind Lenovo Group Ltd.'s 17 percent, Huawei Technologies Co.'s 16 percent and Xiaomi's 14 percent, according to Hong Kong-based Counterpoint Technology Market Research Ltd.
While the introduction of smartphones aimed at low- to mid-range markets may help retain market share, it may take the release of Samsung's next marquee device, such as a successor to the Galaxy S5, for earnings to recover.
"We can't really expect good news from Samsung's mobile business this year," said Song Myung Sup, a Seoul-based analyst at HI Investment & Securities Co. "To reverse the current tide, the company should bring out the Galaxy S6 with flexible screens."
Before it's here, it's on the Bloomberg Terminal.
LEARN MORE