Khodorkosvky: Hard to See Peaceful Putin Power Transition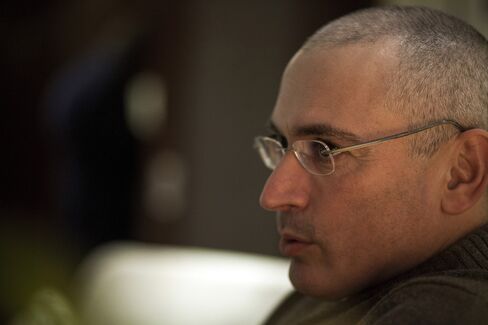 It's hard to imagine Russian President Vladimir Putin surrendering power peacefully, said Mikhail Khodorkovsky, the one-time oil tycoon who spent a decade in prison.
Putin missed his chance to give up power in a peaceful transition, Khodorkovsky, 51, said at the Council on Foreign Relations in New York today. Putin began his current term in 2012, after serving as president from 2000 to 2008 and prime minister from 1999 to 2000 and 2008 to 2012.
Once Russia's richest man with a fortune of $15 billion, Khodorkovsky was convicted of tax evasion, money-laundering and oil embezzlement in 2005. He has maintained his innocence, saying the charges against him were retribution for financing political parties that opposed Putin, an allegation the government denies.
His comments come as Russia endures sanctions from the U.S. and European Union for its annexation of Crimea and investors pull money from the nation. Khodorkovsky, who was freed in December and has been living in exile in Switzerland, said last week that Russia is nearing an economic crisis similar to the one that preceded the 1917 revolution that deposed the czar and brought the Bolsheviks into power.
"We don't follow the speeches and appearances of Mr. Khodorkovsky," Dmitry Peskov, a spokesman for Putin, said by phone today. "He spent so much time in prison that he lost touch with reality. He should prefer to live in this country. He doesn't have the moral right to read us lectures."
Elections 2016
Khodorkovsky, who has re-established his Open Russia foundation to advocate for a "civil society," said today he wants to help independent candidates and monitor polling in 2016. Asked about his interest in running for president, he said Russian reforms were needed to develop separation of powers and those who did so would need to step aside and let others run the country.
The recent arrest of billionaire Vladimir Evtushenkov and a legal campaign to nationalize his oil company, OAO Bashneft, has spurred feuds among Putin's inner circle, according to five officials who asked not to be identified because the discussions are private.
Herman Gref, a former economy minister who leads the state-run OAO Sberbank, has called the case "a tragedy." Russia "can't motivate people with the Gulag," he said at a forum last week. Gref has also compared the current Russian economy with the era when the Soviet Union broke apart.
"The fact that he can allow himself to utter these ideas publicly shows that Putin doesn't consider this much of a threat," Khodorkovsky said. "Putin is right -- economics is on the back burner."
Yukos Dismantled
Net outflows from Russian assets totaled $75 billion in the first half of 2014, compared with $61 billion in all of last year, data from the country's central bank show.
Yukos Oil Co., Khodorkovsky's company, was dismantled and its assets were sold mostly to state-run OAO Rosneft to cover $27 billion in back taxes after his imprisonment. Yukos's market value peaked at $35.7 billion in October 2003. Khodorkovsky had a fortune of $15 billion in 2004, according to Forbes magazine.
Before it's here, it's on the Bloomberg Terminal.
LEARN MORE