Petrobras Leads Brazil Rally as Real Climbs After Neves's Surge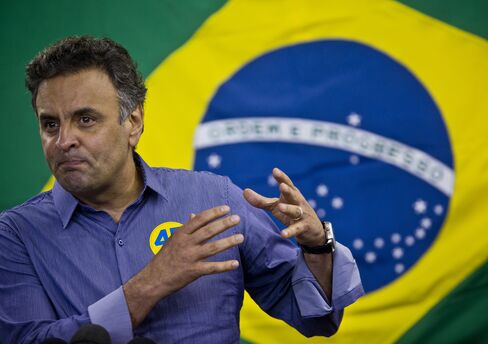 Brazilian assets surged, led by a jump in state oil company Petroleo Brasileiro SA, after Aecio Neves surprised analysts to take second place in presidential elections, forcing a runoff with incumbent Dilma Rousseff.
Petrobras rose 11 percent to 20.39 reais in Sao Paulo for the biggest gain since 2008. The IShares MSCI Brazil ETF added 6.1 percent to $46.03 in New York, while the real strengthened 1.3 percent to 2.4262 per dollar. The Ibovespa stock gauge advanced 4.7 percent, the most since 2012, to 57,115.90.
While Neves would have to overcome the eight-point deficit of the first-round vote, investors are boosting wagers on the chances of a new government that would bolster growth and curb intervention in state companies after she oversaw the slowest economic expansion for any Brazilian president in more than two decades. Neves has pledged to tame inflation that has exceeded the midpoint of the government's target for 48 months and said he would name former central bank President Arminio Fraga as his finance minister to regain investor confidence.
"Neves is seen by the market as the best potential president because he would be able to take measures to boost growth," Andre Perfeito, the chief economist at brokerage firm Gradual Investimentos, said in a phone interview from Sao Paulo. "But I think we all should be cautious as Rousseff still has a good chance to win."
The benchmark index for Brazilian equities had tumbled 12 percent since Sept. 2 through last week as voter polls showed increased support for Rousseff. The gauge could rise almost 20 percent from last week's close to 65,000 should Neves win the runoff vote, according to Geoffrey Dennis, the head of emerging-market strategy at UBS AG.
Macro Change
"The closeness of the result is a surprise," Dennis, who's been covering Brazilian stocks since the early 1990s, said in a telephone interview from Boston. He has an underweight rating on the country. "Investors looking for macro change in Brazil would have always preferred to see Neves as the next president."
Rousseff, of the Workers' Party, got 42 percent of votes yesterday, compared with 34 percent for Neves, a member of the Brazilian Social Democracy Party. The two candidates will face each other in a runoff election Oct. 26.
Itau Unibanco Holding SA, Latin America's biggest bank by market value, climbed 5.4 percent to 36.73 reais. Banco Bradesco SA, the region's second-largest lender, rose 7.6 percent, the biggest gain in more than five years.
Brazil's benchmark dollar bond due 2025 rose 0.84 cent to 100.89 cents on the dollar. The yield on local notes due the same year fell 0.27 percentage point to 11.82 percent. The cost to insure the sovereign debt from default with credit default swaps sank 16 basis points, or 0.16 percentage point, to 159 basis points.
Growth Outlook
While Neves's support was a surprise, Rousseff's victory in the runoff is still the most likely outcome, which could push Brazilian markets lower in the longer run, Lars Christensen and Stanislava Pravdova, analysts at Danske Bank A/S in Copenhagen, wrote in a note to clients.
"It is most likely that Dilma Rousseff will be re-elected and the markets are unlikely to celebrate as she is widely seen as being uncommitted to economic reforms," the analysts wrote.
A survey last week of economists who cover the country showed the analysts reducing their median estimate for growth this year to 0.24 percent from 0.29 percent, while raising the forecast for 12-month inflation to 6.38 percent from 6.33 percent, according to a central bank report today. Brazil targets inflation of 4.5 percent, plus or minus two percentage points.
Princeton Trained
"The likelihood that elections might prove to be the trigger for the much-needed shift in policy needed to revive Brazil's flagging economy is at least greater than a few weeks ago," Neil Shearing, the chief emerging-markets economist at Capital Economics, wrote in a research note to clients.
Fraga, a Princeton University-trained economist, has been a force in Brazilian finance for the past two decades, having served as chairman of the country's main stock exchange, founded a hedge fund that was purchased by JPMorgan Chase & Co. and managed funds for billionaire financier George Soros. Yet it was his time at the central bank that earned him the most notoriety.
Arriving in early 1999 in the aftermath of a currency devaluation, Fraga boosted benchmark interest rates to 45 percent in his first day on the job to staunch outflows and regain investor confidence. The real rebounded immediately, easing the financial crisis and allowing him to cut rates to 19 percent by the end of that year.
Interest Rates
Swap rates, a gauge of expectations for changes in Brazil's borrowing costs, dropped seven basis points to 11.84 percent today on the contract due in January 2016.
"The DI curve is tightening as markets expect Neves to be more orthodox in economic and fiscal policies," Paulo Petrassi, a fixed-income manager at Leme Investimentos Ltda., in Florianopolis, Brazil, said in a telephone interview.
Petrobras's benchmark dollar bonds due 2023 rose 0.89 cent to 94.82 cents on the dollar, while perpetual notes from state-controlled Banco do Brasil SA added 1.75 cents to 97.75 cents. Vale SA securities due 2022 rose 0.21 cent to 101 cents.
Neves, 54, draws his support from voters with higher incomes and more education, polls ahead of the election showed. Rousseff gets most of her backing among lower-income families and cites her success in lifting millions of Brazilian out of poverty.
Earlier Polls
The challenger received more votes than the 26 percent support he garnered in a Datafolha poll released Oct. 4. Rousseff had 44 percent in the poll that had a margin of error of plus or minus two percentage points. Opposition candidate Marina Silva had 22 percent support in the poll.
Since taking office in January 2011, Rousseff has stepped up the government's role in companies, changing concession rules to lower electricity rates and capping gasoline prices to tame inflation. Brazil's economy slipped into its first recession in more than five years in the second quarter.
"The market is reacting positively today because investors like Neves much more than Silva as he is more predictable and has already announced, in part, how he plans to build his economic team," Jose Francisco de Lima Goncalves, the chief economist at investment bank Banco Fator, said in a phone interview from Sao Paulo.
Before it's here, it's on the Bloomberg Terminal.
LEARN MORE