Altice Said to Seek Portugal Telecom Bid to Unwind Oi Merger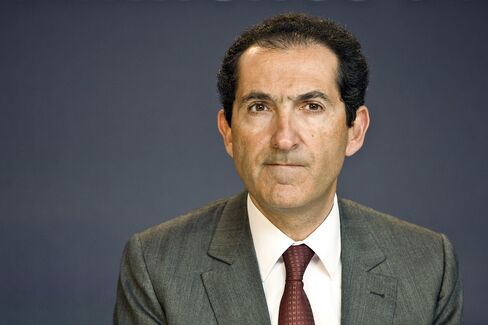 Billionaire Patrick Drahi is seeking to acquire PT Portugal SGPS SA, which would lead to a breakup of a merger of the nation's biggest phone company with Brazilian carrier Oi SA, according to a person familiar with the matter.
Altice SA, Drahi's cable holding company, is aiming to reach an agreement over the Portuguese assets within weeks, said the person, who asked not to be identified discussing private deliberations. Any deal would need the backing of Oi, which controls the merged entity, and to address how much of the debt defaulted by Rioforte Investments would ultimately be retained by Portugal Telecom, the person said.
Drahi, with a net worth of $8.1 billion according to the Bloomberg Billionaires Index, is swooping in as the Portuguese company's trans-Atlantic merger partner prepares to take part in phone-industry consolidation in Brazil. Oi, the fourth-largest major wireless carrier in Brazil, has attracted interest from Telecom Italia SpA, which controls the nation's second-largest mobile-phone company Tim Participacoes SA. Oi itself is trying to bid for Telecom Italia's stake in Tim.
"The only possible explanation for Oi to consider this option would in fact be the need to raise funds in order to go ahead with a possible acquisition of Tim," Espirito Santo Investment Bank analysts led by Andrew Hogley said in a note.
No Decision
In a filing today, Oi said its strategy is to look for and analyze alternatives to improve its financial flexibility, including a sale of non-strategic assets and stakes in companies such as Africatel Holdings BV. Oi has yet to make a decision on a disposal of its Portuguese assets, and hasn't received any proposal for them, it said.
Espirito Santo values PT Portugal, which holds the Portuguese phone business, at about 6.7 billion euros ($8.5 billion). Portugal Telecom SGPS SA, the publicly traded company whose main asset is a minority stake in the enlarged Oi, fell 1 percent to 1.65 euros in Lisbon for a market value of 1.5 billion euros. That vehicle is also the holder of 897 million euros of short-term debt defaulted in July by Rioforte Investments, a subsidiary of Espirito Santo International SA.
Altice shares jumped 3.4 percent to close at 43.16 euros in Amsterdam. Oi rose as much as 4.4 percent in Sao Paulo.
Altice, which already owns cable assets Cabovisao and Oni in Portugal, has been seeking acquisitions to bulk up in markets across Europe. Altice this year agreed to buy French mobile-phone carrier SFR in a $23 billion deal as part of a plan to combine the asset with Drahi's Numericable Group.
Market Share
While Portugal Telecom's merger with Oi hasn't been completed, the Portuguese carrier has transferred its local assets to its Brazilian partner.
If regulators approve a takeover of Portugal Telecom without requirements of asset disposals, Altice would get a landline market share of more than 56 percent in the country, based on first-quarter data compiled by Bloomberg.
An Altice spokesman for the Luxembourg-based company declined to comment, referring to its chief executive officer's remarks in August.
"There continues to be several steps that this can play out, particularly as the Brazilian consolidation play is just starting to get rolling," Dexter Goei said during Altice's Aug. 7 earnings conference call when asked about Portugal. "We continue to explore situations, particularly in markets across every one of our footprint."
A representative for Lisbon-based Portugal Telecom declined to comment.
Altice's interest in Portugal Telecom was reported last week by Risk Event-Driven and Distressed Intelligence, a financial news provider that focuses on Latin America.
Before it's here, it's on the Bloomberg Terminal.
LEARN MORE