Seven Economic Shifts Underlying Hong Kong's Divide With Beijing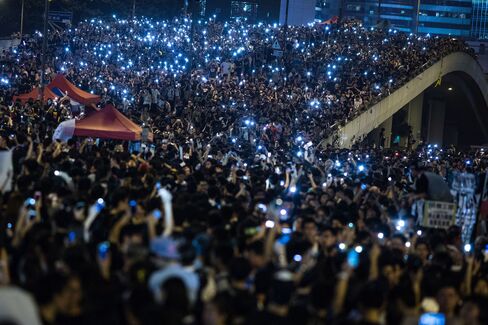 Underlying the test to China's control of Hong Kong with pro-democracy protests over the past 10 days are economic tensions that have fueled social unease and concern over the city's place within the nation.
Without the release valve of free elections to vent their frustration, demonstrators have taken their anger towards what they perceive as an unrepresentative government to the streets.
They aren't just fighting for democracy, says Joseph Cheng, a political science professor at the City University of Hong Kong.
"They are very worried about Hong Kong being reduced into just any other ordinary city in mainland China," says Cheng, who also serves as a convenor of the Alliance for True Democracy.
The following seven stresses underscore the Hong Kong-Beijing divide:
1. Property Pressure
Hong Kong homes are the world's least affordable, costing 14.9 times household incomes in 2013, according to the Demographia International Housing Affordability survey.
There's a perception that the rich mainland Chinese "are here to snap up property, leaving the Hong Kongers to fight for scraps," said Dylan Loh, a research analyst studying Chinese politics and international relations at the S. Rajaratnam School of International Studies in Singapore.
See CHART
2. Cost of Living
Hong Kong is one of the world's priciest metropolises and the cost of living has climbed with China's rise. In the 10 years after the U.K. transferred sovereignty over the territory to China in mid-1997, the average annual inflation rate was negative 0.5 percent; since then year-on-year consumer price index increases have averaged 3.4 percent, according to data compiled by Bloomberg.
"Money, goods and people will continue to flow through Hong Kong, which has benefits but the downside result is the price pressures that result," said Australia & New Zealand Banking Group Ltd. Hong Kong-based economist Raymond Yeung. "Hidden behind the protests is whether Hong Kong's population is happy with the government's handling of the economy."
See CHART
3. Visitor Influx
The record number of mainland visitors to Hong Kong is spurring resentment at eateries, malls and on the streets.
"They're competing with them not just for goods but also for their space," said Loh. "Not just geographical space but they feel that their social space, their cultural space is being threatened. They feel that perhaps their Hong Kong way of life as they know it is being threatened as well."
See CHART
4. Income Inequality
As the income gap widens in Hong Kong, it's getting harder for the young people leading the protests to get ahead.
"There's increasing income inequality in Hong Kong and a lot of young people when they enter the workforce, their incomes tend to be quite low, getting a job can be quite difficult even if the overall employment picture looks good," said Ian Chong, an assistant professor of political science at National University of Singapore. "What does being a financial hub mean to you if you're not the one who can get the high-level finance job?"
While many of the same pressures apply in Singapore, they are less intense, he said. Laws against protesting are also stricter, he noted, making protests less likely.
See CHART
5. Dirty Skies
While poor roadside air quality represents the biggest daily health threat to Hong Kong's 7.2 million people, factories across the border also cop a share of the blame.
"In the past decade, the environment in Hong Kong has deteriorated rapidly," said Huang Jing, a professor and Director of the Centre on Asia and Globalisation at the Lee Kuan Yew School of Public Policy in Singapore. "In the Guangzhou to Shenzhen area, we have seen a lot of manufacturing factories or plants being built. A lot of those factories do not really have very good measures for environmental protection and of course, Hong Kong's environment suffers."
See CHART
6. University Competition
A less high-profile tension is occurring within university campuses, said Jean-Pierre Cabestan, director of government and international studies at Hong Kong Baptist University. As institutions in the territory offer more Masters degrees for mainland Chinese -- "cash cows" for the universities -- more of the mainlanders are staying on in Hong Kong to work.
"From a Hong Kong point of view, most of the students in our university go on the job market after completing a bachelors degree and it's getting harder and harder for them to compete," Cabestan said. "There's been a lot of frustration accumulated over the past five to seven years and you can feel it. The relationship with the mainland Chinese has got quite sour on some occasions."
See CHART
7. Diminishing Value
More than 30 years after China opened up, Hong Kong's role in that process is becoming less central.
"Hong Kong's value to the mainland has diminished," said Steve Vickers, chief executive officer of Steve Vickers & Associates, an advisory firm on political and corporate risk. "At the time of the handover it was super valuable, it was the spark plug that was involved in generating growth, initially in the south and then nationwide. How to do it and all that all came from Hong Kong."
"Now there are many cities in China which are much larger than Hong Kong and can do many of the things that Hong Kong can do," said Vickers, a former head of the Royal Hong Kong Police's Criminal Intelligence Bureau. "While it's still economically valuable, its value has diminished."
See CHART
— With assistance by Kevin Hamlin, Sharon Chen, and Billy Chan
Before it's here, it's on the Bloomberg Terminal.
LEARN MORE