Ebola Patient's Girlfriend Overwhelmed by Quarantine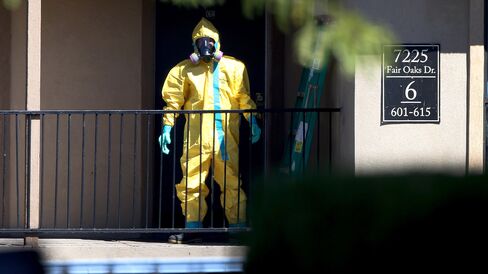 Louise Troh has suffered loss before, leaving her Liberian homeland for the U.S. a decade ago, and then losing a child during childbirth, her pastor said.
Now, the 54-year-old Dallas woman faces a new challenge. She has been quarantined because of her contact with the man she shares a son with and planned to marry, Thomas Eric Duncan. He has been confirmed as having Ebola, and the hospital where he's being cared for today downgraded his condition to critical.
Troh is worried Duncan may not recover, and that she too may be infected, said George Mason, senior pastor of Wilshire Baptist Church, where Troh worships.
"She is overwhelmed," Mason said in an interview yesterday. He has spoken with Troh several times since the ordeal began and is hoping to get permission from health officials to visit her. "It's a moment by moment, day by day experience," he said.
The church is becoming a focal point of efforts to help Duncan and his close contacts who are currently being quarantined as health workers wait to see if they develop symptoms of the deadly virus.
Mason made Duncan and Troh a focus of his Sunday service at Wilshire Baptist today. "It seems fitting that it turns out today, throughout the Christian church, is World Communion Day," Mason told several hundred worshipers at the packed service.
Donations for Help
"We are thinking about our connections all throughout the world," he said, and told congregants that those who want to donate money or other resources to Troh, Duncan or Ebola victims in Africa can give to the church's general fund and the funds would be steered to those in need.
"We have a team of people who have cared for and loved this family for quite a while," Mason said today. "This is not a new thing."
Troh has been moved with three others from her apartment to an undisclosed home provided by another church member. The same day she had the opportunity to speak with Duncan, who is being treated in the intensive care unit at Texas Health Presbyterian Hospital, Mason said.
"When you love someone, it is not something you can make go away with willpower," Mason said in yesterday's telephone interview. "It is something you have to endure." Asked about the chances Duncan will die, Mason said, "If it comes to that, we will be there to help her and stand beside her."
'Pain and Loss'
Troh, who works at an elder-care facility in the Dallas area, was baptized in June at Wilshire Baptist. The church was founded in 1951 and now has about 3,200 members, said Mason, who has been senior pastor there for 25 years.
"Louise is a seasoned adult and certainly has plenty of experience with pain and loss," Mason said. "She lost a child in childbirth not too long ago. She is displaced from her country of origin. She has come to grips with everything as well as she might."
Today, the church's regular service carried a deeper meaning because of the couple's travails, he said. There has been "many offers to help" pay Duncan's medical bills, according to Mason.
Troh was looking forward to having a life with Duncan in the U.S. after reconciling with him following a separation.
"They had a falling out of some sort," Mason said. "Somewhere in the neighborhood of 10 years ago, she left Liberia for America. Recently, they attempted reconciliation and he intended to marry her."
Before it's here, it's on the Bloomberg Terminal.
LEARN MORE