Apple Bears Awaken With Volatility Highest in Four Months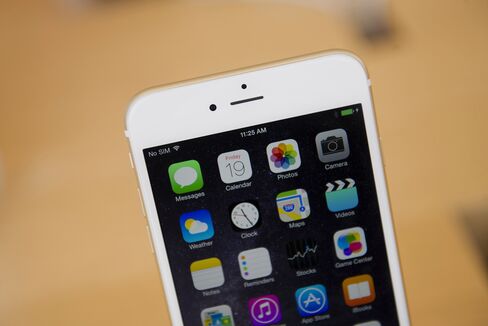 Apple Inc., whose share swings are contributing to one of the worst bouts of U.S. stock volatility this year, is becoming a focus of bears in the options market.
Contracts that appreciate as Apple drops are selling at the highest prices in 14 months relative to bullish ones, data compiled by Bloomberg show. The stock moved an average of 1.2 percent a day since the start of September, up from 0.9 percent in the first eight months of 2014, as concern mounted that features of its new phone are flawed.
Small changes in Apple have big implications for investor sentiment because of the company's market value, the largest in the world. A 1 percent decline in the stock erases almost $6 billion of equity capitalization and lops about 5 points off the Nasdaq 100 Index. Its swings in the last four weeks have coincided with a 14 percent increase in S&P 500 volatility.
"Apple is the largest publicly traded company in the U.S. and it has great influence on every index it's in," Chad Morganlander, a money manager at St. Louis-based Stifel Nicolaus & Co., which oversees about $160 billion, said in a telephone interview. "There will always be a correlation when there's volatility in the market."
Price Swings
Since the start of September, Apple shares have endured the biggest price swings in more than four months, whipped up as the company addressed complaints that its new iPhone 6 Plus bends and dealt with dropped cellular service. Over the same period, the S&P 500 has fallen 2.9 percent and the Chicago Board Options Exchange Volatility Index has jumped 35 percent.
"Volatility is creeping back into the market," Steve Sosnick, equity risk manager at Timber Hill LLC, the market-making unit of Greenwich, Connecticut-based Interactive Brokers Group Inc., said in a Sept. 30 phone interview. "It's no surprise that people would want to hedge profits on such a huge company that's had great returns this year. They're more fearful than greedy."
The CBOE Volatility Index dropped 10 percent to 14.55 at 4:17 p.m. in New York, ending the week down 2 percent. The CBOE Apple VIX Index, a gauge of expected volatility in the shares based on options prices, was little changed at 26.99 and is up 50 percent from its low for the year in May. Apple slipped 0.3 percent to $99.62.
Apple's stock climbed 28 percent in the first eight months of the year and has fallen since amid price fluctuations that widened by more than 30 percent. The stock plunged 4.2 percent on Sept. 3, the second-biggest decline of the year, and tumbled 3.8 percent on Sept. 25 when the S&P 500 lost 1.6 percent.
iPhone Issues
That drop was part of a two-day, 4.6 percent retreat that came as purchasers of iPhone 6 Plus complained the device was bending. Customers who updated their iOS8 software to the latest version experienced dropped cellular service.
The 4.2 percent tumble occurred the day after Apple reached a record high of $103.30. Shares of the Cupertino, California-based company slid amid speculation that its iCloud service had been breached by hackers as nude pictures of celebrities leaked online.
"Given the run in the stock, I'm not surprised people are paying up for protection on a relative basis," Stephen Solaka, who helps oversee about $150 million as managing partner of Belmont Capital Group in Los Angeles, said in a Sept. 30 phone interview. "The stock has held in there near all-time highs. People are locking in gains."
The Chicago Board Options Exchange Volatility Index, the gauge known as the VIX, averaged 13.5 last month, 3 percent above its mean level during the third quarter. The gauge has climbed 8.8 percent to 16.16 this week.
Volatility has also jumped in Asia and Europe, with Japan's Nikkei Stock Average Volatility Index rising 18 percent this week through yesterday and the euro-area's VStoxx Index climbing 20 percent.
Bearish Options
Options betting on a drop in Apple shares cost 1.7 points more than contracts wagering on an increase, according to three-month data compiled by Bloomberg. The spread, a relationship known as skew, increased to 1.89 points Sept. 29, the widest since July 2013.
Traders owned 0.74 bearish contracts on the stock for every bullish one on Sept. 19, which was the highest put-to-call open interest ratio since May. The measure has traded at an average of 0.68 year-to-date.
For some Apple investors, the company's recent woes are a minor setback and haven't been a deterrent to owning the stock. The company generates a great deal of cash, which it's been using lately to enhance shareholder value, according to Oliver Pursche, of Gary Goldberg Financial Services. He owns Apple shares and added to his position ahead of the stock split the company announced on April 23.
Since the start of 2013, Apple has raised its dividend on two separate occasions, and currently pays 47 cents per share.
Cash Cow
"Apple is a company that continues to generate a tremendous amount of cash, and is starting to develop a history of raising its dividend, which is very attractive to us," Pursche, president of Gary Goldberg Financial Services in Suffern, New York, said in a Sept. 30 phone interview. "The earnings-per share growth is also expected to accelerate significantly."
Apple profit is forecast to increase 9 percent in the fourth quarter from the previous year and see 12 percent earnings per share growth for full-year 2014, according to data compiled by Bloomberg. Earnings are expected to climb an additional 14 percent in 2015, the data show.
The company will announce its fourth-quarter results on Oct. 20. The earnings report will be a major deciding factor for many investors assessing what to do next with Apple's stock, according to Scott Kessler of S&P Capital IQ.
"A lot of potential catalysts have been realized and it's going to come down to what the company reports in the fourth quarter," Kessler, an analyst at S&P Capital IQ in New York, said in a Sept. 30 phone interview. "There's going to be a lot of people watching that number."
(An earlier version of this story corrected a description of an option payoff.)
Before it's here, it's on the Bloomberg Terminal.
LEARN MORE