France's Iliad Said to Plan Bid for Bigger T-Mobile Stake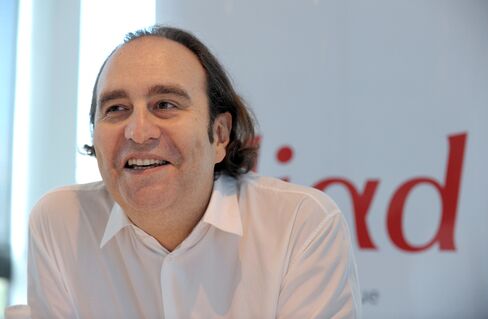 Iliad SA is planning to bid for a bigger stake in Deutsche Telekom AG's U.S. unit than it sought in July, as the French telecom carrier approaches a self-imposed deadline to reach a deal, people familiar with the matter said.
Iliad, which originally proposed buying 56.6 percent of T-Mobile US Inc., still intends to offer about $33 for each T-Mobile share for a significantly larger stake, said the people, asking not to be identified discussing a private matter. Controlled by billionaire entrepreneur Xavier Niel, Iliad has set a deadline of this month for reaching a preliminary agreement with Deutsche Telekom, the people said.
Deutsche Telekom, which owns just over 66 percent of T-Mobile, is in regular, informal contact with Iliad, and hasn't decided yet whether a new offer for a larger stake would be sufficient, the people said. Iliad's pitch will be that its offer for a larger stake at the same price will leave Deutsche Telekom more cash and a smaller remaining stake in T-Mobile, one person said.
Executives at Bonn-based Deutsche Telekom view at least $35 per share as a fairer price for T-Mobile, two people said.
T-Mobile fell 0.3 percent to $28.72 at 9:39 a.m. in New York, giving the company a market value of about $23.2 billion. Iliad declined 1.5 percent to 161.70 euros in Paris. German markets were closed for a holiday.
Financial Backers
The plan for a new bid comes after Iliad had some success signing up financial partners to back its efforts, the people said. The company held talks with potential investors including buyout firm KKR & Co., people with knowledge of the matter said last month, and discussed raising as much as $5 billion in additional debt and equity for a sweetened offer.
Spokeswomen for Iliad and Bellevue, Washington-based T-Mobile, declined to comment. Representatives for Deutsche Telekom couldn't be reached.
Deutsche Telekom has long held a goal of exiting its investment in the U.S. subsidiary, which has struggled to break the dominance of much larger rivals AT&T Inc. and Verizon Communications Inc.
In recent weeks, the German company's board has become split over whether to sell the unit that's become its only growing asset by rolling out a faster network and underpricing its rivals, people familiar with the matter have said.
The German company has failed to sell the U.S. unit in recent years after holding talks with both AT&T and Sprint Corp. U.S. antitrust officials are opposed to deals that would reduce the number of full-service mobile operators below four. That makes a sale to Iliad, which has never before operated in the U.S. mobile market, more feasible from a regulatory perspective than a domestic merger.
Deal Fatigue
T-Mobile Chief Executive Officer John Legere said last night that he's "sick and tired" of the speculation about the fate of his company. In a profanity-laced tirade, Legere said his employees still have post-traumatic stress disorder from AT&T's failed attempt to buy the wireless carrier.
Legere acknowledged he has "a fiduciary obligation to shareholders to look at any and all offers," he said yesterday at the GeekWire conference in Seattle. He also said there are a number of ways for T-Mobile to succeed, independent of an acquisition. "We can be a very profitable, growing company."
Before it's here, it's on the Bloomberg Terminal.
LEARN MORE