U.S. Reaches Deal With Brazil Ending Cotton Dispute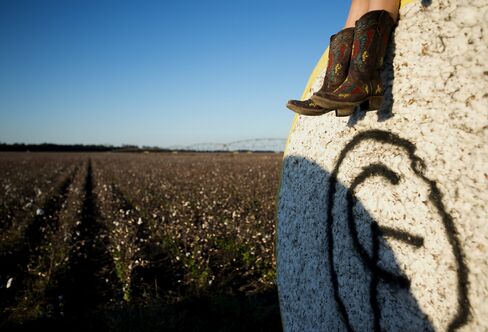 The U.S. and Brazil reached a $300 million agreement to resolve a dispute over cotton subsidies that has bedeviled the two nations for more than a decade.
The accord signed today in Washington involves a one-time U.S. payment to the Brazil Cotton Institute in return for that nation dropping all claims against the U.S., the U.S. Trade Representative said in a statement. Brazil will also not pursue any new World Trade Organization cotton claims while a five-year farm bill Congress passed in February is in effect.
"Today's agreement brings to a close a matter which put hundreds of millions of dollars in U.S. exports at risk," U.S. Trade Representative Michael Froman said in a statement with Agriculture Secretary Tom Vilsack. "The United States and Brazil look forward to building on this significant progress in our bilateral economic relationship."
The deal comes days before elections in Brazil and may ease tensions sparked by disclosures last year that the U.S. had spied on Brazilian President Dilma Rousseff.
The cotton dispute dates to a World Trade Organization complaint filed in 2002 by Brazil over U.S. subsidies to its cotton growers. Brazil, which claimed the practice disrupted trade, won the case and was allowed to levy $830 million in penalties against a wide swath of companies.
'Better Competitiveness'
The U.S. staved off retaliation in 2010 by agreeing to pay Brazil's cotton industry $147 million in annual aid until it changed the subsidy programs in a new farm bill. Those payments were ended in October 2013 as part of U.S. budget cuts, prompting threats from Brazil that it would slap tariffs on U.S. companies in response.
"The deal would allow better competitiveness for Brazilian products in foreign trade, and the payment of $300 million contributes to mitigate the losses for Brazilian cotton growers," Brazil's foreign ministry said in e-mailed statement.
The new farm bill included modified cotton programs designed to mollify Brazil's concerns.
Under the agreement, the WTO cotton case will be formally terminated in the next 21 days. The two nations also have agreed to a memorandum of understanding that includes changes to U.S. export guarantee programs, another area of dispute.
"The Office of the U.S. Trade Representative and the Department of Agriculture are to be commended for reaching a comprehensive agreement that brings the dispute to a close," National Cotton Council Chairman Wally Darneille said. "With the conclusion of the case, the U.S. cotton industry can bring a renewed focus to the challenges that lay in front of us."
"The deal is restricted to cotton and allows Brazil to question aspects of U.S. Farm Bill at WTO for other products, if necessary," Brazil's foreign ministry said in statement.
Before it's here, it's on the Bloomberg Terminal.
LEARN MORE