Putin Not Big Enough Threat to Undermine Europe, Norway Says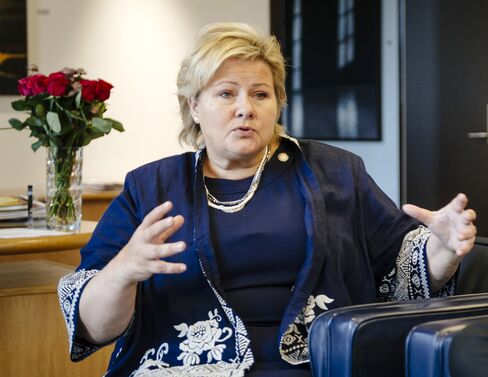 Europe shouldn't fear the economic fallout of deteriorating ties with Russian President Vladimir Putin, Norway's Prime Minister Erna Solberg said.
"Russia isn't such a large economy so it doesn't have that big an impact on our European economy," Solberg, 53, said yesterday in an interview at her office in Oslo. While sanctions and counter sanctions have hurt primarily the fishing industry, there's still "good growth in Norway," she said.
Europe has watched its economic growth slow as Russia's handling of Ukraine poisons trade relations. Norway, which isn't a European Union member, backs U.S. and EU economic sanctions that have pushed Russia's $2 trillion economy to the brink of recession. Investors have responded by pulling capital, sending Russia's benchmark Micex index down 7.7 percent this year.
Russia has retaliated with its own trade bans, including stopping salmon imports from Norway, the world's largest salmon exporter. Norwegian salmon farmers shipped about 9 percent of their produce to the Russian market in the first half. At the same time, energy companies such as Statoil ASA, which is 67 percent owned by the Norwegian state, are struggling to manage their business ties with Russia.
Norway won't stop companies doing business with their Russian counterparts as long as they comply with sanctions, Solberg said. Statoil, the nation's biggest energy company, has continued to partner with Russia's Rosneft OAO in oil and gas projects in Russia even after sanctions.
'Moral' Judgment
"On some issues, it's business as usual because it's beneficial to both of our countries," said Solberg, who won elections last year after promising voters tax cuts as part of a program to wean Norway of its oil reliance. "We don't make moral measurements on this."
Solberg said the first round of EU sanctions against Russia hit Norway harder than many other countries. Those restrictions included a ban on the transfer of technology for deepwater, Arctic and shale oil exploration and production. The second round of restrictions spreads the burden more evenly, she said.
"I wouldn't say they were unfair, but it's easier to compromise on things that don't hurt you so much," Solberg said. "If you say 'deep sea drilling,' who does that in Europe? It's us."
Sanctions Working
Norway, western Europe's biggest oil and gas producer and home to an $860 billion sovereign wealth fund, has so far weathered Russian sanctions and Putin's retaliation without much pain, Solberg said. Yet the country is grappling with a slowdown in its energy industry as oil prices fall and costs rise.
Finance Minister Siv Jensen also said at an event yesterday that the sanctions against Russia "are working."
"But you have to remember that for the time being, the Norwegian economy hasn't been affected very hard by the sanctions drawn up by the EU, nor by the sanctions drawn up by Russia," she said.
Norway's wealth fund has stopped trading in Russia, it said Aug. 20. The fund held almost $8 billion in Russian stocks and bonds at the end of 2013, according to its annual report.
Russia is now considering resorting to capital controls to prevent an acceleration of outflows, according to two officials with direct knowledge of discussions at the Bank of Russia.
This will have little impact on the fund, which doesn't need to sell, according to Solberg.
"They don't have to sell assets at the bottom of the market, they can in fact buy at the bottom of the market if that's necessary," she said. "They can look at what can happen in 2020."
Before it's here, it's on the Bloomberg Terminal.
LEARN MORE