Fed Scrutiny of Leveraged Loans Grows Along With Bubble Concern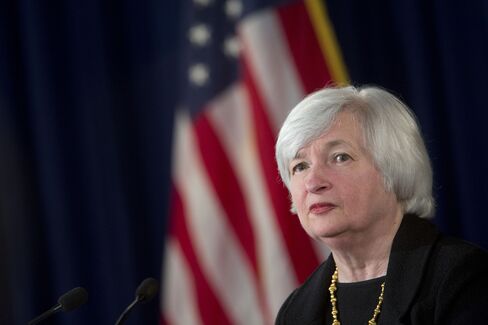 The Federal Reserve is stepping up its oversight of high-risk leveraged loans, shifting to a deal-by-deal review after its previous industry-wide guidelines were largely ignored by banks.
The Fed is now looking at loans each month, according to people who asked not to be identified because the information is private. Supervisors are looking at individual deals and risks such as a borrower's ability to repay, they said.
"Banks have been scolded and they have been warned, and yet you are seeing a lot of signals that the market is heating up," said Mayra Rodriguez Valladares, managing principal at MRV Associates in New York, a consultant on regulation to some of the world's largest banks. "We have seen this bad movie before. The issue now is, will the regulators deploy the rest of the arsenal of tools they have?"
Until now, supervisors collected loan data in an annual survey, and last year told banks they needed better adherence to standards they put forth in guidelines in March 2013. Over the past several weeks, they have shifted tactics and are examining loans as they are made, showing a new urgency in avoiding the kind of overly risky lending that was blamed for igniting the financial crisis.
If the latest round of heightened scrutiny doesn't work, regulators have other options. They can change supervisory ratings on banks, which could limit mergers. They could ask boards to sign agreements to make changes, or they could resort to fines.
Yellen Test
The $800 billion leveraged-loan market is serving as a test of whether Fed Chair Janet Yellen is able to use supervisory tools to curtail excessive risk-taking as almost six years of near-zero interest rates, intended to boost the economy, drive investors to higher-yielding assets.
Yellen said in a July speech that supervisory tools should play a "primary role" in attacking asset-price bubbles. Doing so by raising borrowing costs "faces significant limitations" because it affects all borrowers, not just parts of the market where the Fed detects froth.
The Fed may find that supervisory tools are too weak to curb incentives shaped by very low interest rates, said Phillip Swagel, who served as an assistant Treasury secretary during the financial crisis.
"It doesn't work so well to say, 'Please don't make money, please pass up deals,'" said Swagel, now a professor at the University of Maryland's School of Public Policy. "Ultimately, it seems the Fed is going to have to change the economics of funding that is driving these markets."
Barbara Hagenbaugh, a spokeswoman for the Fed in Washington, declined to comment.
Flagging Risks
In March of last year, the Fed and other regulators released guidance saying debt levels of more than six times earnings before interest, taxes, depreciation and amortization, or Ebitda, raises concerns. Regulators also flagged the risk that banks will get stuck with a large amount of loans that they might not be able to sell in a market downturn.
The guidance was followed by the publication of the Shared National Credits Review, an annual survey of lending trends that also noted risks in the leveraged-loan market. Regulators asked banks to show better compliance with the guidance. They later acknowledged that banks had largely ignored those efforts.
Starting in September of last year, the Fed and the Office of the Comptroller of the Currency sent letters to banks giving them 30 days to come up with a plan for tighter policies, four people familiar with the missives said at the time. Recipients included Barclays Plc, Citigroup Inc., Deutsche Bank AG, Goldman Sachs Group Inc., JPMorgan Chase & Co., Morgan Stanley and UBS AG.
Deal Terms
"Terms and structures of new deals have continued to deteriorate in 2014," Todd Vermilyea, senior associate director at the Fed Board's Division of Banking Supervision and Regulation, said in a May 13 speech in Charlotte, North Carolina. "Many banks have not fully implemented standards set forth in the inter-agency guidance."
Covenant-light loans -- which lack requirements that protect lenders such as limits on debt levels relative to earnings -- are on track to exceed 70 percent of issuance this year, according to a Barclays report dated Sept. 5. That would be a record.
Total debt levels for large leveraged buyouts have risen to 6.26 times Ebitda in the third quarter from 5.89 times in the first half of this year, according to Standard & Poor's Capital IQ Leveraged Commentary & Data. That compares with an average of 6.23 times Ebitda in 2007, the year the credit crisis began.
Potential Froth
While identifying leveraged loans as a potential area of froth, regulators are focusing on underwriting rather than trading, which is still conducted away from exchanges, in telephone calls, faxes and e-mails.
Even though many investors increasingly consider the debt in tandem with high-yield bonds as a way to boost returns, loans aren't regulated as securities and take weeks to change hands, increasing the risk of a market seizure in the case of accelerated withdrawals.
Bankers meeting with Fed officials on Sept. 19 said the central bank's low-rate policy was partly to blame for the increase in leveraged lending.
"Excess liquidity and extremely low interest rates create the environment to leverage existing cash flows and return capital to owners," according to minutes of the meeting of the Federal Advisory Council. Rising leverage "is at least partially being driven higher by the absolute low interest cost and by the length of time that rates have been depressed."
Morgan Stanley
The group's members include Morgan Stanley Chairman and Chief Executive Officer James P. Gorman and BB&T Corp. Chairman and CEO Kelly S. King.
The allure of high-yield leveraged loans in an era of low rates has been enhanced by interest payments that float above benchmark rates -- an appealing feature as the Fed prepares to boost borrowing costs as soon as next year.
Investors poured a record $62.9 billion last year into U.S. mutual funds and exchange-traded funds that buy the debt, which is typically rated below investment grade, according to Lipper, a Thomson Reuters company supplying mutual fund data.
Banks have arranged about $430 billion of U.S. leveraged loans sold to investors so far this year, compared with a record $696 billion in all of 2013, according to data compiled by Bloomberg.
"We are closely monitoring developments in the leveraged-loan market," Yellen told the Senate Banking Committee July 15. "Valuations appear stretched and issuance has been brisk."
Recent Deals
Recent deals show why supervisors are concerned that their guidelines are being ignored.
Financing for Acosta Sales & Marketing's buyout by Carlyle Group LP increased the Jacksonville, Florida-based company's leverage to "well above" eight times Ebitda, according to a Sept. 10 Moody's Investors Service report.
The deal includes a $2.07 billion term loan that was arranged by JPMorgan, according to Bloomberg data. Jessica Francisco, a spokeswoman for JPMorgan, and Randall Whitestone, a spokesman for Carlyle, declined to comment.
TravelClick Inc., a New York-based provider of technology services to the hotel industry, obtained $560 million of covenant-light term loans in May to back its $930 million buyout by private-equity firm Thoma Bravo LLC, according to Bloomberg data. Moody's estimated in April that the deal would increase the company's leverage to as high as 9.7 times Ebitda, or about seven times after adjustments for deferred revenue.
Credit Suisse Group AG led a group of banks arranging the debt, according to Bloomberg data. Drew Benson, a spokesman for Credit Suisse in New York, declined to comment. Jeff Segvich, a spokesman for Thoma Bravo at public relations firm LANE, declined to comment.
"It seems like deals with higher leverage are still getting done -- and with market pressure to do so," said Alan Avery, a partner in Latham & Watkins LLP's corporate department in New York.
Before it's here, it's on the Bloomberg Terminal.
LEARN MORE