Apple Said to Add Gold Option to IPad to Goose Sales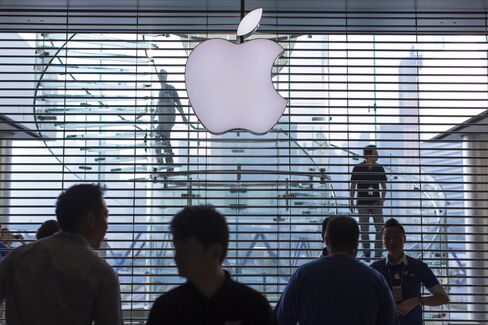 Apple Inc. will add a gold color option for its full-size iPads in an effort to boost a category that's posted declining shipments this year, according to people familiar with the plans.
New versions of the company's 9.7-inch iPads, anticipated to be unveiled this month, will include gold as a choice of color for the rear metal cover, adding to the silver and gray available for the lighter iPad Air, the people said, asking not to be identified ahead of an announcement. That brings the color palette into line with the iPhone 5s, which come with silver or gold backs for models with a white faceplate, and space gray for those with a black front.
Teresa Brewer, a spokeswoman for Cupertino, California-based Apple, declined to comment.
Sales of the iPad have declined for the past two quarters after soaring from $5 billion when the product was introduced in 2010 to $30 billion in 2012. Last year, iPad sales produced $32 billion.
Apple shares fell 1.6 percent to $99.18 at the close in New York. The stock has climbed 24 percent this year.
Apple hasn't introduced a new iPad since last October, and consumers have instead been shifting to iPhones with larger screens, such as Apple's new iPhone 6 Plus, which has a 5.5 inch screen. Roughly half the consumers polled by RBC Capital Markets in the days after the iPhone 6 and 6 Plus were announced on Sept. 9 opted for the 6 Plus, wrote RBC Capital Markets analyst Amit Daryanani in a Sept. 17 note.
Colorful Strategy
Apple has used color to goose sales of products many times in the past, starting with the introduction of candy-colored iMacs in 1999. The strategy has had varied levels of success. Sales of the iPhone 5c, a lower-end model introduced in 2013 that came in a range of bright colors, were disappointing, said Daryanani.
The more important milestone will be the introduction of a larger iPad, said Daryanani, because it would appeal to new types of customers, particularly business people. This device, which is set to have a 12.9-inch screen, won't be introduced until next year, people with knowledge of the situation have said.
Before it's here, it's on the Bloomberg Terminal.
LEARN MORE