Microsoft Builds Indian Data Centers to Tap New Market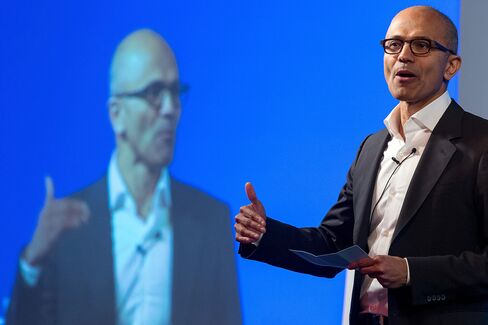 Microsoft Corp. will build data centers in India to tap demand for cloud-based computing as it plans to offer its Azure and Office 365 services in the world's second-most populous nation.
Azure, which lets businesses access computing resources and run programs via the Internet, will be available from local data centers by the end of 2015, Chief Executive Officer Satya Nadella told reporters in New Delhi today. Office 365, a cloud-based subscription version of Microsoft's productivity programs, will be available at the same time, he said.
Cloud computing is a key part of Nadella's plan to transform Microsoft and retain relevance as consumers shift from desktops to tablets and smartphones by keeping information stored on remote servers instead of a local hard drives. The world's biggest software maker competes against rivals including Amazon.com Inc. and Google Inc. for clients in India, a market expected to reach $1.7 billion by 2018 according to Gartner Inc.
"Microsoft's cloud services in India have grown over 100 percent in revenue in the past year," the company said in a statement. "Microsoft's locally available cloud services will open opportunities for banking, financial services, and insurance companies, state-owned enterprises and government departments."
Microsoft could more easily partner with Indian companies and win banking and government clients required by law to keep information in the country, Naveen Mishra, research director for Gartner in New Delhi said by phone.
Local Footprint
"For mainstream adoption, you need a local footprint," Mishra said. Current data centers in the country are operated by Indian companies, he said.
Hyderabad-born Nadella is visiting India for the first time since taking the top job in February. India this year has emerged as the world's fastest growing smartphone market, driving Internet penetration.
Microsoft, under Nadella, partnered with Indian phone maker, Micromax Informatics, in June to create a $100 Windows smartphone for India in a bid to increase market share. In the last quarter, 1.5 percent of smartphones shipped to India used the Windows operating system according to researcher IDC.
Google Inc.'s Android operating system accounted for 96.7 percent of smartphone shipments to India in the same period. Globally, Microsoft's operating system runs 2.5 percent of smartphones shipped last quarter.
Before it's here, it's on the Bloomberg Terminal.
LEARN MORE