Korean Intervention Seen as Samsung Bemoans Won Jump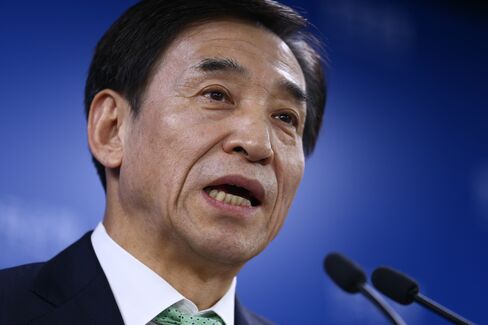 South Korea's won is losing its appeal to a growing number of global investors who detect signs the central bank will step up efforts to weaken the currency as it marches to a third straight year of gains versus the yen.
Japan and South Korea are major competitors in the global market for shipments of electronics, automobiles and other products, making the exchange rate between the two nations vital to companies from Hyundai Motor Co. to Samsung Electronics Co. The won reached a six-year high of 9.5129 per yen on Sept. 25, near the strong end of the 9.5 to 9.6 range that Seoul-based broker Meritz Securities Co. says local exporters can bear.
"The tolerance for currency appreciation has greatly diminished in South Korea," Marcelo Assalin, who oversees $7.5 billion of emerging-market debt in Atlanta for ING Investment Management Co., said yesterday. "We should see a more interventionist bias going forward."
Bank of Korea Governor Lee Ju Yeol warned Sept. 12 that the won's strength versus the yen is hurting the economy, and finance ministry officials have said they're closely monitoring the exchange rate. Amundi Asset Management, which oversees $1 trillion as Europe's largest investor, says it's now "underweight" the won.
'More Aggressive'
Deutsche Bank AG estimates the BOK has purchased $33.2 billion over the past four months to limit the won's strength. Dollar-buying could get "more aggressive," particularly if the yen falls below 110 per dollar, the lender said in a Sept. 23 report. Japan's currency fell to a six-year low of 110.09 today.
Phone calls to the BOK's foreign-exchange markets division seeking comment weren't returned. South Korea authorities plan to respond actively if volatility in yen-won exchange rate increases, the Maeil Business Newspaper reported today, citing unidentified officials.
Hyundai and Samsung, the country's biggest exporters, both blamed the strong won for declines in their second-quarter earnings. While the South Korean carmaker's share of the U.S. automobile market is stuck at 4.6 percent, Toyota Motor Corp. of Japan's has risen to three times that level.
Korean exports shrank 0.2 percent in August from a year earlier, though an official report today showed a 6.8 percent expansion for September. Industrial production unexpectedly shrank 2.8 percent in August from a year earlier, the worst performance since January, data showed yesterday.
Gains Forecast
The won's 1.2 percent gain versus the yen in September contributed to a 3.6 percent advance in the first nine months of the year, leaving it 56 percent stronger since the end of 2011. Strategists surveyed by Bloomberg see it rising to 9.23 per yen by the end of 2015, based on data derived from projections for the currencies versus the dollar. The won weakened 0.8 percent today to 9.7215 per yen as of 1:21 p.m. in New York.
While the won has surged against the yen in recent months, it has tumbled against the dollar as the Federal Reserve moves closer to raising interest rates. The won touched a six-month low of 1,064.51 per dollar today, adding to a 4.1 percent decline in the last quarter. ING Groep NV cut its year-end forecast on Sept. 22 to 1,010, from 990.
The declines against the U.S. currency offer little solace to exporters, as the won is 24 percent undervalued versus the dollar, according to the Economist magazine's Big Mac index, which measures purchasing-power parity based on the cost of McDonald's Corp.'s hamburgers in different countries.
'Excessive' Move
Against the yen, South Korea's currency is 33 percent overvalued by the same measure, second only in Asia to the Singapore dollar.
"The won's move against the yen has been excessive," Khoon Goh, a Singapore-based strategist at Australia & New Zealand Banking Group Ltd., said yesterday by e-mail. "We expect a correction."
Goh sees a decline to 9.8 per yen by Dec. 31, and a further slide to 10.2 by the end of 2015.
South Korean policy makers are working against speculators keen to take advantage of the stability created by the nation's current-account surplus, which the BOK forecasts will reach a record $84 billion this year. Standard & Poor's raised South Korea's credit outlook to "positive" from "stable" on Sept. 19, citing a favorable policy environment and strong finances.
'Hard to Justify'
The underlying strength of South Korea's economy will make it difficult for policy makers to intervene effectively to weaken the currency, according to Wee-Ming Ting, the head of Asian fixed income at Pictet Asset Management Ltd.
"While Korean officials are becoming more vocal, it's quite hard for them to justify aggressive intervention as Korea's fundamentals are pretty strong," Ting, who's based in Singapore, said yesterday by phone. "In the medium term, the won will appreciate against the yen."
The BOK will still cut its benchmark interest rate for a second time this year to a record 2 percent, from 2.25 percent, according to Amundi, making the firm "cautious" about the won as the U.S. considers raising borrowing costs.
"We are now underweight on the won," Raymond Lim, Amundi's Singapore-based head of Asia bonds, said Sept. 26 by e-mail.
Before it's here, it's on the Bloomberg Terminal.
LEARN MORE