Draghi Takes ECB to Land of Gomorrah as Naples Prays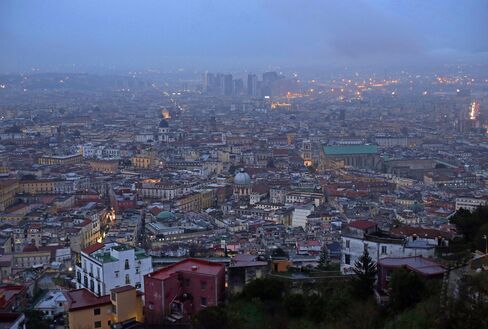 As Europe's central bankers gather in Naples to discuss the state of the region's economy, the city stands as a stark warning of just how bad things can get.
"If there's a periphery of the euro zone's periphery, that's Naples," said economist Riccardo Realfonzo, a former councilman of the Southern Italian city. "The gap between the debate at the Royal Palace in Capodimonte and everyday life can't be filled with just monetary policy."
In that hilltop residence where the Bourbon kings once harshly ruled Naples, members of the European Central Bank's Governing Council will meet tomorrow for one of two gatherings they hold every year away from their Frankfurt base. Looking down over narrow streets where protesters will throng, President Mario Draghi and colleagues are set to discuss their plan to buy asset-backed securities in a bid to drive stimulus for the euro zone.
The meaning of that policy might be lost on Naples's 960,000 inhabitants struggling with just the hardships that the central bankers want to address: economic stagnation, slowing prices and unemployment. The whole is made worse by a local mafia, the Camorra, whose stranglehold on the region was described by Roberto Saviano in the international bestseller "Gomorrah."
That title underlines the malaise of a part of Italy whose despair has often been framed in Biblical terms to match its religious fervor. In the mid-19th century, British statesman William Ewart Gladstone said that the Bourbon regime portrayed itself as "the image of God upon Earth" but amounted to "the negation of God erected into a system of government."
Bread & Justice
In Naples "there is a hunger for bread and justice, hope and future, work, legality and planning," local Catholic Archbishop Crescenzio Sepe on Sept. 19 told the faithful gathered in the city's medieval cathedral for the ritual of the so-called miracle of San Gennaro, the patron saint.
Criminal activity is among issues that "distort the behavior of economic agents and market prices, reduce the effectiveness of government action, increase the tax burden on those who do their duty, and restrict productive investment and job creation," Naples-born Bank of Italy Governor Ignazio Visco said in a Sept. 23 speech.
Last year, Naples scored the highest among Italy's main cities on the misery index, a gauge which combines unemployment and cost of living. With a reading of 26.7 percent it stood above Greece, according to Bloomberg calculations. An unemployment rate above 25 percent was a key component in driving up the city's misery index.
Like Greece
Much like Greece, Naples, hard hit by Italy's longest recession on record, risked default this year after a court rejected plans to cut municipal debt of about 1 billion euros ($1.3 billion).
Nor do its troubles end there. Located in one of Italy's poorest and most crime-ridden areas, Naples' 2013 gross domestic product per capita was one-third less than Italy's average and its unemployment was more than double the national average. The city is also prey to periodic garbage crises caused by overflowing landfills and saw its transport system come to a halt last year amid strikes and fuel shortages.
The outlook for the future is far from rosy after Italy entered a new recession in the second quarter and the government was forced to cut the country's growth forecast. Finance Minister Pier Carlo Padoan said yesterday 2014 GDP is seen shrinking 0.3 percent, compared with an April forecast of a 0.8 percent expansion. The government also sees GDP growing just 0.6 percent next year, compared with a previous estimate of 1.3 percent.
Draghi Mask
Last week, activists of the "Social Network Against ECB" held an impromptu press conference at a Naples bank. Wearing masks portraying Draghi, German Chancellor Angela Merkel, and Renzi, they announced a protest march against tomorrow's ECB meeting.
"People who suffer from the consequences of the economic crisis every day of their lives will be out there demonstrating tomorrow," organizer Alfonso De Vito, 40, said in a telephone interview. "We will also hold a counter-summit today at the University of Naples focusing on the effects of the Troika's policies," he added in a reference to the ECB, the European Union and the International Monetary Fund.
The march will depart at 9:30 a.m. local time from a square about 3 kilometers, or 1.9 miles, from the palace where the central bankers will convene. Draghi has scheduled a press conference in the palace's auditorium at 2:30 p.m., after the ECB announces its rate decision at 1:45 p.m.
Stimulus Plan
One month after cutting interest rates to record lows and pledging to buy asset-backed securities and covered bonds, the euro area's central bankers will present details of their newest stimulus measure. The asset-purchase plan, part of a strategy intended to add as much as 1 trillion euros to the ECB's balance sheet, will be scrutinized to assess whether it'll be enough to boost prices and revive the 18-member euro region's economy.
"Shutting themselves up in Capodimonte was a smart move by the bankers since the palace is isolated, but this event could end up being just another problem for the city," said Francesco Mingacci who runs a cafe on one of the streets protesters will cross tomorrow. "I don't think the ECB meeting can change things, we don't have faith in anyone anymore."
San Gennaro
In the meantime, much as in the past, locals look to saints for divine help. In the San Gennaro ritual, what is believed to be the blood of the 3rd-century saint contained in two phials is held up before huge crowds by the city's cardinal to see if it liquefies. That's what happened last month, as the crowd in and outside the church greeted the announcement with warm applause.
For most Neapolitans, the success of the ritual, which took place for the first time in 1389, is a good omen for the city.
"The miracle would be if European governments finally agreed on expansive fiscal measures," said economist Realfonzo. "Naples is the best proof of how even accommodative monetary policy is set to fail if not coupled with expansive fiscal policies."
Before it's here, it's on the Bloomberg Terminal.
LEARN MORE