Dimon Pep Talk Consoles Eric Cantor on Way to Wall Street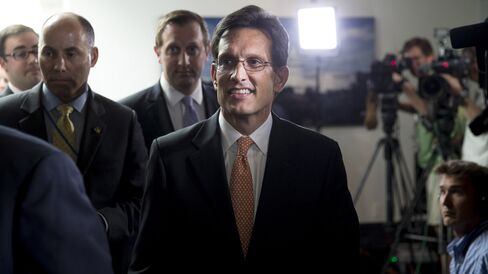 Eric Cantor sat in his Washington office in June after one of the biggest upsets in congressional history, getting encouragement from JPMorgan Chase & Co.'s Jamie Dimon, head of the largest U.S. bank.
Dimon talked about being fired from another bank by his mentor before rebounding to an even better seat, according to two people who were there. He reassured the Virginia Republican that his career would be just fine, too.
He was right. Cantor, 51, started this month as a managing director and vice chairman of New York-based investment bank Moelis & Co., where he'll earn more than $3.4 million by the end of next year. With former White House officials and a Tea Party spokesman calling Cantor a sellout, half a dozen people close to him described his new Wall Street life as an extension of his principles rather than a betrayal of them. They cite a fascination with finance that goes back years before he became House majority leader, a conviction that bankers drive the economy and an enthusiasm for helping them do it better.
"Some will bemoan, 'Oh, Eric cashed in, and this is all about him chasing money,'" said Mike Ference, Cantor's former senior policy adviser and now a partner at Washington-based lobbying firm S-3 Group. "Smarter people get that's not actually true. There have to be respectable men and women who run, quite frankly, the system."
Loving Finance
Being a Wall Street rookie doesn't mean Cantor is uninitiated, former aides said. They described him getting so excited about mergers and derivatives that they'd have to pull him away from conversations with executives to keep him on schedule. Just after he was sworn in to Congress in 2001, Cantor told Steve Stombres, who became his chief of staff, that he wanted a seat on the House Financial Services Committee.
"I'm like, 'Oh my god, I don't know anything about this,'" Stombres said. "I couldn't have told you what a hedge fund was, or selling short. And Eric said, 'Don't worry, I'll teach you, I love this stuff.'"
Moelis, which advises companies spanning coal to ketchup, said it hired Cantor to counsel clients on strategy. Health-care and energy firms sought his advice this month, colleagues quizzed him on geopolitics and midterm elections, and he'll open a Washington office, according to a person close to him who asked not to be identified because the information is private.
Cantor and Ken Moelis, the firm's chief executive officer, didn't respond to e-mailed questions.
'Complex Systems'
"He's going to be guiding people on how the world works," said Rory Cooper, Cantor's former communications director. "The understanding of complex systems, of people, and what their needs are and how everybody can benefit -- it's those things that make him special."
Cantor, who has a law degree and a master's in real estate development, can untangle the global economy's knotty questions, according to John Murray, a former deputy chief of staff.
"It's not that he's not interested in learning banking," he said. "It's that he has a particular vantage point he's using to enhance the firm."
The former congressman learned how to talk to Wall Street before he arrived. Employees from securities and investment firms including JPMorgan and Goldman Sachs Group Inc., where Cantor's wife had worked, contributed more than $2.4 million to his campaigns, the most from any industry, according to the Center for Responsive Politics.
"We've all enjoyed having Eric in the Congress," Goldman Sachs President Gary Cohn told Bloomberg Television the day after the primary defeat. "He was willing to try and create a coalition of believers, trying to create compromise, understanding that he couldn't get everything."
Brat Attack
The connections that helped him get his new job may have contributed to losing the one it replaces. While Cantor pledged to fight entrenched power and shrink government, he pushed the type of Washington support for big business that Tea Party activists despise. He endorsed the $700 billion bailout of the banking system in 2008, blocked efforts to lift taxes on private-equity and hedge-fund managers and backed reauthorization of the U.S. Export-Import Bank.
"I'm all for everybody making a lot of money," he told Bloomberg News in 2007.
The man who scored the first primary victory over a U.S. House majority leader since the role was created 115 years ago, economics professor David Brat, said he's running against "crony capitalist programs that benefit the rich and powerful." He spent $123,000 on his campaign through May 21, less than the incumbent's tab at steakhouses, campaign-finance reports show.
'Atlas Shrugged'
Republicans and Democrats have mocked Cantor's ties to the banking industry. Robert Reich, a labor secretary for President Bill Clinton, wrote on his Facebook page that the new job shows Washington and Wall Street's "entrenched culture of mutual behind-kissing." David Stockman, a head of President Ronald Reagan's Office of Management and Budget, said on his website that Cantor's legislative support for big business made him a "bagman for Wall Street."
Cantor's sit-down with JPMorgan CEO Dimon wasn't his most important meeting with a banker. After the June 10 primary loss, he and his wife had brunch in Los Angeles with Moelis, 56, an adviser to casino billionaire Steve Wynn, a former head of investment banking at UBS AG and an Ayn Rand devotee who has read "Atlas Shrugged" at least four times. Moelis had contributed the maximum $5,200 to Cantor this election cycle.
Instead of Cantor's $193,400 pay as House majority leader, the firm will give him a base salary of $400,000 plus $1 million in restricted stock, $400,000 cash and a "reasonable" New York apartment, Securities and Exchange Commission filings show. Next year, Cantor, who worked for his father's real estate company before he went into politics, will get $1.2 million on top of an additional $400,000 in stock.
He may not have needed Dimon's pep talk. Only hours after losing, he was optimistic about the next step of his career.
"We'll see what those opportunities are," Cantor told his staff the day after the election, Stombres said. "I've always believed that when one door closes, another one opens."
Before it's here, it's on the Bloomberg Terminal.
LEARN MORE