Sechin Says Arrested Billionaire's Sistema Not Blood-Stained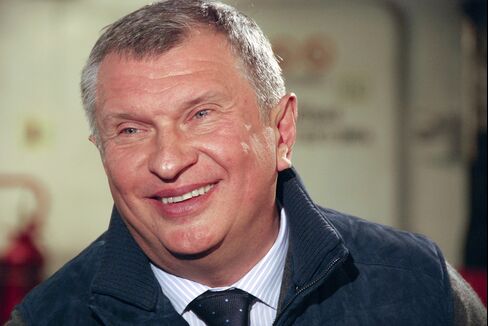 Igor Sechin, Russia's most powerful oil executive, said the case against billionaire Vladimir Evtushenkov "can't be compared" with former Yukos Oil Co. owner Mikhail Khodorkovsky's prosecution a decade ago.
"Evtushenkov never eliminated his competitors, and that was a practice at Yukos," Sechin said in an interview last week on a research ship in the Arctic, where OAO Rosneft, the state-run crude producer he heads, just struck oil. "Evtushenkov doesn't have blood on his hands. And this, at a minimum, is a very important fact."
Evtushenkov, who says he's innocent, was put under house arrest on money-laundering charges on Sept. 16. The case revolves around the privatization of a regional oil producer, OAO Bashneft, that the billionaire's AFK Sistema later acquired. Last week, prosecutors asked for Bashneft to be returned to the state. Khodorkovsky drew parallels with Rosneft's acquisition of Yukos after his conviction, while Sechin said he's not interested in Bashneft and not behind Evtushenkov's arrest.
Khodorkovsky, who was freed by presidential pardon in December after more than a decade in jail, didn't oversee killers and didn't kill people, Olga Pispanen, a spokeswoman for the former oil tycoon, said by phone Sept. 28. Khodorkovsky was never charged with murder or conspiracy to commit murder.
Sechin 'Myth'
Khodorkovsky's partner in Yukos Oil Co. Leonid Nevzlin was found guilty in absentia of conspiracy to murder in 2008, and Yukos's former security chief Alexei Pichugin is serving a life sentence in prison on multiple murder convictions. They have said they're innocent. Khodorkovsky and Nevzlin accused Sechin of orchestrating Yukos's demise, which Rosneft has denied.
Vladimir Putin said in December 2009 that the murders were committed on the orders of Yukos's major shareholders.
Khodorkovsky, who lives in exile in Switzerland, said Sept. 17 on his website that he thinks Sechin, a long-time Putin ally, orchestrated the legal attack on Evtushenkov to gain control of Bashneft, one of Russia's fastest-growing oil companies by output.
"It's a myth," Sechin, 54, said in the Sept. 26 interview. "Some agencies have a method: distraction with a red herring, and in this case the red herring is me."
'Market Knew'
The arrest of Evtushenkov, 66, sent shares of Sistema, Bashneft and other companies he controls tumbling, slicing his net worth over two trading days by a third to $4.5 billion, according to the Bloomberg Billionaires Index. It has since shrunk to $2.6 billion. Sistema shares gained 1.5 percent to 12.864 rubles by 3:05 p.m. in Moscow today, after slumping 25 percent yesterday to the lowest since July 2009.
Evtushenkov is the richest Russian to face charges since Khodorkovsky was arrested in October 2003. The state later carved up Yukos over tax claims, and most assets ended up with Rosneft. At that time, Sechin was deputy chief of Putin's staff and chairman of the company's board. He was appointed chief executive officer of Rosneft in 2012, after working for Putin since the 1990s.
The privatization of Bashneft carried risks, Sechin said. "The market has known about the skeletons in the closet for a long time," he said. "I think that is precisely why we never considered buying this asset."
Sechin said he sees the Bashneft case as part of the government's fight against corruption, rather than a call to review Russia's privatization results.
Corruption Fight
"It's nothing scary that there is a fight against corruption," he said. Evtushenkov knew Bashneft's history and "in assessing the risks, taking the decision to acquire such an asset, one should of course understand what may happen."
The situation will probably be settled, Sechin said. In the meantime, Sechin said, Rosneft continues to work with Sistema's wireless operator, OAO Mobile TeleSystems, and its lender and gets logistics and infrastructure support from the investment company's units.
In April, investigators opened a case linked to deals with Bashneft and other energy assets in Bashkortostan in 2002 to 2009. Ural Rakhimov, son of the former president of the Russian region, is accused of helping to defraud the government of the assets and organizing their sale to Sistema, according to court documents dated Aug. 27. Rakhimov's lawyer Ilnur Salimyanov didn't answer his phone or respond to text requests for comment.
Hostile Raid
Sistema paid about $2.6 billion from 2005 to 2009 to gain control of the Bashkir energy assets. Prior to its legal troubles, the company had planned to raise at least $1 billion in a secondary public offering of Bashneft shares to international investors.
Evtushenkov said the criminal proceedings related to Bashneft looked like a hostile "raid" to seize control of the company, RBC daily reported in July, when he was only a witness.
Khodorkovsky said Rosneft needs Bashneft to prop up flagging production at older fields.
Rosneft's domestic oil output has declined to the lowest level since the company bought BP Plc's Russian oil venture TNK-BP in 2013, according to the Energy Ministry. The acquisition made Rosneft the world's biggest publicly traded crude producer by output.
The slump may deepen after the U.S. and the European Union restricted Rosneft's ability to borrow abroad and banned exports of equipment and technology for deep-water, Arctic offshore and shale oil deposits, accusing Putin of supporting an insurgency in Ukraine. The sanctions won't stop Russia from developing Arctic offshore resources, Sechin said.
Evtushenkov was denied bail on Sept. 25 by the Moscow City Court. The same day the Moscow Arbitration Court froze Bashneft shares at the request of the Prosecutor General's Office, which is seeking to nationalize Bashneft. The first hearing of that request is scheduled for Oct. 9.
The Kremlin is "categorically against" equating the Evtushenkov and Khodorkovsky cases, Putin's spokesman, Dmitry Peskov, said Sept. 18. "Any attempt to politicize the situation is not justified and not acceptable."
Before it's here, it's on the Bloomberg Terminal.
LEARN MORE