Urban Outfitters to Supersize Anthropologie Stores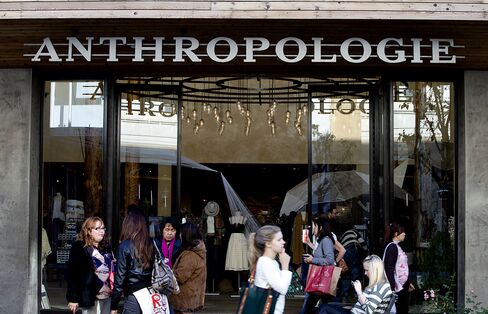 Urban Outfitters Inc.'s Anthropologie chain, known for its bohemian-chic housewares and apparel, will supersize some stores to entice shoppers with a wider array of lifestyle gear.
The company aims to open 25 to 50 Anthropologie stores in the next five years that will be three times larger than current locations, which average about 7,100 square feet (660 square meters). Urban Outfitters will also test the larger format for its namesake and Free People chains, the Philadelphia-based company said this week.
Anthropologie, striving to become a broader lifestyle brand, will increase its home goods, wedding, beauty and intimates offerings at the larger stores, as well as create an atmosphere where shoppers can hang out. The goal of the bigger-is-better strategy is to double sales by 2020.
"They want to turn them more into destination stores than clothing stores," Howard Tubin, a New York-based analyst at RBC Capital Markets, said in an interview. "They truly understand their customers across all their brands. They believe if they offer the right product, the product will sell."
Still, the move contrasts with an industrywide effort by retailers to close stores and do more with less. Urban Outfitters also has touted its relatively small size in the past, though more in reference to the number of locations than square footage of each store. CEO Richard Hayne himself has repeatedly said "big is the enemy of cool."
Store Limit
Unlike other youth-focused retailers, such as Aeropostale Inc., the company doesn't have hundreds of locations in suburban shopping malls. The retailer has a self-imposed cap of 200 to 250 stores for its Anthropologie and Urban Outfitters brands in North America. As of July 31, there were 179 Urban Outfitters stores and 178 Anthropologies in the U.S.
The new strategy won't change that approach. The bigger stores will mostly replace existing ones, with the company either expanding current locations or scouting new sites when a lease comes up.
Hayne is now working to increase sales and expand into categories beyond apparel, which has been suffering. Clothing sellers have been struggling to find a must-have trend to drive shoppers into stores, and they face growing competition from fast-fashion brands that offer lower prices.
Anthropologie, which is targeted at women, has outperformed the Urban Outfitter chain. Stores open at least a year -- plus the e-commerce site -- increased sales 8 percent in the first quarter and 6 percent last quarter. Urban Outfitters, meanwhile, said this month that companywide comparable sales had declined by low single digits in August.
New IPhone
The typical Anthropologie customer is drawn to larger locations, helping boost sales at bigger stores, David McCreight, chief executive officer of the Anthropologie group, said in a presentation in Philadelphia this week.
"She wants more -- more products, more of the world-class experience we've introduced," McCreight said. "Just like Apple and their new iPhone, we truly believe bigger is indeed better, and in our case, necessary to expand our reach."
The new format will encourage shoppers to spend more time in the stores. Three focus groups in a new-format Anthropologie prototype store this month indicated that customers would stay in the store for two to three hours, compared with the current hourlong average visit, Oona McCullough, a spokeswoman for Urban Outfitters, said in an interview.
Tubin, the RBC analyst, compared the new Anthropologie concepts to a Nordstrom Inc. department store. They offer customers enough to keep them occupied for more than a quick purchase, he said.
Lunch, Blowout
At the new Anthropologie stores, a customer might be able to eat lunch, buy a new outfit, get a blowout and go straight to a party, or she could bring her husband to look at furnishings and shop for clothes while he drinks coffee, Tubin said.
Along with a social component, the new locations will carry a wider selection of goods. There also will be stores within the store to promote existing subcategories, such as Anthropologie's wedding brand, BHLDN, and gardening brand, Terrain. The home goods selections will be expanded to allow customers to furnish entire rooms rather than just select accent pieces. This month, Anthropologie introduced a registry service and sent out its first home-goods catalog.
Urban Outfitters expects the larger Anthropologie stores to be profitable, although they could also act as a showroom, sparking more sales online, said Simeon Siegel, an analyst at Nomura Securities. The success of the bigger stores will depend on having the right merchandise, he said.
"The stores are big, which drives incremental rent, which means the product has to work," said Siegel, who has a neutral rating on the shares. "If it does, the returns will follow."
Before it's here, it's on the Bloomberg Terminal.
LEARN MORE