Screaming Inmates Make L.A. Rethink Jailing Mentally Ill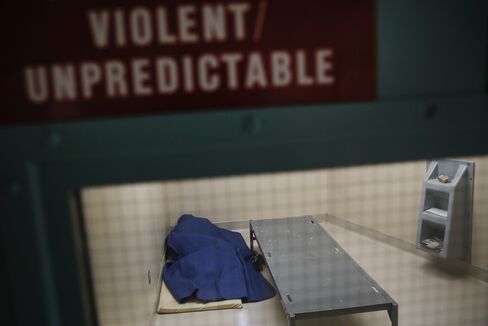 Inmates in suicide-proof gowns scream and bang on their cell doors one floor below Terri McDonald's office in the Twin Towers Correctional Facility. The bedlam is a reminder, if she needs one, that the mentally ill population in the largest U.S. jail system is out of control.
It's a "shameful social and public-safety issue," said McDonald, the assistant sheriff who runs Los Angeles County's jails. "I believe we can do better. I believe at some point in the future we'll look back and wonder, 'What took so long?'"
That's been a question for years. Conditions for mentally ill inmates in the county have been a focus of federal probes since 1997, and the number with psychiatric disorders was an issue in a recent debate over a new jail. Keeping a mentally ill person behind bars can cost more than $50,000 annually, while treatment could run two-thirds less. Criminal justice systems from Seattle to Miami with aggressive jail-diversion efforts have cut inmate headcounts -- and lowered recidivism rates.
L.A. County has taken tentative steps to join them. The board of supervisors in July endorsed the concept of broadbased diversion, and last week pledged $756,000 for a pilot program.
"Los Angeles has had a strong and powerful law-enforcement presence, and this is the framework they've worked on for so long that they've had a hard time looking at anything different," said Diana Zuñiga, statewide field organizer of Californians United for a Responsible Budget, which lobbies for more spending on social services and less on jails. "I'm hopeful. We've been doing things wrong for too long."
Lock-'Em-Up Approach
Even with violent crime rates falling, U.S. inmate populations have swelled as policy makers toughened penalties and shut down psychiatric hospitals. The incarceration rate is the world's highest, and the bill more than $85 billion a year.
In L.A., where the annual jail budget is $850 million, the lock-'em-up approach feeds cycles of crime and homelessness by shuttling people with mental disorders between cells and the streets, said Peter Eliasberg, regional legal director for the American Civil Liberties Union. "Others have done a much better job of saying, 'We're not going to get anywhere by incarcerating low-level mentally ill offenders -- in fact, it might be counterproductive.' People don't get well on the streets. They don't get well in jail."
Housing and treating a mentally ill offender outside the jail system costs less than $20,000, according to a report the ACLU issued in July. The approach could also clean up homeless ghettos including downtown's notorious Skid Row: 50 blocks littered with human waste, used needles and broken bottles.
'Far Behind'
Many of its vagrants are mentally ill, and police data show violent crime there surged 24 percent in the first half of the year. The squalor has gotten in the way of a downtown revival that's pushed some condo prices beyond Beverly Hills's levels.
It "affects the revitalization as you might expect," said Tom Gilmore, a central business district developer since 1998. "The periphery kind of suffers because you have a giant hole in the donut, and that's Skid Row."
Counties including Miami-Dade in Florida and Bexar in Texas, home to San Antonio, began to take different tacks years ago, training officers, prosecutors and judges to identify low-level, non-violent offenders with mental illnesses and route them to treatment rather than jail.
"It works," said Paul Wallin, a criminal defense lawyer in Orange County, south of L.A., which set up a special criminal court for the mentally ill. "I can't tell you why L.A. is so unbelievably far behind."
'Spitter,' 'Suicidal'
Los Angeles County does have some alternative sentencing, with 16 mental-health specialists at 22 of the 46 criminal courts and space for 67 people in residential treatment. The pilot program will offer temporary housing, mental-health care and other assistance for 50 offenders.
There are more than 19,000 people in the jails on most days. According to intake officers, who are with the county Department of Mental Health, some 15 percent suffer from conditions including personality disorders, addictions, delusions and schizophrenia. Many more may be undiagnosed.
At Twin Towers, where about half of the 4,200 inmates are emotionally or mentally disturbed, 33 cells are reserved for the most seriously ill. Some are affixed with labels identifying the occupant -- "spitter," "combative," "suicidal" -- and some of the men howl for hours.
"A lot of them are coming here for help because there is nothing else," said Captain John Benedict, who's been the jail's commander since June. "It's sad."
Psychiatric Drugs
The problem's growing: The number at Twin Towers and Men's Central Jail receiving psychiatric drugs shot up 200 percent between 2008 and 2013, while men in high-observation cells increased 40 percent. The transfer of prison inmates to county jails and a methamphetamine deluge were partly responsible, according to jail consultant Vanir Construction Management Inc.
While it experiments with diversion, the county is spending $2 billion on a 4,860-bed replacement for Men's Central Jail, with a wing for the mentally ill. Zev Yaroslavsky was the only one of the five supervisors to vote in May against the project, arguing less could be spent on a smaller facility if more sick people could be kept out of the system.
Steve Leifman, a judge who helped establish the Miami-Dade diversion program in Florida 14 years ago, said L.A. should be closing rather than erecting jails.
'Exacerbating Illness'
"The problem with building a better facility to more humanely hold people with mental illnesses is that it serves as a disincentive to take them out for treatment," he said. It "exacerbates their illness and imperils the public because they're more likely to commit another offense."
Miami-Dade saved the equivalent of 35 years of inmate days and helped reduce its headcount to 4,800 from 7,800, allowing the county to shutter one jail entirely, Leifman said.
New York City cut the recidivism rate with "extra-intensive" supervision for the mentally ill indicted on felonies, according to the state Division of Criminal Justice Services. At the Bronx Mental Health Court, 69 percent of offenders who were treated rather than jailed were arrested within 30 months of their release, compared with 75 percent of those incarcerated without mental-health care.
The U.S. Justice Department first probed L.A. County's treatment of the mentally ill 17 years ago during an examination of overcrowded jails, and concluded inmates' civil rights were being violated. In June, the department declared that despite improvements, conditions were "deplorable," with "serious deficiencies" in mental-health care. It blamed 15 suicides in 30 months on a lack of basic prevention measures.
'Corrupt Culture'
Lee Baca, who'd been sheriff since 1998, resigned five months before the Justice report, under pressure from lawsuits and an FBI investigation into allegations of brutality, racial discrimination and corruption by jailers. Prosecutors have charged 18 current and former deputies with beating prisoners and visitors and related crimes; seven were convicted earlier this year of obstructing the investigation. A federal judge lambasted what he called a "corrupt culture" in the Sheriff's Department when he sentenced six of them on Sept. 23.
Voters will decide in November whether Baca's former second-in-command, Paul Tanaka, or Long Beach Police Chief Jim McDonnell will succeed the acting sheriff, John Scott, a onetime Orange County undersheriff.
"It's a national shame that our prisons and jails have become the de facto mental health system," McDonald, the assistant sheriff, said from her Twin Towers office. "I really do believe that L.A. County is going to do more diversion."
No Handcuffs
McDonald is a supporter of both diversion and the new jail, as is District Attorney Jackie Lacey, who helped develop the pilot program. Still, it won't be the answer in most cases, said Anna Pembedjian, justice deputy to county Supervisor Michael Antonovich. "Not every offender belongs in the community," she said. As it is, "we don't have many low-level offenders in jail. Most are repeat offenders."
Last year, 1,053 people in L.A. County with mental illnesses received sentences other than jail, according to the Mental Health Department. Louis Jackson, 61, was one of them.
Diagnosed with schizophrenia, he spent time on Skid Row and in Twin Towers during the 36 years he was homeless. In August 2013, he was convicted of a drug possession charge and faced a 6-year prison term. Instead, Arlene Veliz, a court liaison for the Mental Health Department, helped negotiate three years of probation and a bed at a mental-health facility in Pasadena.
Jackson hasn't been arrested in more than a year, Veliz said, his longest stretch without handcuffs in his adult life.
"If we're able to get this population out of jail and place them in facilities," she said, "you could cut the population of the jails in half."
Before it's here, it's on the Bloomberg Terminal.
LEARN MORE