China Mobile Taking Steps to Cut Smartphone Subsidies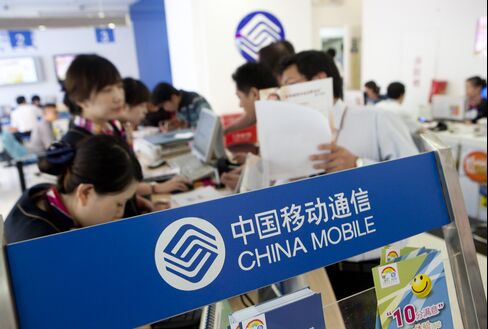 China Mobile Ltd., the world's largest carrier, is taking steps toward eliminating $2 billion in smartphone subsidies, almost doubling the costs of some devices such as Apple Inc.'s iPhone 5s.
China Mobile is revising the wireless packages available for devices sold at stores including the one in its Beijing headquarters building. The cost for an iPhone 5s with 16 gigabytes of storage and using the most-expensive data plan would increase by 94 percent over two years. The iPhone 6 and iPhone 6 Plus aren't approved for official sale in China yet.
China Mobile is cutting the subsidies that help consumers in the world's largest market pay for high-end smartphones from Apple and Samsung Electronics Co. China Mobile Chairman Xi Guohua said this month the carrier would focus on selling cheaper phones for "the mass market" after the government ordered the state-run carriers to reduce spending.
"As a principle, we are controlling subsidies and marketing costs," Rainie Lei, a Hong Kong-based spokeswoman for the carrier, said today. "The details of exactly how may differ from city to city, and various provinces may have different practices."
Lei said she didn't know whether the Beijing policy would expand nationwide. China Mobile shops in Shanghai offer credits for voice packages rather than device subsidies, while stores in Guangzhou are subsidizing devices until Sept. 30, according to customer service representatives in each city. The representatives were unaware of changes being instituted after that date.
Costs Double
China Mobile wants to lower the amount of money it spends to subsidize phones to 21 billion yuan ($3.4 billion) from 34 billion yuan. The carrier has 796 million subscribers, more than the population of any other country except India.
That reduction was announced after the State-owned Assets Supervision and Administration Commission told carriers to cut costs because they had overspent on subsidies and advertising for devices such as the iPhone, people familiar with the matter said in July.
In the carrier's headquarters shop, discounts were eliminated from the prices for devices and applied to the prices for monthly subscriptions, though in smaller amounts.
Previously, customers paid 5,288 yuan for the iPhone 5s up front. With a two-year contract for the top monthly plan, the buyer received monthly rebates of 194 yuan that covered 88 percent of the device's list price.
By the end of the contract, the user paid 632 yuan for the phone.
Under the new policy, the consumer pays 4,488 yuan up front for the same iPhone model, and the top monthly plan gives discounts on voice service of 136 yuan a month, or 3,264 yuan for two years, according to materials distributed at the store. That means consumers pay 1,224 yuan for the iPhone.
— With assistance by Edmond Lococo, and Lulu Chen
Before it's here, it's on the Bloomberg Terminal.
LEARN MORE