Trujillo Is Said to Seek $9.6 Billion for Telecom Italia Bid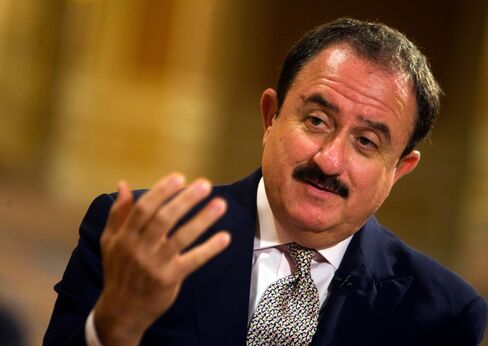 Former Telstra Corp. Chief Executive Officer Sol Trujillo is seeking to raise as much as 7.5 billion euros ($9.6 billion) to bid for a stake in Telecom Italia SpA, according to people familiar with the matter.
Trujillo has discussed the plan with New York-based financial advisers, and sovereign-wealth funds in Qatar and Abu Dhabi are among investors that have expressed interest, said the people, asking not to be identified because the proposal is private. Trujillo hasn't approached Telecom Italia's board or executives because the plan isn't fully funded and he wants to secure support from Italy's government before making a move, they said.
The proposal would foresee 62-year-old Trujillo, who previously led US West Communications, France's Orange SA and Telstra of Australia, taking over as chief executive officer and bringing in managers to Milan-based Telecom Italia, according to confidential documents seen by Bloomberg News detailing the project, dubbed "Adriano."
An investment of $9.6 billion would be equivalent to almost half of Telecom Italia's market value. Telecom Italia, whose rating was cut to junk last year, had net debt of $35 billion as of June 30. While details of the plan are still being worked out, Trujillo's investment could take the form of a proposed capital increase or buying Telecom Italia shares on the market, the people said.
Turnaround Plan
Telecom Italia shares surged as much as 5.2 percent to 96 euro cents, the highest level in three months. They advanced 3.6 percent to 94.5 cents as of 1:43 p.m. in Milan.
Trujillo views the proposed investment as a way to benefit from a Telecom Italia turnaround over time, rather than a short-term financial gain, the people said. In addition to owning a national phone network, Telecom Italia controls Brazil's second-largest wireless carrier Tim Participacoes SA.
Telefonica SA and three Italian financial investors -- Mediobanca SA, Intesa Sanpaolo SpA and Assicurazioni Generali SpA -- are currently winding down the holding company that owns 22.4 percent of Telecom Italia.
Trujillo declined to comment when reached by Bloomberg News. Representatives of sovereign-wealth funds in Abu Dhabi and Qatar declined to comment or didn't immediately respond to requests for comment.
A spokesman for Telecom Italia declined to comment. The company's board is scheduled to meet tomorrow to discuss the status of the sale of its Argentine business and receive a business update from managers, people familiar with the matter said yesterday.
Project 'Adriano'
Senior Italian officials are aware of Project "Adriano" and the government is open to the idea of a foreign investor in Telecom Italia, the people said. A government representative declined to comment.
While Italy's government doesn't own a stake in Telecom Italia, state support is seen as crucial because it could veto deals involving industries it considers to be of national interest.
In the past two years, Telecom Italia has attracted potential investors including Hong Kong billionaire Li Ka-shing and Egypt's Naguib Sawiris, although the carrier remained under the grasp of Telco SpA, the vehicle created in 2007 to fend off a bid from AT&T Inc. and Carlos Slim's America Movil SAB.
'Terrific Driver'
Acquiring a stake in Italy's largest phone company would follow the company's failed bid for Brazilian broadband provider GVT. Under Trujillo's plan, which calls for expanding an ultra-high-speed fiber network in Italy, Telecom Italia's revenue would reach 26 billion euros by 2018, with earnings before interest, taxes, depreciation and amortization rising to about 11 billion euros and net debt falling to less than 16 billion euros, according to the documents dated August 2014.
"Any concrete investment in fiber-to-the-home landline networks would be a terrific driver for Italy's economy," said Francesco Galietti, founder of researcher Policy Sonar in Rome. "Italy's state-lender CDP should invest in strategic networks and Trujillo should bring them on board."
Trujillo's attempt to return to telecommunications wouldn't be his first after running phone companies on three continents. In 2012, he engineered a takeover bid for U.S. mobile carrier T-Mobile USA, but failed to garner enough interest from private-equity firms, people familiar with the matter said at the time.
Trujillo got his start at AT&T Corp., then known as Ma Bell, before its 1984 breakup. He eventually became CEO of US West, one of the seven Bell operating companies, and later ran French mobile-phone operator Orange for a year.
Veto Right
After Orange's takeover by France Telecom SA, Trujillo in 2005 became the CEO of Melbourne-based Telstra, from which he resigned in 2009 after a tenure marked by clashes with the Australian government over telecommunications regulation.
Representatives of Trujillo's group and Italian government officials including Antonello Giacomelli, an undersecretary at the Economic Development Ministry who is responsible for communications policy, have held confidential meetings since May over Project "Adriano," the name of a Roman emperor, said one of the people. A spokesman for Giacomelli declined to comment on the meetings.
"Italy's government has just one reason to take interest in a private listed company such as Telecom Italia, which is to protect the national interest with regards to security and the development of a strategic infrastructure which is the network," Giacomelli said in a statement to Bloomberg. "To that extent, we will consider using our golden power veto with everyone."
Before it's here, it's on the Bloomberg Terminal.
LEARN MORE