Apple Says Bending of New IPhones Are 'Extremely Rare'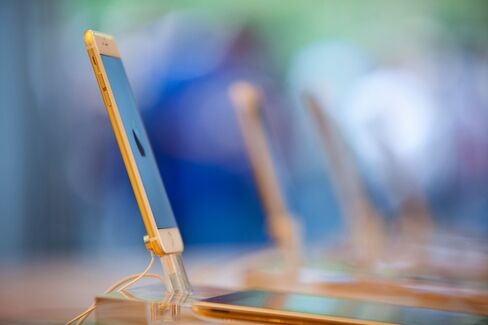 Apple Inc. defended itself against complaints about the malleability of its new iPhones, saying that any bending of the devices is "extremely rare" and that the smartphones are constructed to the highest of standards.
The Cupertino, California-based company said in a statement today that only nine customers have contacted it about a bent iPhone 6 Plus. The 5.5-inch screen device, which is the biggest smartphone among Apple's lineup, became available for sale last week, along with another new model, the iPhone 6. The company sold more than 10 million new iPhones in their debut weekend.
"IPhone 6 and iPhone 6 Plus meet or exceed all of our high quality standards to endure everyday, real life use," Trudy Muller, a spokeswoman at Apple, said in the statement.
Apple is dealing with public criticism on social media and other outlets about how the new iPhone 6 Plus bends if it's sat upon or enough pressure is placed upon it. The malleability of the handset has prompted jabs from rivals and its own hashtag on Twitter, #bendgate.
The controversy, along with problems in Apple's new iOS 8 mobile software, have combined to mar the rollout of the new devices. Apple yesterday pulled an update of iOS 8 after the software disrupted cellular service, preventing some users who had downloaded the program to their iPhones from making or receiving calls.
Consumer Demand
Chief Executive Officer Tim Cook had introduced the new smartphones, along with other new products such as Apple Watch, at an event earlier this month. The handsets have inspired consumer lust, with pre-orders topping 4 million and long lines at Apple Stores worldwide on Sept. 19 when the iPhones became available. The new models will go on sale in 22 additional countries tomorrow, after debuting last week in 10 countries.
The bending issue began surfacing earlier this week and quickly took off online and on social media, with videos posted of people changing the shape of the devices. That prompted a flurry of jokes about the issue.
"If #bendgate leads to the end of hipsters in skinny jeans, we should all be eternally grateful," Twitter user Josh Dorian recently posted.
Even BlackBerry Ltd. CEO John Chen took his own shot at Apple yesterday as he introduced his company's new device, called the Passport.
"I would challenge you guys to bend our Passport," he said at an event in Toronto.
Top Quality
In its statement today, Apple gave details on how the new iPhones were created to be strong, including a "precision engineered unibody enclosure constructed from machining a custom grade of 6000 series anodized aluminum." The company added that stainless steel and titanium are part of the devices to reinforce high-stress locations, along with strong glass.
The company added that it put the new iPhones through extensive testing, including "3-point bending, pressure point cycling, sit, torsion and user studies."
ICracked Inc., a Redwood City, California-based company that fixes broken devices, said that repair staff have seen similarly bent versions of the iPhone 5s and 5c in the past and used tools to apply pressure to reshape the frames. Gadget websites have depicted bent smartphones from manufacturers such as HTC Corp., Sony Corp. and BlackBerry.
Brian White, an analyst at Cantor Fitzgerald, has criticized the uproar over bending iPhones. In a note, he said investor concern over the issue is "irrational" and provides a buying opportunity for the stock.
Before it's here, it's on the Bloomberg Terminal.
LEARN MORE