Islamic State Oil Refineries in Syria Hit in Airstrikes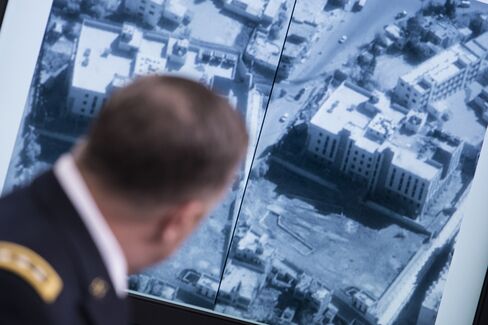 Kurdish fighters battled to halt an advance by Islamic State in northern Syria, while in the east of the country oil refineries that are a key moneymaker for the militant group were targeted by U.S. and Arab airstrikes.
Aircraft and drones operated by the U.S., Saudi Arabia and the United Arab Emirates attacked 12 "modular" refineries that Islamic State uses in its oil-smuggling operations, U.S. Central Command said in an e-mailed statement yesterday.
Unlike the opening round of strikes in Syria earlier this week that were led by the U.S., the attack on the small-scale oil facilities was mostly an Arab operation, with six American planes among the 16 aircraft used, Rear Admiral John Kirby, the Pentagon's top spokesman, told reporters today.
There were conflicting reports from the largely Kurdish area just south of Syria's border with Turkey, where the Islamic State's offensive since last week has forced tens of thousands to flee. Today, from the Turkish side of the frontier, Kurdish forces could be seen firing heavy machine guns mounted on two pickup trucks from a hilltop toward the Syrian border village of Siftek, held by militants.
The Syrian Observatory of Human Rights, a U.K.-based group that monitors the conflict through a network of local activists, said that the Islamist fighters had pulled back from around the region's main town of Kobani.
'Economic Asset'
Sirri Sever, a Kurdish lawmaker in Turkey's parliament, said in an interview in the border town of Suruc that Syrian Kurdish forces have held up the Islamic State advance about 15 kilometers (9 miles) outside the town. "But we don't know how long they can resist" against a better-armed enemy, he said.
The forces arrayed against Islamic State range from Kurdish guerrillas to the U.S. military, whose air campaign is being carried out in collaboration with the broadest Arab coalition since the 1991 Gulf War. Still, U.S. commanders say it may take years to defeat the group, which has declared a caliphate in regions of Syria and Iraq it controls.
The 12 targets hit yesterday made up a majority of the small refineries controlled by Islamic State in Syria and were left inoperable, Kirby said.
"The point was to render them incapable of using these refineries, which was a significant source of revenue for them," he said. Even so, the refineries weren't destroyed completely, in hopes that they can be restored if and when moderate Syrian rebels can take control of them, Kirby said.
Abadi Remarks
Iraqi Prime Minister Haidar al-Abadi said he was told by the U.S. that the strikes targeted pumping stations because Islamic State "will not be able to replace them, but they are easy to repair later," after the extremist group is forced out.
"That's what I've been assured," al-Abadi told reporters at the United Nations.
Islamic State may have been raising more than $2 million a day from oil sales in Iraq and Syria, paid either in cash or bartered goods, according to Luay al-Khatteeb, a visiting fellow at the Brookings Institution's Doha Center in Qatar. The group controls seven oil fields and two refineries in northern Iraq, and six out of 10 oil fields in eastern Syria, al-Khatteeb said.
Turkish Role
The U.S. began airstrikes against Islamic State in Iraq last month, and expanded them to Syria this week. They have hit targets including training compounds, storage facilities and armed vehicles, according to Central Command.
The U.S.-led coalition says its intervention in Syria isn't intended to support President Bashar al-Assad, who's also been fighting against Islamic State as well as other armed groups in a 3 1/2-year civil war. The U.S. and its Arab allies favor elements among the anti-Assad rebels that they say are more moderate, though those factions have suffered reverses on the battlefield against both Assad's army and Islamic State.
With the U.S. predicting a prolonged war, other allies are set to join the attacks. The U.K. parliament will vote tomorrow on whether to carry out airstrikes in Iraq. Canada said it's weighing a U.S. request for more help.
Turkish President Recep Tayyip Erdogan, who's been cautious about joining the battle in neighboring Iraq and Syria, was due to discuss new steps with U.S. Vice President Joe Biden today, possibly including the creation of a buffer zone inside Syria and the use of Turkish air bases, Hurriyet newspaper said.
Turkey has admitted more than 130,000 mostly Kurdish refugees in the past two weeks as the Islamic State advanced near its border, adding to the more than 1.4 million Syrians already in the country, according to the government.
Before it's here, it's on the Bloomberg Terminal.
LEARN MORE