S&P 500 Tumbles as Apple Sinks While Dollar, Bonds Climb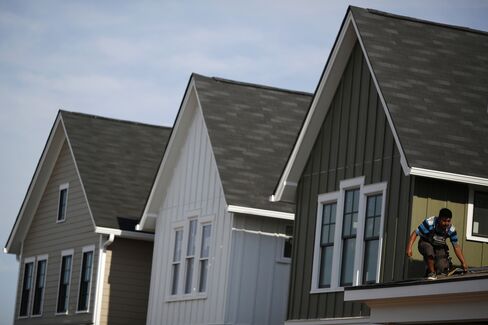 U.S. stocks fell the most in eight weeks as Apple Inc. tumbled and concern grew over tensions overseas. The dollar extended a four-year high as improving economic data fueled speculation the Federal Reserve is moving closer to raising interest rates.
The Standard & Poor's 500 Index lost 1.6 percent at 4 p.m. in New York, falling below its average price for the past 50 days for the first time since August. The Nasdaq 100 Index tumbled 2.1 percent, the most since April, as Apple dropped 3.8 percent. The MSCI Emerging Markets Index declined to the lowest since May. The Bloomberg Dollar Spot Index climbed for a fifth day and the euro touched a 22-month low. The yield on 10-year Treasuries dropped 6 basis points to 2.51 percent. Gold rose, erasing a loss.
Equities fell and the dollar jumped early in the day as data on U.S. equipment orders and weekly jobless claims helped support the argument that the economy may be improving enough for the Fed to raise interest rates sooner than expected. Stocks extended losses on a report that Russian lawmakers are drafting legislation that would allow the government to seize foreign assets in response to sanctions.
"There's a broad-based fear that things could turn negative -- the market has been short-term skittish," Tom Sudyka, president of Lawson Kroeker Investment Management in Omaha, Nebraska, said in a phone interview. His firm oversees about $500 million. "Every time we get near or at a record, there's always a pause to see if it's a reasonable valuation."
The S&P 500 reached an all-time high on Sept. 18, and trades at 17.8 times the reported earnings of its companies, near the highest level since 2010. While the gauge is down 1.9 percent for the month, paring a gain for the quarter, it has not had a four-day losing streak this year and has not fallen more than 10 percent in three years.
Apple Drops
Equities were led lower today as Apple plunged 3.8 percent amid problems in the rollout of a new smartphone, sending technology stocks in the S&P 500 to the biggest decline since April.
Investors sold some of the market's best performers, with the companies with the 10 biggest losses in the Nasdaq 100 today having risen an average of 64 percent last year. An index compiled by Wells Fargo of companies with the biggest hedge fund ownership declined 1.7 percent.
Biogen Idec Inc. and Illumina Inc. slid more than 2.8 percent to pace declines in the technology-heavy Nasdaq 100. The two had rallied at least 90 percent in 2013.
Eight of the 10 main S&P 500 groups retreated at least 1 percent today, with technology shares sinking 2.3 percent. Small-cap stocks tumbled, with the Russell 2000 losing 1.6 percent. The gauge has plunged 8.1 percent from a high on July 3.
Volatility Index
The Chicago Board Options Exchange Volatility Index, the gauge known as the VIX, increased 18 percent to 15.64 today, the most since July. The index slid 11 percent yesterday after surging 24 percent over the prior three days.
An exchange-traded fund that tracks high-yield corporate bonds, the iShares iBoxx $ High Yield Corporate Bond ETF, dropped 0.7 percent today, the most since July, after Dallas Fed President Richard Fisher said he saw extreme risk taking in the junk-bond markets, according to media reports.
"The high yield bond market and Russell 2000 are highly correlated," Dan Veru, chief investment officer at Fort Lee, New Jersey-based Palisade Capital Management, said by phone. The firm oversees more than $5 billion in assets. "You want to take on risk, you'll buy high yield and you'll buy small caps. Now there is concern that interest rates are going to be moving higher. You're in a period of uncertainty and the easiest thing to do is to reduce risk assets."
Treasury Auction
Treasuries rose as the highest yields relative to Group of Seven counterparts in almost seven years and a strengthening dollar burnished the appeal of U.S. government securities to international investors.
The U.S. sale of $29 billion in seven-year notes attracted above-average demand from a class of investors including foreign central banks amid speculation the Fed will increase interest rates in 2015, while policy makers in Europe and Japan add to monetary stimulus.
The Fed last week retained assurances that its benchmark rate will stay low for a "considerable time" after its bond buying ends, while cautioning that the timing could move forward if data continues to exceed expectations.
Data today showed American factories received more orders for machinery, communications gear and electrical equipment in August as an improving economy gave companies the confidence to expand. The number of applications for unemployment benefits increased less than forecast last week.
Economic Growth
A report tomorrow will show gross domestic product grew 4.6 percent in the second quarter, more than the previous estimate of 4.2 percent released Aug. 28, according to a Bloomberg survey of analysts.
The odds the central bank will increase its benchmark rate by July 2015 have risen to 56 percent from 52 percent at the end of August, federal fund futures show.
Charles Evans, president of the Chicago Fed, yesterday joined the New York Fed's William C. Dudley and Narayana Kocherlakota of Minneapolis in warning the Fed shouldn't make a change before being sure the economy can withstand higher borrowing costs. The trio argued separately that moving prematurely poses a greater risk to the economy than waiting too long.
'Adjustment Process'
"We're on the cusp of some kind of rising interest rate environment and this is the market's adjustment process," Matt Kaufler, Rochester-based portfolio manager of Federated Investors Inc.'s Clover Value Fund, said. "There's a widely held view that rates have been artificially low for too long and the question is where the new equilibrium is for yields."
The Bloomberg Dollar Spot Index is heading for its biggest quarterly gain since the period ended Sept. 30, 2011, and touched the highest level since June 2010 today.
The greenback strengthened against all but one of its 31 major peers, losing 0.3 percent to 108.73 yen. The euro slid to as low as $1.2697, briefly dropping below $1.27 for the first time since November 2012, amid bets the ECB will boost monetary stimulus.
Policy makers are ready to use "additional unconventional instruments" to further address the risk of a prolonged period of low inflation, European Central Bank President Draghi told Lithuania's business newspaper Verslo Zinios in comments published today.
Emerging Markets
Bank of England Governor Mark Carney said the judgment on when to increase the the U.K.'s benchmark rate from a record low has become "more balanced" in recent months. The U.K. is poised for the fastest growth in the Group of Seven this year and BOE policy makers are weighing when to begin removing emergency stimulus measures.
The U.K.'s FTSE 100 Index slid 1 percent. The Stoxx Europe 600 Index lost 0.9 percent to close at a four-week low, after earlier gaining as much as 0.5 percent.
The kiwi tumbled 1.9 percent to 79.25 U.S. cents, the least since September last year, as Reserve Bank of New Zealand Governor Graeme Wheeler said in a statement that the currency is "susceptible to a significant downward adjustment." The Australian dollar weakened 1.1 percent to 87.87 U.S. cents, the lowest since Feb. 4.
Emerging-market stocks dropped 0.9 percent to the lowest level in four months. The MSCI Emerging Markets Index is down 2.5 percent for the quarter, and has increased for only four days during September.
The Micex index of Russian stocks dropped 0.4 percent, reversing an earlier rally. The ruble slipped 0.7 percent against the dollar.
Foreign Assets
A United Russia lawmaker proposed a law that would allow the seizure of foreign state assets in Russia after Italy froze luxury properties belonging to a childhood friend of President Vladimir Putin.
The bill proposes compensating a Russian citizen who is victim of an "unlawful" judgment in a foreign court using federal budget funds, according to the draft posted on the State Duma's website. The government would then be allowed to seize foreign state assets in Russia, including property that is covered by diplomatic immunity.
Gold futures rose 0.2 percent from an eight-month low, wiping out an earlier decline as the selloff in equities reignited demand for an alternative asset.
The Bloomberg Commodity Index of 22 raw materials fell 0.4 percent. Commodities weakened after China uncovered almost $10 billion in fraudulent trade nationwide as part of an investigation begun in April last year, including many irregularities in the port of Qingdao, the country's currency regulator said today.
'Faked, Forged'
Copper for delivery in three months dropped 0.7 percent to $6,695 a metric ton ($3.04 a pound), aluminum lost 1.2 percent and tin tumbled 2.5 percent, the most in six months. The Hang Seng China Enterprises Index of Chinese shares dropped 0.7 percent.
Companies "faked, forged and illegally re-used" documents for exports and imports, including in Qingdao, Wu Ruilin, deputy head of China's State Administration of Foreign Exchange, said. The fraudulent trades have "increased pressure from hot money inflows and provided an illegal channel for criminals to move funds," Wu said. China is the biggest buyer of industrial metals.
'Hot Money'
"Some companies used the trade channel to bring in hot money," said Zhou Hao, a Shanghai-based economist at Australia & New Zealand Banking Group Ltd. SAFE's investigation "will likely further cool down hot money inflows and commodity imports could slow as banks will likely conduct more careful checks on documentation."
Gasoline surged 2 percent to the highest level this month on concern refinery outages will reduce production. West Texas Intermediate crude declined 27 cents to $92.53 a barrel.
Kurdish fighters battled to halt an advance by Islamic State in northern Syria, while in the east of the country oil refineries that are a key moneymaker for the militant group were targeted by U.S. and Arab airstrikes.
Islamic State militants captured in Iraq said the group has been planning attacks on subways in Paris and in the U.S., Iraqi Prime Minister Haidar al-Abadi said. The U.S. said it hasn't confirmed the plot.
Before it's here, it's on the Bloomberg Terminal.
LEARN MORE