Pfizer Said to Approach Actavis to Gauge Interest in Deal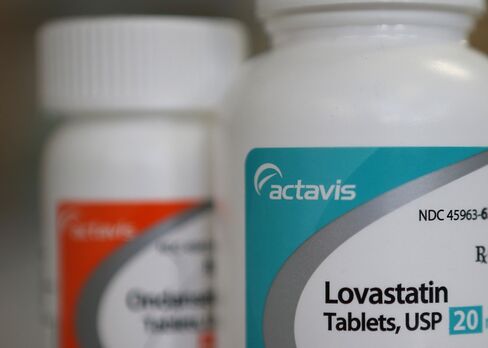 Pfizer Inc. has approached Actavis Plc to express its interest in an acquisition, people with knowledge of the matter said, as the U.S. drugmaker continues to explore ways to cut its tax rate and gain a new product pipeline.
The companies aren't currently in formal talks and Pfizer hasn't made an offer, the people said, asking not to be identified because the information is private. The approach comes after Pfizer in May abandoned a $114 billion bid for AstraZeneca Plc -- which would also have let it move its tax domicile abroad in a so-called tax inversion.
Actavis, which is run from Parsippany, New Jersey, obtained an Irish tax domicile by acquiring Warner Chilcott Plc last year. Its shares rose 2.2 percent to $240.85 in New York trading today, giving Actavis a market value of about $63.6 billion.
Although AstraZeneca rebuffed its approach after Pfizer refused to pay the British company's price, the American drugs giant is still considering pursuing that deal as well as other options, the people said. The company has determined any such deal needs to be friendly, unlike the unsolicited offer made to Astra, these people said.
Representatives for Pfizer and Actavis declined to comment.
New Hurdles
Any renewed effort by Pfizer to strike an inversion deal faces new hurdles that the U.S. Treasury Department announced yesterday. While the rules -- which include limits on how companies can access foreign cash without paying U.S. taxes -- are a complication, they won't deter Pfizer, one of the people said.
Most companies should be able to "complete a successful inversion with proper planning," Cadwalader, Wickersham & Taft LLP, the law firm, said in a memo today. Pfizer may not make any moves until late November, after U.S. elections and the end of a standstill period on AstraZeneca mandated by U.K. takeover rules, one person said.
A bid for Actavis would insert Pfizer into a web of potential deals among pharmaceutical companies. Actavis itself has approached Allergan Inc. about a possible transaction, a person with knowledge of the matter said. Allergan, meanwhile, is in talks to acquire Salix Pharmaceuticals Ltd. in an effort to fend off a hostile takeover offer from Valeant Pharmaceuticals International Inc., people familiar with the matter have said.
Pfizer's effort to acquire AstraZeneca was among a number of high-profile deals that have caught U.S. lawmakers' attention this year, prompting the Treasury's response. These include Burger King Worldwide Inc.'s deal to buy Tim Hortons Inc. and move its address to Canada. Tim Hortons today said the deal will proceed as planned.
Actavis has gained about 74 percent in the past year. Pfizer fell less than one percent to $30.05 today, giving it a market value of about $190.5 billion.
In July, Actavis closed a $28 billion takeover of Forest Laboratories Inc., making it large enough for Pfizer to target in an inversion under U.S. law.
Before it's here, it's on the Bloomberg Terminal.
LEARN MORE